About
Amenities
Floor Plans
The Family and Married Student Housing (or FMSH) apartments are located on the east side of campus along Harris Drive across from South Hall and Speer Chapel. These 850-square-foot unfurnished apartments serve as housing for married students and their families or single-parent students and their children.
Of the apartment buildings on campus, Buildings 1-9 are for FMSH and Buildings 10-17 are for the Village Apartments. The FMSH apartment buildings are organized into a little "neighborhood," and each building has four apartment units. Each apartment can accommodate families of up to five, provided the fifth family member is under six months old. Residents of FMSH get a key to their unit as well as a code to the Village Center, a separate building containing extra amenities shared with the residents of the Village Apartments.
Unlike the resident assistants in the traditional residence halls on campus, student RAs in FMSH are like neighborhood coordinators, organizing events and filing work orders for residents. In FMSH, your family is your primary community, and you also have the opportunity to get to know your neighbors.
Each unfurnished apartment has two bedrooms, one with a built-in desk space and two closets and the other with a walk-in closet and a built-in bookshelf. The kitchen is equipped with a refrigerator, range, and plenty of cabinet space. Each apartment also has a dining room, living room, full bathroom, pantry, storage closet, and extra storage space in an attic. Wi-Fi and a data line are provided in each apartment.
The bedrooms and living room are carpeted while the dining room, kitchen, and bathroom have linoleum or tile floors.
Other amenities for FMSH residents are located at the Village Center (north of the FMSH apartments across from the Davis Hall parking lot). There is a playground outside, laundry room with free washers and dryers, and lounge with couches, tables, chairs, and a piano for hosting events. Each FMSH apartment building shares a parking lot with the other units nearby, providing residents ample space for multiple vehicles.
Apartment Layout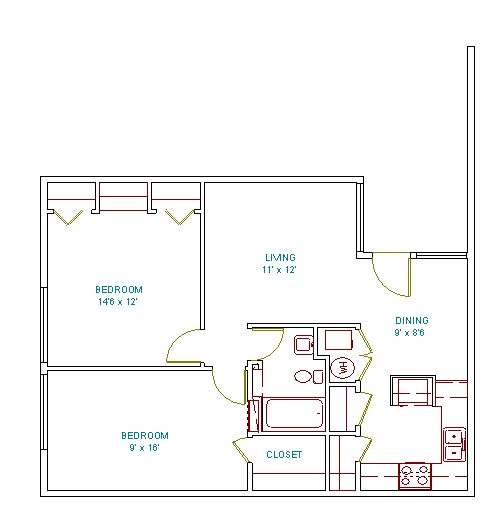 ---
Apartment Layout - 3D