Welcome to the LeTourneau University family!
New Student Orientation for fall 2020 will look a little different than it has in year's past. We understand you have many questions now, and you will think of many more questions in the days ahead. Understanding the unusual nature of this year's NSO, and in an attempt to help answer a few initial questions, please review the following information about orientation weekend fall 2020. 
Students-only Convocation Livestream: spiritual-life/chapel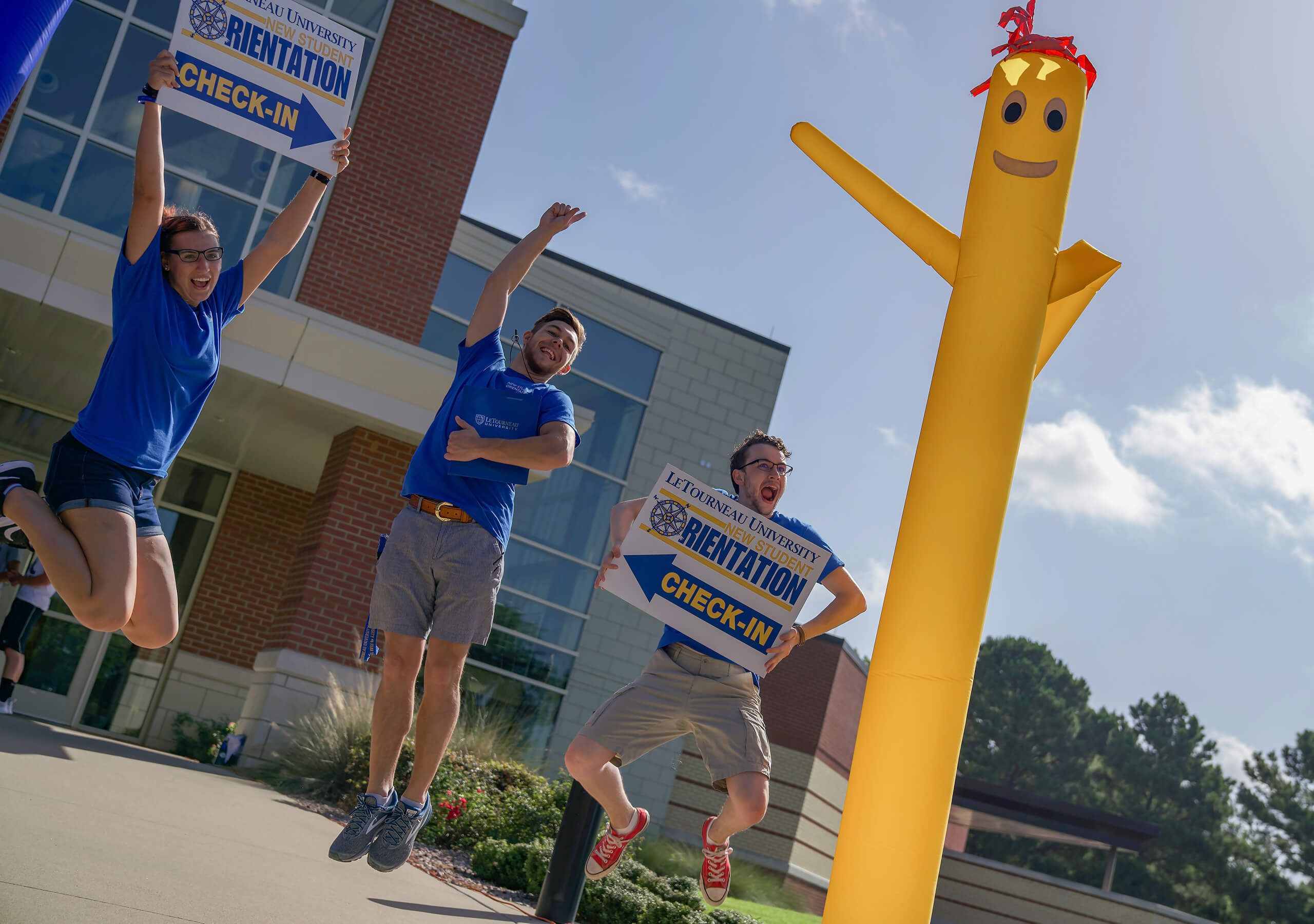 Additional Page Contents:
Video Updates

New Student Frequently Asked Questions

Summer Updates
Greetings From Student Life Staff
No matter how "crazy" the transition to college can feel, our amazing Student Life staff are here to help! Listen to Jake and Hannah share why they love the work they do, as they along with the rest of our campus community, prepare for your arrival!
Fall 2020 Update From Dean of Students
Dean of Students Dr. Steve Conn shares current information regarding the start to the fall 2020 semester.
---
2. New Student Frequently Asked Questions
What is New Student Orientation (NSO)?
New Student Orientation is a program designed to help students successfully transition to college at LeTourneau University. It is for all students taking classes physically at the Longview Campus for the first time.  This includes students transferring from another institution, and students who are planning on living off campus.
When is NSO?
Our programming for New Student Orientation will begin on Thursday August 13th.  To create space for a smooth and safe check-in process, we are asking students to arrive on the 10th 11th or 12th at their designated arrival time.
When is my arrival time?
Monday August 10:
Students with an F-1 Visa participating in International Student Orientation
Tuesday August 11: 
9:00 AM Students who are a part of the school of Nursing, Business, Theology and Vocation, Psychology and Counseling
12:00 PM Students who are a part of the School of Engineering and Engineering Technology
Wednesday August 12:
9:00 AM: Students who are a part of the School of Arts and Sciences (includes students who have not declared a major)
12:00 PM: Students who are a part of the College of Aviation & Aeronautical Science
What if I don't know what "school" I'm in?
If you are unsure, you can ask your admissions counselor or academic advisor.  Or, look up your major under our degree programs and see which academic program contains your major.  Students who have not declared a major are part of the School of Arts and Sciences.
Where do I check in?
You will be greeted at the entrance by our NSO staff for a quick check-in and will be directed to the next place to go based on your living area.  Residential students will go directly to their residence halls to finish their check-in process.  Commuter students will park in the Margaret Estes Library Parking lot and finish their check-in process at the Allen Family Student Center.
What will Orientation look like?
We will be practicing social distancing during orientation to promote a safe and successful transition for all students.  Orientation will happen physically at the Longview campus, and many of the orientation experiences will happen face to face in small groups.  Much of our content will be provided to students online either on our learning management system (Canvas) or live stream.  We will evaluate the safety and feasibility of large group gatherings in August and may implement a limited number if appropriate. 
Can family/guests come?
Family and guests are welcome to come help students move-in on their designated arrival day.  Although any number of family and guests are invited to our campus to be a part of this important step in our students' lives, we ask that students bring only two guests into the residence hall to provide appropriate space for distancing during the move-in. There will be no programming at the Longview campus for family/guests and we ask that they limit their time on-campus to the designated arrival day.  We will host online programming for family before, during, and after New Student Orientation. More information will be provided on these programs in July. 
What do I need to do to be ready for Check-in?
The more you can have done ahead of time, the faster your check-in process will be.  If you have completed all the items in your registration checklist, including registering for class and finalizing payment plans with our student accounts office, your Check-in experience at LETU will be quick and simple.  For help completing your registration checklist, you can call our Registrar's office, Student Accounts, Financial Aid, or Student Life depending on your question.  If you aren't sure who to call, you can start first with your admissions counselor, or you may find this video series has the information you need.
---
3. Summer Updates 
Campus Housing
We expect Campus Housing to resume operation at normal occupancy levels. We have space reserved in case of illness to be able to isolate those who are suspected to have COVID-19, as well as space reserved for quarantine of those who test positive for COVID-19. The timeline for moving into campus housing is being lengthened slightly to reduce the number of people trying to move in at the same time.
As we attempt to limit the amount of people moving into the residence hall spaces at the same time, please refer to the NSO schedule for your designated arrival time.
Dining Services
Meals for new students will be provided through new student orientation. Returning student plans will begin August 13th and will continue through November 19th, which is the last day of finals for the Fall 2020 semester.
Hive will be open for Grab & Go and Coffee service only. The Corner Café will house all other food preparation and service and has added Mobile Order capabilities so that students can order ahead and take their meals to go. The Café will serve breakfast, lunch, and dinner Monday through Friday, and brunch and dinner on Saturday and Sunday.