Welcome to the LeTourneau University family!
Check-In Day for new students is Sunday, Jan. 17. All students will receive New Student Orientation materials and COVID-19 screening. Residential students can then move into their residence halls. Classes begin Wednesday, Jan. 20.
For COVID-related updates and current university information, visit our Welcome Back Initiative webpage.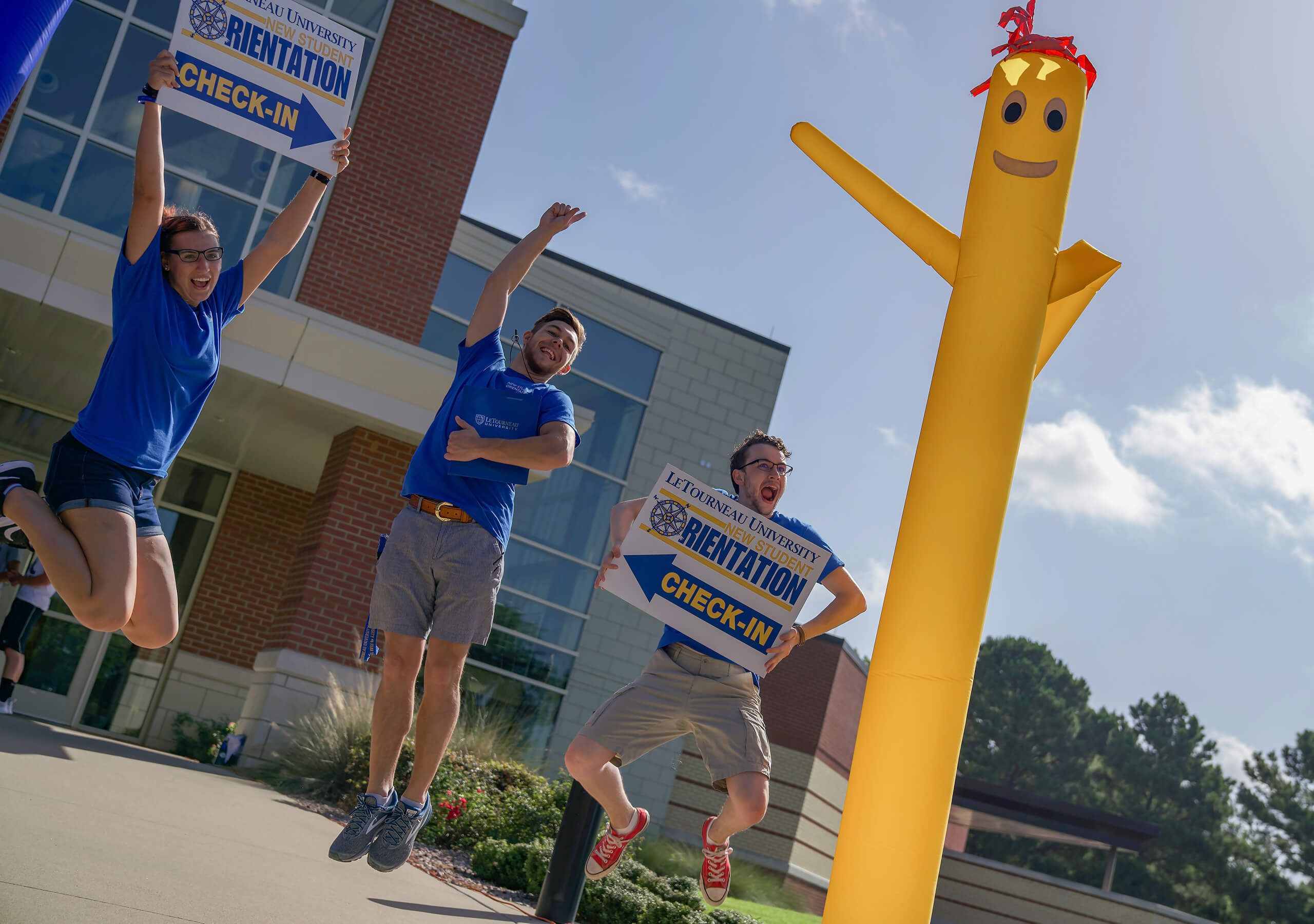 ---
New Student Frequently Asked Questions
What is New Student Orientation (NSO)?
New Student Orientation is a program designed to help students successfully transition to college at LeTourneau University. It is for all students taking classes physically at the Longview Campus for the first time.  This includes students transferring from another institution, and students who are planning on living off campus.
When is NSO?
Our programming for New Student Orientation will be just one day, Tuesday, January 19th.  To create space for a smooth and safe check-in process, we are asking students to arrive on the 17th. Testing and check-in will be available on the 18th; However, those who test on the 18th will be unable to participate in the programming on the 19th as everyone is required to socially distance until their test results come in. 
Where do I check in?
You will be greeted at the entrance by our NSO staff and directed to the Belcher Performing Arts Center to complete your check-in and COVID testing.
What will Orientation look like?
We will be practicing social distancing during orientation to promote a safe and successful transition for all students.  Orientation will happen physically at the Longview campus, and will consist of a few in-person sessions designed to answer questions about LeTourneau and help students acclimate as much as possible before the first day of class.
Will There Be COVID Testing and is it required?
COVID testing is required for all incoming spring students. Students should socially distance as much as possible until they receive their test results, which typically takes 24-36 hours. More information on testing can be found on the Welcome Back page. 
What are campus COVID policies for the spring?
The COVID policies and guidelines on campus will be much the same in the spring as they were in the fall. The Student Guide for Returning to Campus is a comprehensive document covering all student guidelines. See the guide here.
Can family/guests come?
Family and guests are welcome to come help students move-in on their designated arrival day.  Although any number of family and guests are invited to our campus to be a part of this important step in our students' lives, we ask that students bring only two guests into the residence hall to provide appropriate space for distancing during the move-in. There will be no programming at the Longview campus for family/guests and we ask that they limit their time on-campus to the arrival day. 
What do I need to do to be ready for Check-in?
The more you can have done ahead of time, the faster your check-in process will be.  If you have completed all the items in your registration checklist, including registering for class and finalizing payment plans with our student accounts office, your Check-in experience at LETU will be quick and simple.  For help completing your registration checklist, you can call our Registrar's office, Student Accounts, Financial Aid, or Student Life depending on your question.  If you aren't sure who to call, you can start first with your admissions counselor, or you may find this video series has the information you need.