By Jake Hall
The smell of gasoline drifts through the cool fall air, melding with scents of rubber, metal, oil, and sweat. Drivers are poised and ready in the pit, waiting to run to their vehicles at the drop of the flag. Spectators crowd the road, pinned back by piles of rubber tires marking the track, pushing and shoving for the best view before the race begins. Excitement is in the air. A man in a bright blue and white shirt stands with arms raised high, a crisp, green flag in one hand and a small, shiny airhorn in the other. All eyes are on him. Suddenly, the airhorn blasts, and the flag drops; the drivers sprint to their vehicles, hop in their seats, and the engines hum to life. A loud, high-pitched "BUZZZZZZ" fills the air like an angry swarm of bees stirred from their hive, as the fleet of go-karts zooms out of the pit, bumping into each other and skidding onto the track, dust and fumes trailing behind as they race towards the front of campus. That's right, go-kart racing at LeTourneau University.
The 1960s were a different era. Car manuals came with instructions on adjusting your own valves, asking YouTube how to change your oil wasn't an option, and go-kart racing was a popular pastime. LeTourneau University was different too, but in many ways, it was the same: an emphasis on practical, hands-on learning, a strong spiritual community, students who love to innovate and create. It was into this world that a campus relic was born: the LeTourneau University Automotive Society.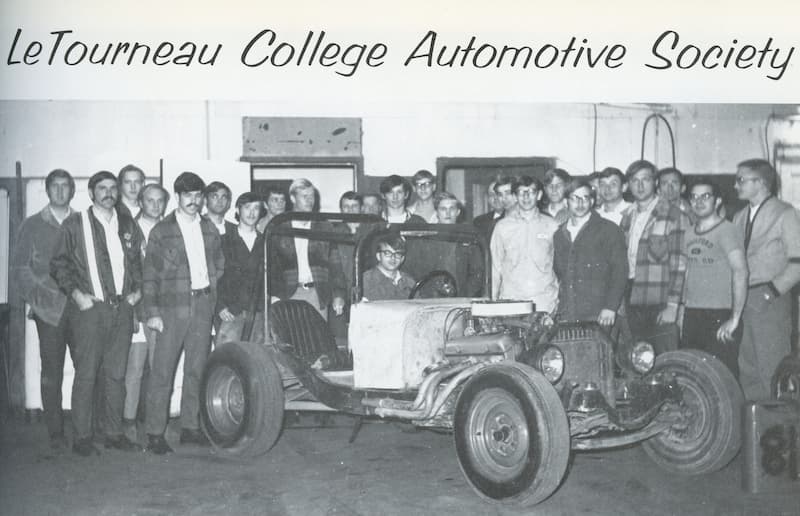 Founded in the 1965-66 school year by a group of student automotive enthusiasts, the Auto Society (AS) was created as a Christ-centered organization where members could grow in fellowship while furthering their knowledge of automobiles. Practically, it also provided students with tools, equipment, and space for car maintenance. The original shop space was a building so old and drafty that, "if we were inside and it was raining, you had to go outside to get dry," jokes Dan Larson, an LETU alumnus ('71), former automotive tech professor, and AS faculty sponsor for many years.
As Auto Society grew during the 1970s, they began hosting several events that developed into campus traditions, including go-kart racing. Paul Long, a 1981 AS alumnus, won several races during his time at LETU, and it was a go-kart that drew him to the society shop for the first time. Relaxing in his dorm one day, Paul heard a loud noise zoom by outside. "I sorta followed the sound down to Auto Society and got to talking with the guys down there, and it went on from there. That was pretty much how I got introduced, was a kart flying by."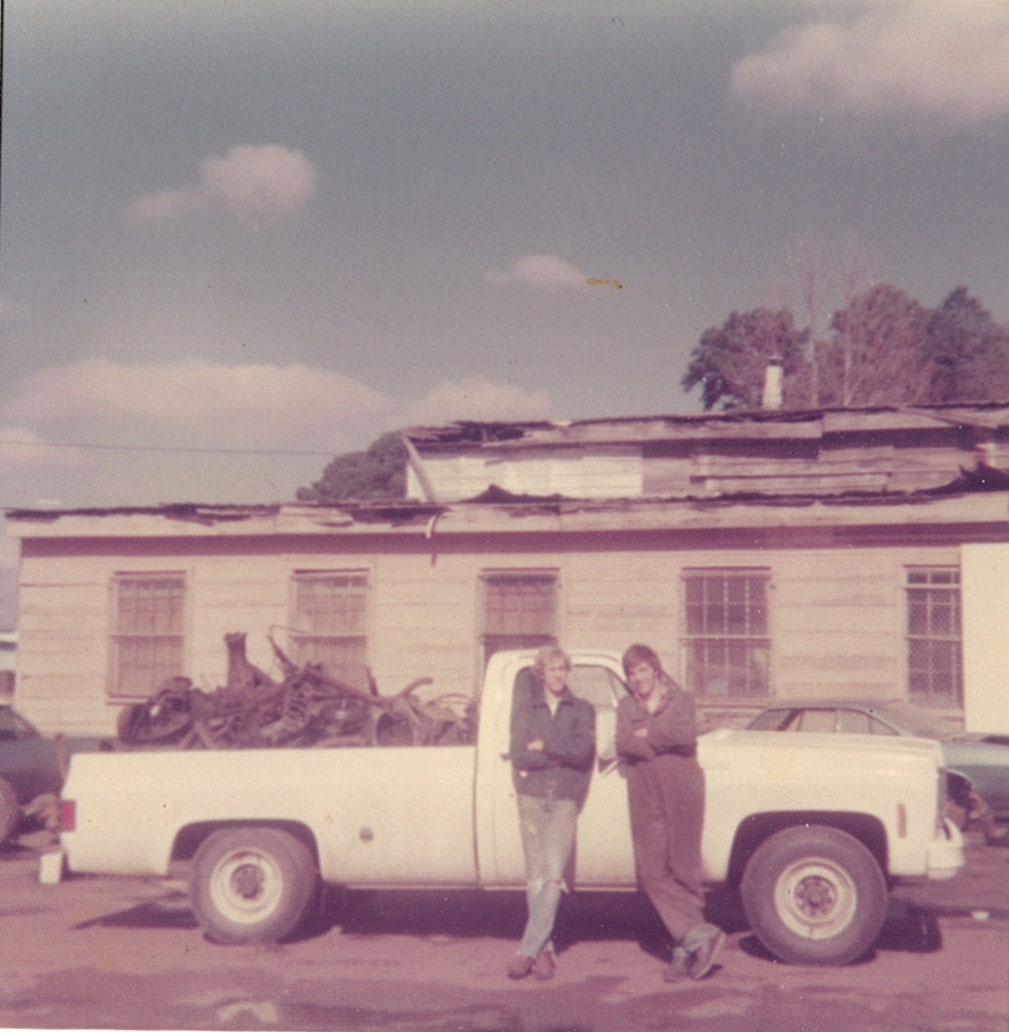 For twenty years, Auto Society hosted three go-kart races on campus: a fall sprint, a spring sprint, and an Enduro. The sprint winners were the karts with the fastest time, but the Enduro was a different animal, designed to test the strength and endurance of one's kart over a grueling, six-hour marathon race. In addition, the go-karts were homemade. The rule of the Enduro was that every go-kart must be designed and built completely on campus, which is where the unique LeTourneau ingenuity kicked in.
Poor college students grabbed whatever they could scrape together for parts: a Chevy 350 engine, a scrapped Apache aircraft frame, a motorcycle motor, a nose fork off a Cessna airplane. Anything was fair game, and any student or dorm floor could participate. Dorm 41 had a kart, AO and KZX each had their own, and a special kart was reserved for the females who participated. Hundreds of students lined the main Glaske Dr. each year to watch and cheer the competing karts.
The real test of the Enduro, however, was whether your go-kart engineering would last during six hours of racing the old, worn campus streets. Mark Stephens, AS alumnus ('78), describes it like this: "We had cracks and dips and potholes that we had to go through, and there were many times that go-karts would be driving along and hit a pothole and just break in half. So, they would have to pick up the go-kart and take it back over to the welding shop and weld it back up and then get back out on the race!"
People would slam into each other and bend tires, chains would fly off karts, wrecks were common, and someone even clipped a utility pole once, knocking it to the ground. LETU administration would not be excluded from the fun either, with former President Bud Austin driving a kart one year.
At a college known for its engineering program, the go-kart races were a perfect testing ground for the theories and principles being taught in the classroom. Paul Long describes the process of building a kart:
"You just kinda went along and innovated...whatever you could scrounge, that was the budget. It forced a lot of innovation that I think was really good in terms of provoking you to think about engineering. How am I gonna do this with what I got?"
As the karts inevitably broke down, or hardware problems arose, students had to create solutions.
"It was a real engineering practical learning experience, where you had to figure out, well, this isn't working... I gotta do something different. You have to face the results of what you did."
This particular, almost eccentric, style of learning within Auto Society extended beyond go-karting and continues today.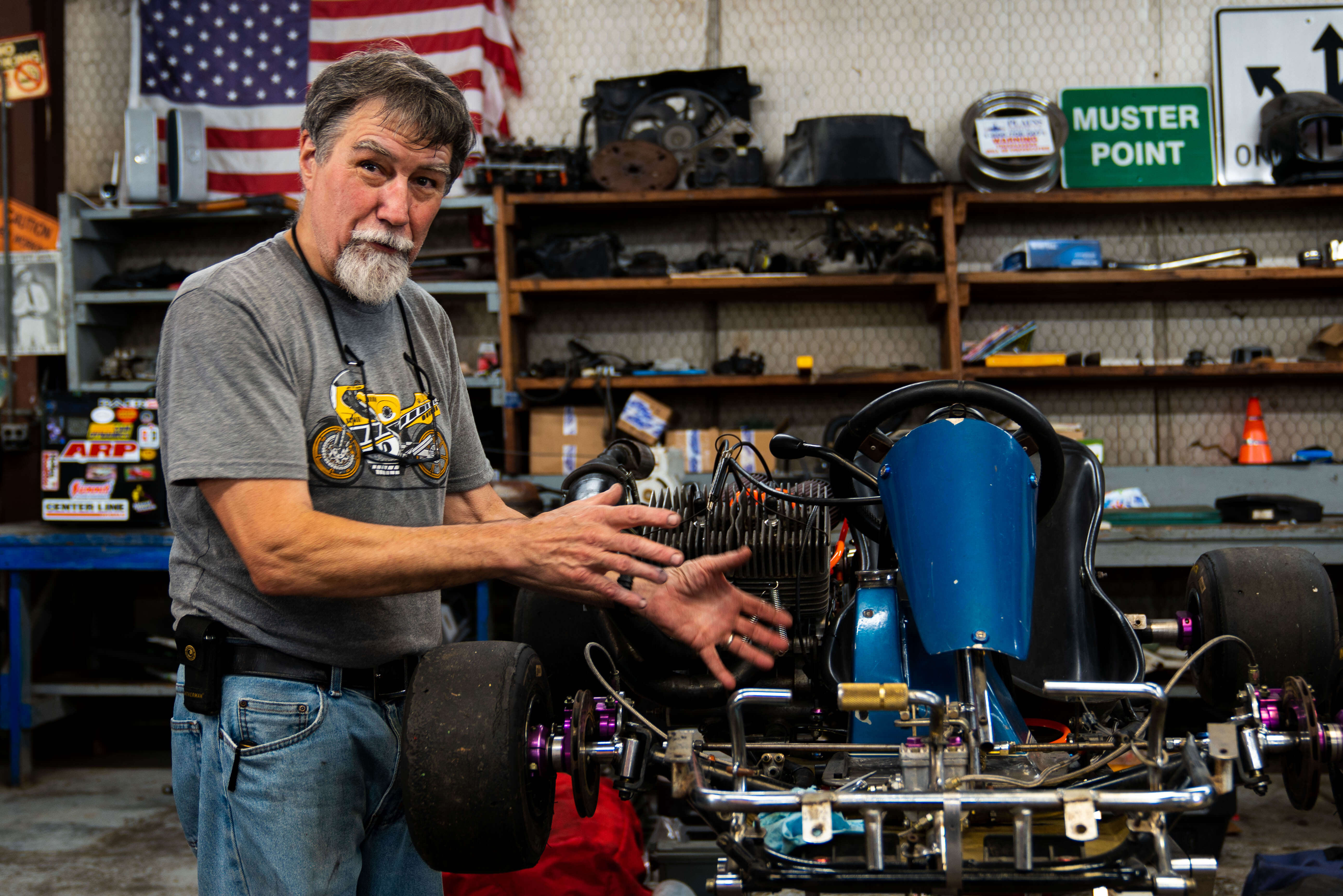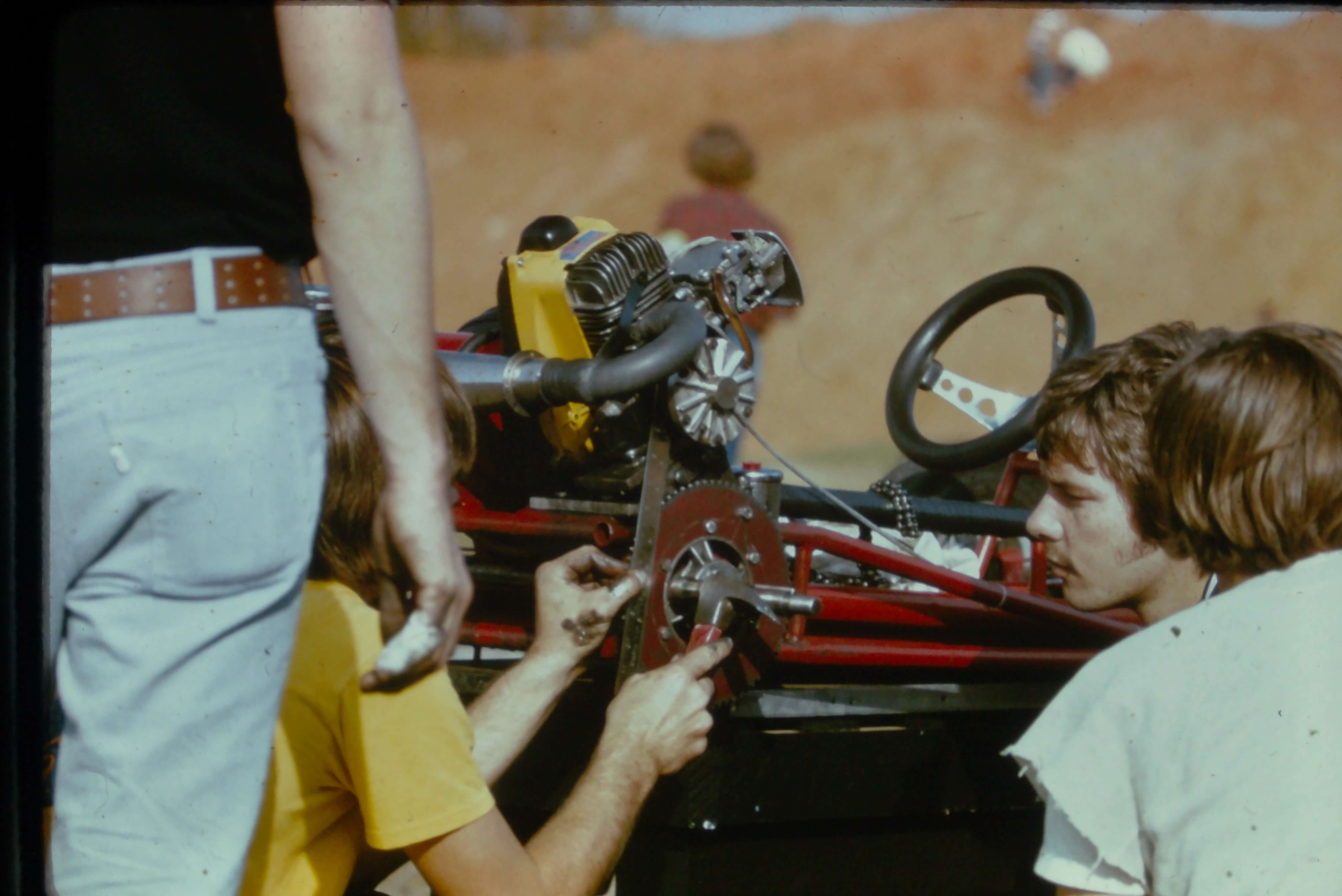 Most people probably think of AS as the building in the back of campus where a bunch of guys just hang out and work on cars, but digging deeper, one uncovers an intriguing atmosphere. Students from multiple academic majors gather to escape the drudgery of school by operating on personal projects. Whether engine-swapping an old Porsche, prepping motorcycles for a weekend cruise, or practicing burnouts in the driveway, something is always happening. In this environment, students are also learning from each other.
Sam Hardin, a mechanical engineering student graduating in 2022, serves as the current Auto Society President. Hardin has been a member since his freshman year, and what's impacted him the most are the people and the learning experiences. If he has a car question, he can ask other members, or they can physically work on the problem together. Moreover, AS members can take what they're learning in academic labs and classrooms and apply it in a practical, meaningful way.
Hardin explains, "The abstract principles are what you learn in class, and it's really a wealth of information that until you apply, you'll forget about. That's been a huge thing that I've been able to see in my labs, but more specifically here (in AS): learning why these things are failing, seeing them actually fail, being able to rebuild, change materials and just learn what I can apply in different areas. So, whether that's my car that I've seen has failed or a tire has popped or something, if I go on and work at a different company...I can take those same principles and use that."
Stephens elaborates, "The practicality (of LETU) is the idea that it's one thing to have book knowledge, but it's another thing to actually sit down there and actually make your hands and your brain do something that you learned in a book, and how do you adapt that knowledge and become a very practical person?" He took these lessons from his time in AS and applied them to his career in mechanical engineering, enabling him to work with confidence in any environment.
Another AS alumnus, Jon Woodworth ('90), is the current missionary-in-residence at LeTourneau, and the skills he learned in AS prepared him to live out his calling as a remote missionary in the Kenyan wilderness for 21 years.
"I built houses, I welded up water stands, I did DC electricity with all of our solar stuff; I mean there's so much stuff that we've done because of what we learned there (at AS) and life, and hanging out with those guys."
Within the greater LeTourneau community, this automotive society was shaping the lives of students, equipping them for a variety of careers, from the corporate business and engineering world to the African mission field.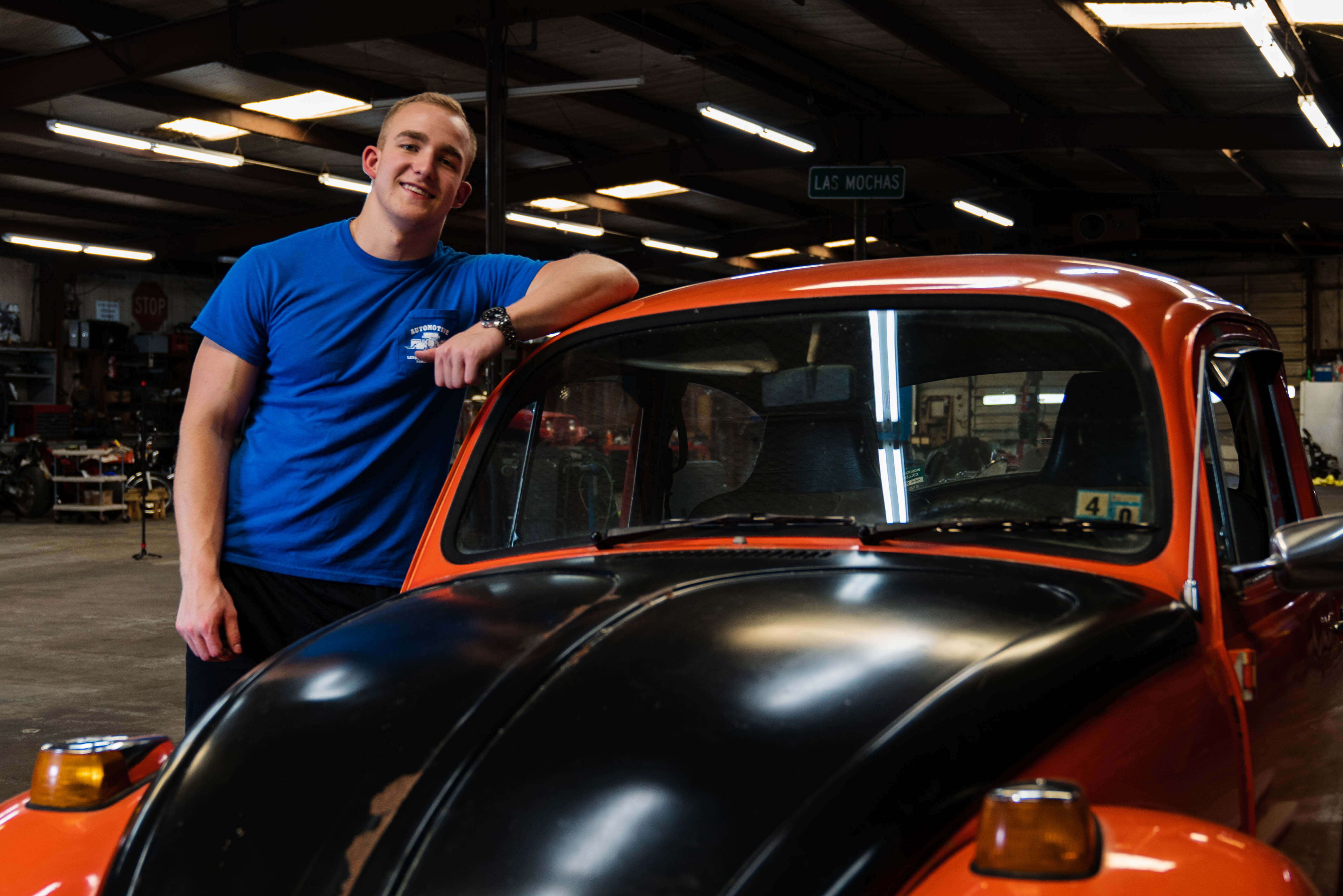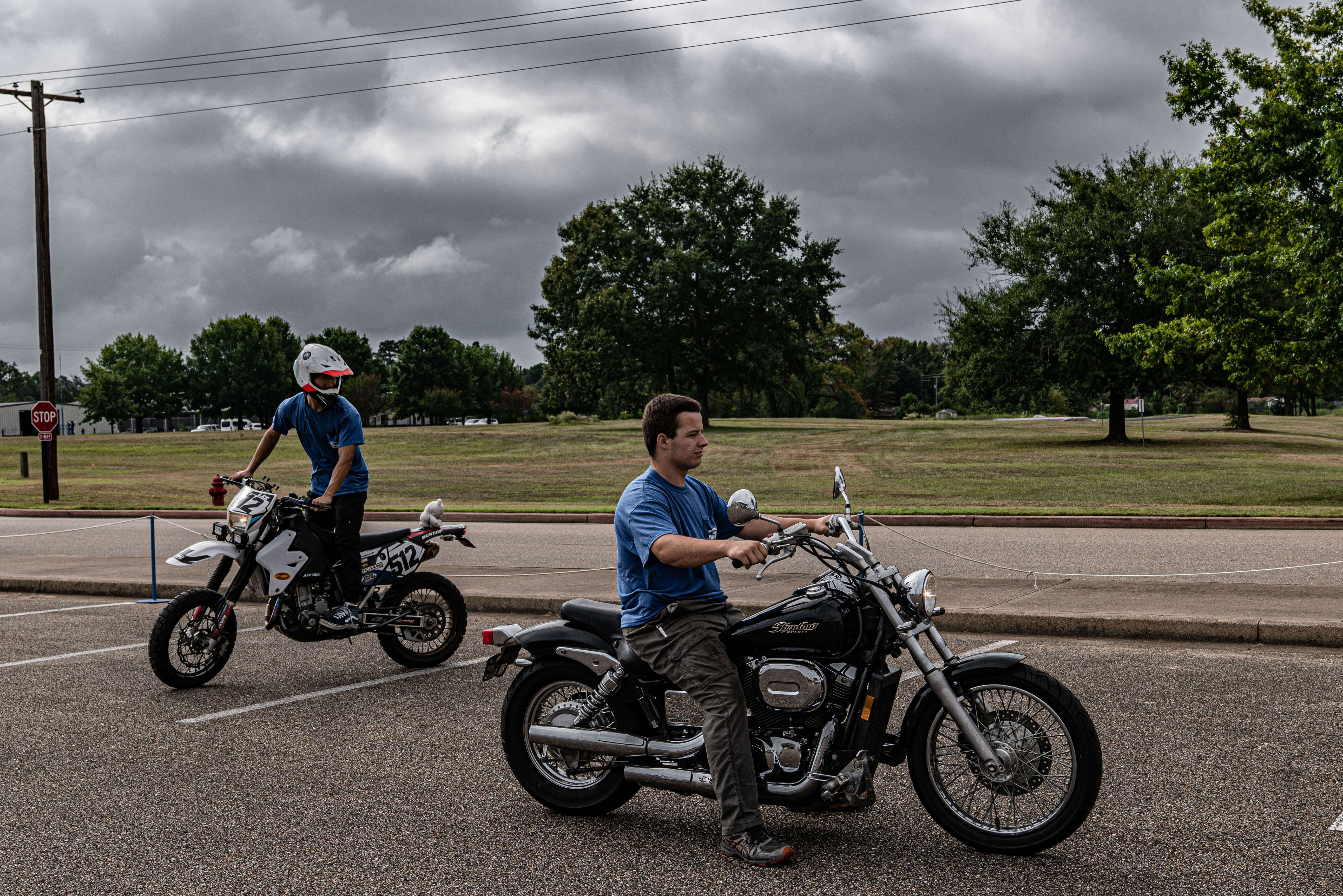 The time spent learning, laboring, and living together also creates a deep bond among Auto Society members. Alumni gather at car shows and races around the country regularly, proudly waving their LeTourneau AS banner. Woodworth's fellow members were at his wedding, wearing their blue AS shirts. Local alumni stay invested in current students, helping with car shows and visiting the shop. Students and alumni alike tell a similar story: "I don't think I would have stayed at LeTourneau if it wasn't for Auto Society." "If it hadn't been for AS, I'd never have finished school." "Auto Society has been the best decision I've made being here at school."
Stephens was so impacted by the Christlike community that it led him to salvation: "I credit my accepting Jesus as my savior to the guys from the auto society because they lived a really good testimonial life to me. Here were car guys, and they loved God, they loved Jesus, and they really showed me that Christianity can be fun. You don't have to be straight-laced and follow all the rules. You just have to have a good heart, and that's what these guys did."
Clearly, this society has impacted the lives of many in the LeTourneau community, and the current members are working hard to maintain that heritage. The Car Show continues annually, a tradition now in its 45th year. Open House occurs each semester, with burnouts and free pizza drawing students from across campus to the society shop. Oil changes and other services are free for students and staff if they provide supplies and parts.
Asher Ord, a senior mechanical engineering student ('22), sees the society as a ministry; he encourages students to email him for help, and he's a regular at the shop on the weekends, airing tires up for people or doing heavy work on a professor's vehicle.
Hardin is focused on carrying the legacy of AS into the future: "All of the principles of the society, everything that the alumni has basically fostered and worked so hard to keep, if I'm not focusing on continuing to transition that, making sure that we're doing the same thing, that culture leaves."
If you're reading this as a LeTourneau alumnus, you surely have your own cherished memories of your time on campus. You can probably recreate specific instances in your mind: the sights, sounds, and smells of significant moments in your college experience. A professor whose instruction challenged your way of thinking, a roommate who dropped everything to stop and minister to you in a time of need, a significant other you met and pursued here, an organization that molded you into who you are today.
Woodworth recalls, "I had a lot of good friends, but most of them were at Auto Society. I had a lot of good experiences, but most of them were at Auto Society. I learned a lot, but most of it was at Auto Society. LeTourneau helped me get a degree...but Auto Society formed me, it created me."
LeTourneau has always been a unique place where hands-on learning intersects with Christian community to shape and form lives; it's in our DNA. The Auto Society has found its own distinct, original role within that calling.