The Story of Alpha Omega
by Isaac Grimes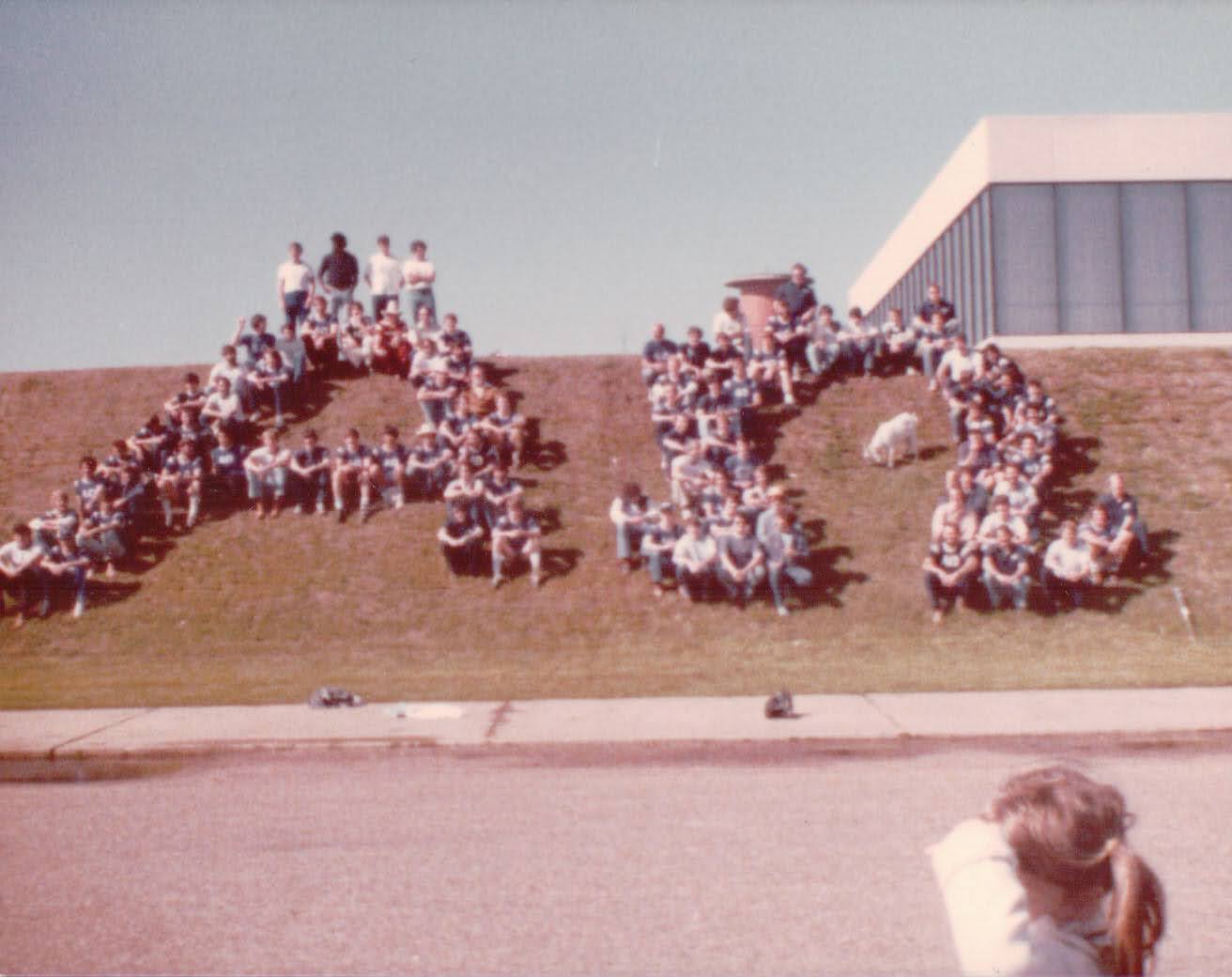 The Alpha Omega Society at LeTourneau University has, for over 60 years, strived for God's will to be implemented in the lives of every member. To be *united* through Jesus Christ, *loyal* to one other as brothers, and *responsible* for personal growth in maturity and leadership. Membership in AΩ has helped many an esteemed alumnus and active member grow to be Godly, mature men because of their dedication to our Savior and to our fellow brothers in AΩ. But the story of Alpha Omega does not begin here, rather it starts over 60 years ago during the humble days of LeTourneau Technical Institute.
"All roads lead to LeTourneau" was a colloquial phrase in Longview, Texas in the late 1950's and was quite literal. LeTourneau Tech was situated close to downtown Longview, making it an epicenter for excellent education which benefited the community. R.G. LeTourneau's goal was to witness to and educate engineers who would go out into the industries of America to be witnesses for the Lord as well as to be masterclass workers. He was an inspiration to many students who wanted to make college more receptive to the Longview community. There was, however, one thing LeTourneau Tech lacked for its student body, and that was activities. Students found that the only activities that were worthwhile, aside from studying, socializing, and going to church, were basketball, the pool, table tennis in the "dog-house," and the precious few events such as Hootenanny, Frontier Week, and Dog Days. Moreover, many students did not know how to properly dress when going about town – which, in the 50's, was an essential social obligation. DeWayne Everitt, a founding member, and student at the time, remarked that "It was those aspects, along with all the others, that made us want to improve our image, create more activities, help RG, and to create a Christian society."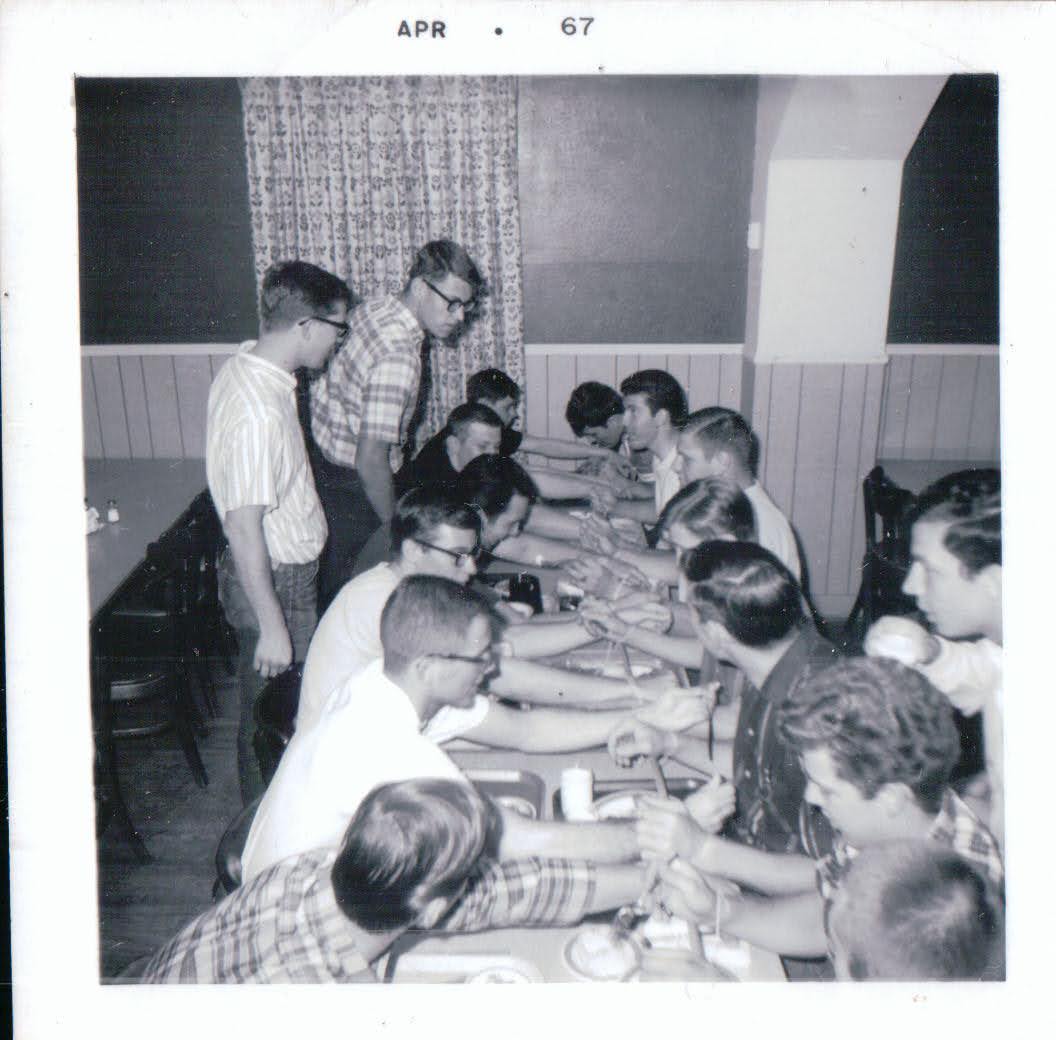 Two students, William (Bill) Thompson and Nelson Bates, were roommates having lunch when, according to Bill, Nelson said "Bill, things are dull here... we should establish a fraternity!" Bill laughed at this and remarked later that he "...thought we needed to be a bigger school to have one of those." Nonetheless, Nelson was insistent and brought DeWayne Everitt, a student who had just transferred in and had knowledge on how fraternities were structured. Bill conceded and the three conspirators began collaborating. This small group would eventually incorporate ten men: the founding members of Alpha Omega.
Bill Thompson reminisced, "We all had our ideas about how to go about it and how we could establish an organization that would be a social society and spiritually focused." Founding member Henry Fogle stated that, "Our idea was a lot more than just hanging out, it was to enhance the college experience." This new fraternity was to be called Alpha Mu Omega and the vision was pitched to the LeTourneau administration.  "The word fraternity wasn't very acceptable because of its reputation," remarked DeWayne Everitt "and so we didn't get a good response." Understanding their reasoning and yet undaunted, the members returned in a subsequent meeting with a clear vision, written by-laws, and creed. "We went back" said DeWayne "and told them this is what we stood for and that we wanted to improve the college." The administration tentatively agreed and made Alpha Mu Omega a recognized organization on campus.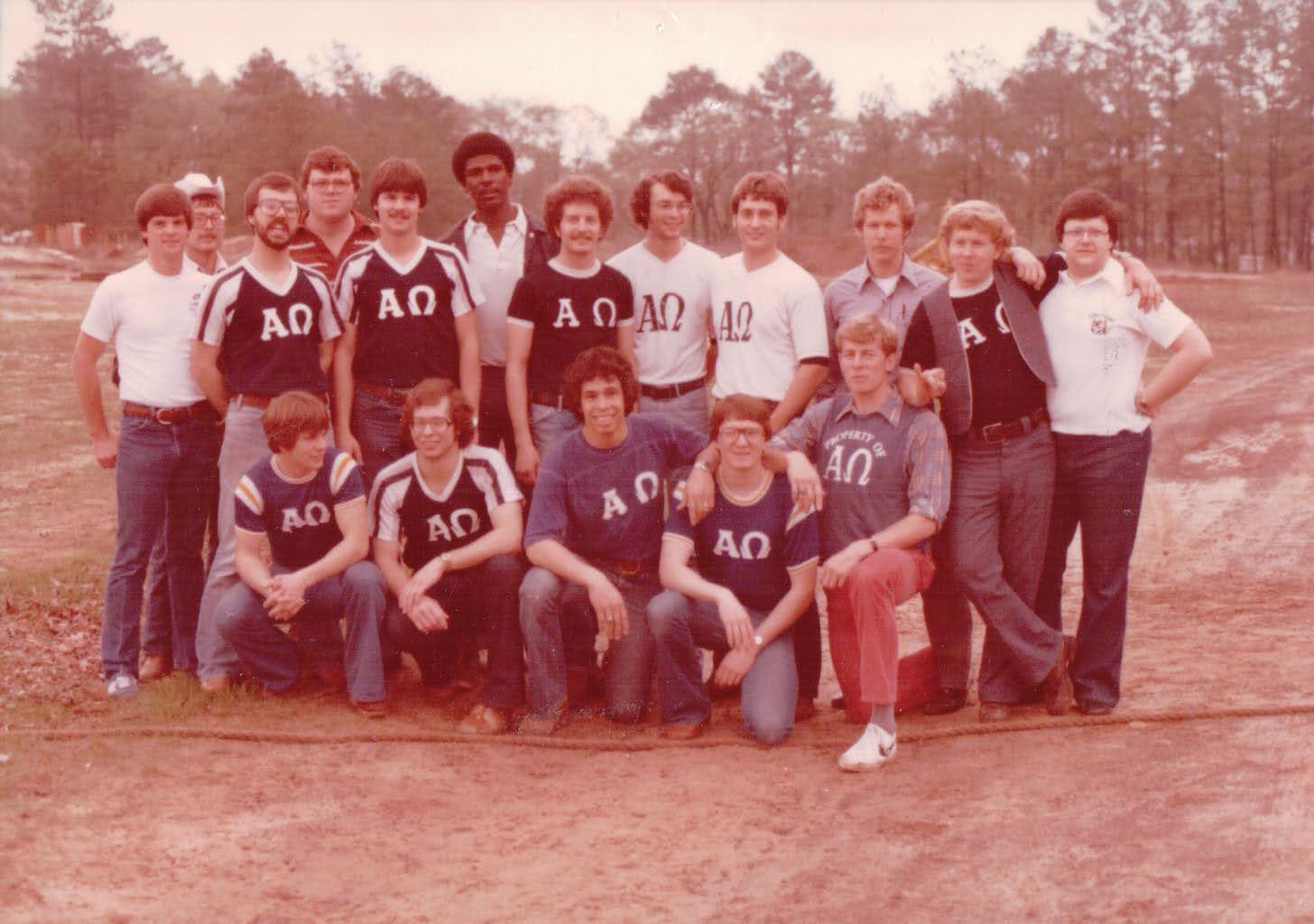 This brand-new social society missed one vital component, a headquarters. The membership attempted to procure an old radio station to live in but had to settle for one of the old barracks near Speer Chapel. It was old, even for the time, and in dire need of renovation. All the members worked hard to make it a useable facility, adding drywall, insulation, and all the comforts of a home. They did not have permission to live there initially but eventually received squatter's rights. This old barracks, Building 37, would be the home and hub for Alpha Omega and its members for the next 20 years. For the next few years, the members of Alpha Mu Omega refined their identity as a society and welcomed more members. This new organization was not only a place for Christian fellowship and personal improvement, but it also became a central node on campus and an influence which sparked the creation of other societies and groups. More importantly, a true brotherhood came into shape – a fraternity in the purest sense of the word. Henry Fogle observed, "Associating with people of a like mind is contagious. You become similar to the people you are around and don't realize it. Working as a team makes you more successful and it sticks!"
'Alpha Mu Omega' changed its name to simply 'Alpha Omega' and officially chartered under that name on February 29, 1960. AΩ was the first society at LeTourneau to receive its charter. From there, AΩ began to grow and flourish as an influence for LeTourneau students and men were lining up to pledge. In the following decades, Alpha Omega became involved in numerous facets of the LeTourneau/Longview community. From InterSociety rope-pull to intramural sports, go-carting, Hootenanny, and even parades. In all things, the men of Alpha Omega excelled.
These victories would, however, be trivial when compared with the moment AΩ truly became a brotherhood of devotion. On or about April 30, 1973, three dear brothers of AΩ – Marvin Brown, Gerald Chapman, and Scott Lindner – were tragically killed in a plane crash. This singular moment immediately and irrevocably reformed the society and left a lasting impact on all members during and since then.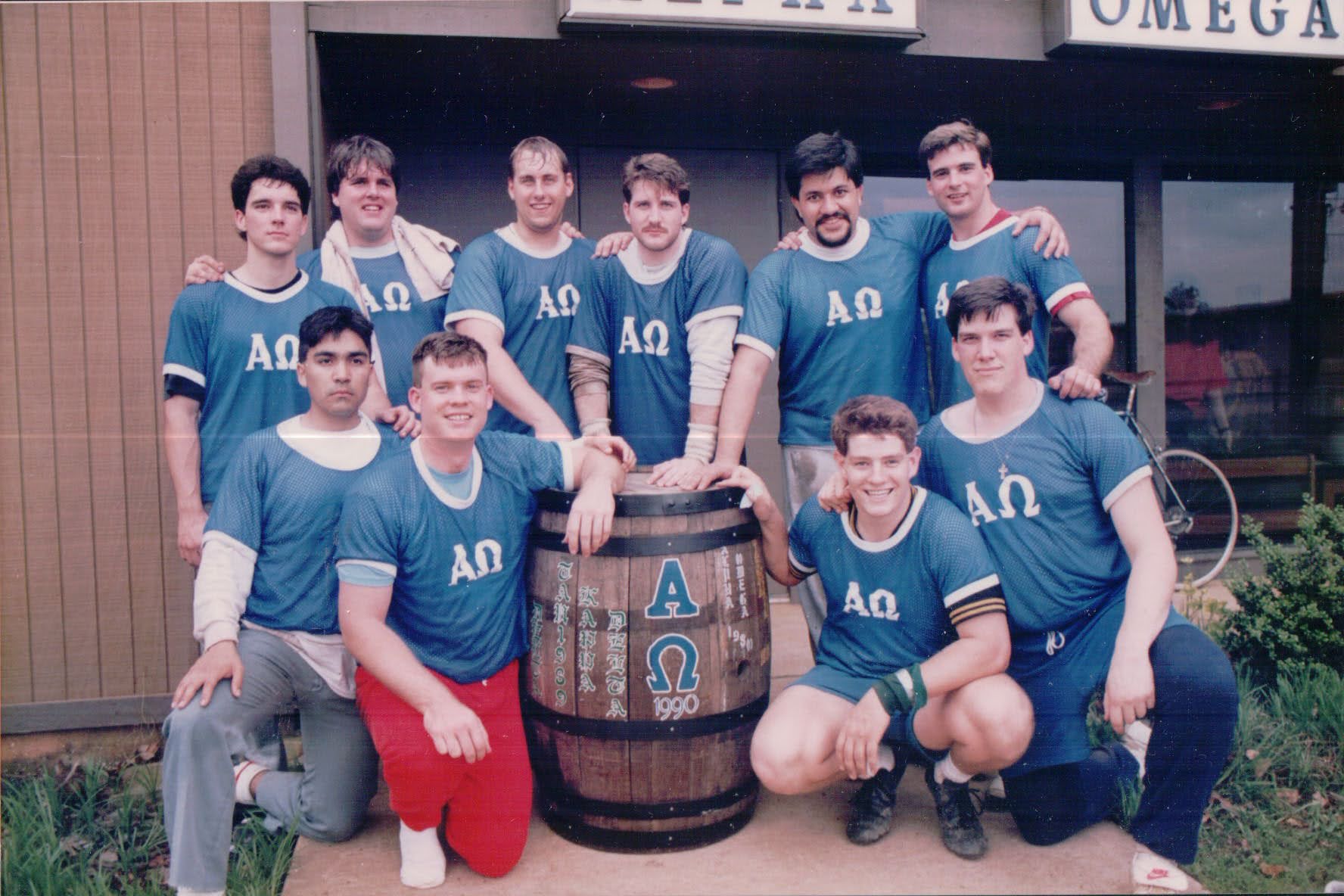 The AΩ president at the time, Mark Nymeyer, reflected on those three brothers, "Those three guys were as different as night and day... It had the same impact as any death of a loved one. What you do in regard to the Lord is more important than anything else you do." The aftermath of this tragic chapter can still be felt today as all AΩ brothers still take time to remember the ones who were taken to the Lord. Additionally, the notes and sermons written by Marvin Brown, the chaplain at the time, are still preserved and passed down. As time continued it soon became clear that a more permanent residence would be required due to the barracks being decrepit and scheduled for demolition by LeTourneau College. Plans for a new residential AΩ house began in 1977 and fundraisers were started by alumni. Construction for the AΩ house began in 1981 and was finished the following year.
Alpha Omega was the first society to successfully construct a residential house. This same residence continues to be the home of AΩ members to this day.Alpha Omega has always been more than a men's  christian social group. It is a society where boys become men, where you are pushed to go beyond your  limits and strive for excellence in all things. It is a society where members can expect to receive dividends in return for their efforts. Nelson Bates affirmed, "There are two things you cannot get from a college education: maturity and drive. You cannot get it from education alone, but they are things you need." 1989 LeTourneau graduate and current member of the LETU Board of Trustees, Patrick Bertsche, adds to this by saying. "I left LETU with a stronger faith, I had matured and grown in skills enabling me to be successful as a friend, brother, employee, and leader." Moreover, AΩ serves as a place where men at LeTourneau can  make enduring friendships. "If there was anyone having trouble with academics," Henry Fogle  remarked "the brothers would be there to help each other. To help improve and build up each other." For many AΩ alumni, the relationships they forged while at LeTourneau have lasted a lifetime. The men of AΩ, in cooperation with the spiritual initiative and academic enterprise at LeTourneau University and the Christ-centered principles which comprise Alpha Omega, are driven to develop the whole man. This society celebrated its 60th anniversary last year and the membership hopes to finally celebrate it with many alumni this September. The Alpha Omega 61st Anniversary will be held on September 18th, 2021. All AΩ alumni are invited to RSVP and to participate in commemorating 60 years of excellence. To do so, register for Homecoming & Family Weekend by clicking here. Make sure to indicate that you plan to attend Saturday, then indicate you plan to attend the AO 61st Anniversary banquet.
This story appeared in the Spring 2021 issue of the NOW Magazine (click to view the digital version).