DEGREE INFORMATION
Computer Engineering CONCENTRATION
The Bachelor of Science in Electrical and Computer Engineering (BSECE) – Computer Engineering Concentration is a new degree at LeTourneau University involving a curriculum of 126 semester hours. 
The Department of Electrical and Computer Engineering offers the electrical engineering (EE) concentration and the computer engineering (CpE) concentration. The EE concentration focuses on the hardware aspects of electrical systems, including microcontrollers, digital signal processing, and digital systems. In comparison, the CpE concentration, while retaining many of the EE classes, adds a microcomputer design class and provides a stronger programming background by requiring additional computer science classes. Overall, however, the CpE concentration emphasizes the hardware aspects of computer engineering.
The CpE concentration offers a strong theoretical foundation as well as a rich hands-on experience. The practice is emphasized through projects, lab exercises, and the senior design project. Notably, for the microcomputer design class, the students design and build individually a single-board computer system. In recent years, typical senior design topics for CpE students have been in the areas of robotics and telecommunications. Hands-on experience is supported by 3700 square feet of lab space dedicated to the electrical and computer engineering concentrations. A 4+1 option is available to students who are interested to begin working towards a master's degree in their senior or junior year.
To learn more about course requirements
The Bachelor of Science in Electrical and Computer Engineering, including the concentration in Computer Engineering, is accredited by the Engineering Accreditation Commission of ABET, https://www.abet.org. 
If you would like to sponsor or be a mentor of one of our senior design teams please click here.
INTERESTING CLASSES YOU'LL TAKE
The concentration in computer engineering at LeTourneau University involves a curriculum of 130 semester hours and is one of six concentration choices within our Bachelor of Science in Engineering degree.
Let Our Current Students Tell You
STUDENT PROJECT HIGHLIGHTS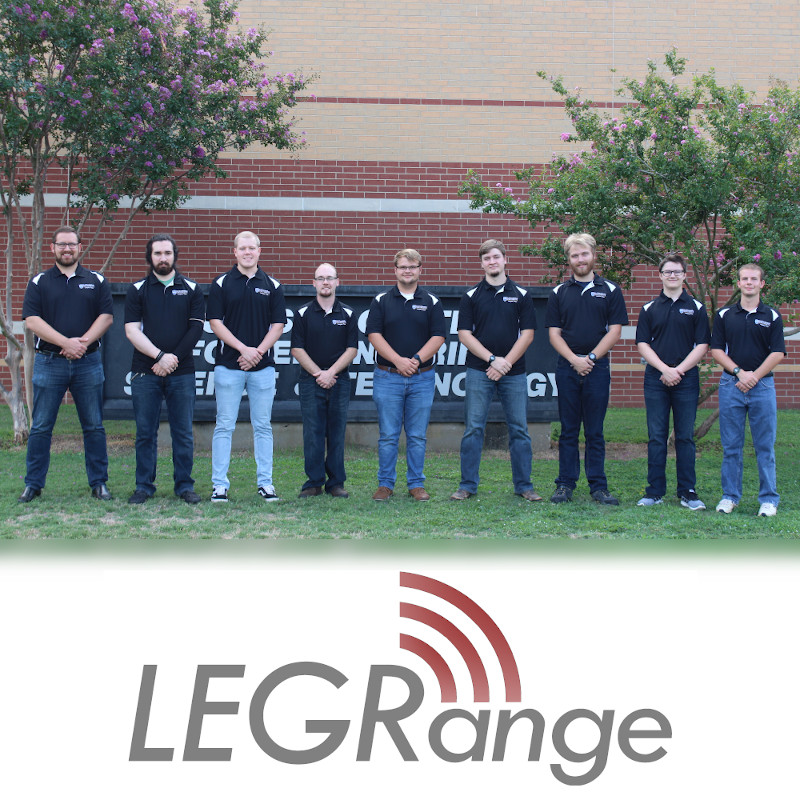 LEGRange (Faculty Advisor: Dr. Nathan Green) is a 3-year GPS-centered project being funded by Sandia National Labs. The goal of the project is to create a GPS Constellation and place it on campus for the purpose of running over-the-air testing and evaluation of adversarial signals. Furthermore, there are yearly milestones to be met. In the  first year, the team will construct the GPS constellation. This constellation will consist of four modified transmitters and one receiver. The transmitters will receive authentic GPS signal, clean the signal, and transmit it over the ISM band. The receiver will receive the authentic GPS signal and the emulated signals from our transmitters over the ISM band. Each device will leverage mature code provided through UT Austin's Radionavigation Lab in order to process signals. The team will use the second and third year to develop an adversarial GPS device, detector, and finally a device used for localizing adversarial devices. LEGRange is a highly anticipated project that will advance our research efforts in the field of defense.
---

Breathe (Faculty Advisor: Dr. Joon Wan Kim) expects to create a user-friendly device that can measure respiratory rate through no physical contact. This device also needs to easily connect to an IV stand and as such needs to possess means of powering itself, whether that be a portable battery or the ability to connect to existing electrical infrastructure.
Breathe applies the fields of Computer Science, Electronics, Machine Learning, Artificial Intelligence, and Biomedical Engineering. It is the hope by applying these disciplines to the project that this team will be able to create a device that will allow medical professionals to monitor respiratory rates in a non-intrusive manner.
WHAT CAN YOU DO WITH THIS CONCENTRATION?
With a degree in engineering, computer concentration, graduates may choose from a number of industry career options. Click on the links below to investigate your potential careers.
A few possible career choices include:
Let Our Alumni Tell You