If necessity is the mother of invention, creativity must certainly be its father.
What does it mean to be a creator? Does our world need more creators? If we are called to some aspect of original creation, how do we incorporate that into our lives and vocations? How does a Christian university respond to this need in the world?
According to the U.S. Patent and Trademark office, the U.S. has declined in its overall percentage of patents filed over the past three years for the first time since 2009, while other countries show high percentages of patent filing growth. This statistic, however, is not necessarily an indication of a drop in creativity or innovation since it doesn't account for the inventions or creations that were never submitted for patent status. Or is it? Is there a kink in the hose of ideation? Is it a resource in limited supply? Where's the source?
As Christians, we have a specific understanding of what it means to be creators, and why every person is designed to feel the urge to create something out of nothing. While there may be moments where creation is mandated by a job or a relationship of some kind, the deeper desire to create must certainly have been placed on us long before any external expectations came onto the scene. Creativity, perhaps, is hardwired into our DNA, as a gift from our Creator. As computer science professor and LETU inventor Dr. Glyn Gowing, states:
"As Christians, especially as people working in the field of technology, I feel that by inventing and creating, we are even more so reflecting the image of God, and representing the image of God by doing the things that God does: Loving, caring for people and creating. Because, you know, God created all of this. And as a scaled-down version, ultimately, no, we're not creating universes and all that; but we are also creating and innovating, making new things just like God did when he created the universe."
So what does that mean for us in the context of intellectual property? Should we claim intellectual property? Wouldn't the Christian approach be to create something to share with the world without claiming "rights" to the creation, in the name of service? Or would it?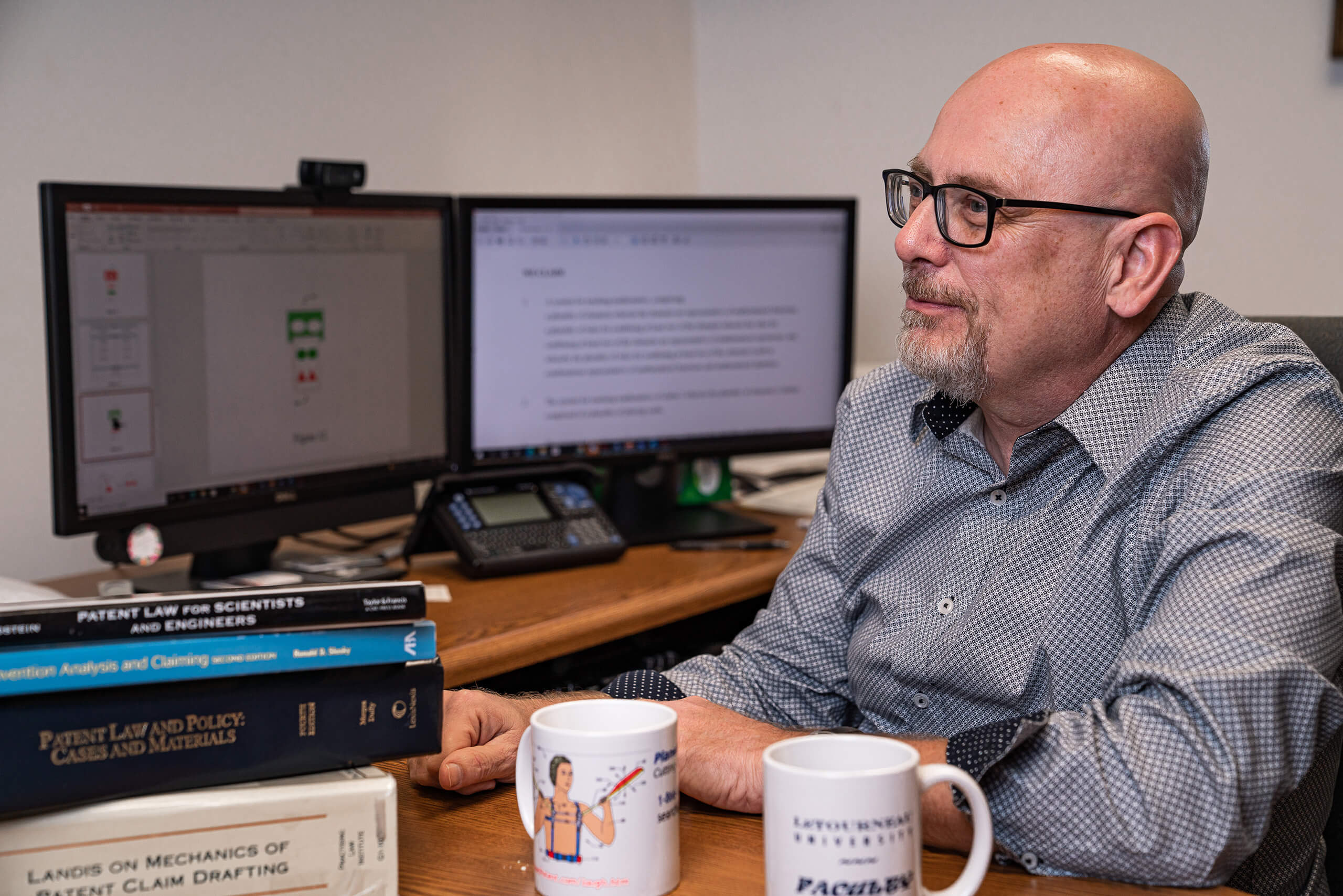 Besides his work as professor of chemistry, LETU faculty member Dr. Gary DeBoer is the on-campus champion for faculty intellectual property as founder of the LeTourneau Ingenuity Center, and he is licensed to practice patent law. Addressing these types of questions, Dr. DeBoer believes that if we are called to be in every workplace in every nation, that realm includes intellectual property, and intellectual property law. He shares the following anecdote to further address these questions:
"When we lived just north of campus, there was a vacant lot where our teenage boy and all his buddies played airsoft, and nobody cared. You know, we're all happy to see the kids playing and have a good time being outside. We made sure the local police knew that they were playing. It was all good. Everybody had a good time. On the other hand, nobody wanted these teenagers playing airsoft in their house, right? That's why we're all happy for them to play in the vacant lot. The difference here, is we've invested in our house. So the point is if you have an invention that takes investment to bring it to a market, people aren't going to invest unless they can exclude others from using it. You're not going to buy a house if people can just walk through it without your permission. In order to claim the intellectual property, we need to know what the "rules" are, otherwise the work will never get to market. People will never build a house if they can't exclude other people from using it. We need to know all the differences between a vacant lot and, you know, building a house. For Christians, we've been thinking everything's a vacant lot, but everything is not a vacant lot, right? And we just need to educate ourselves as to what's the best way to bring these things to people to better their lives. That's sort of the bigger picture. There's this Christian thought that we should just give our stuff away, and that's not always the best thing to do."
DeBoer helps LeTourneau faculty and students pursue patent filings, most recently working with Gowing, and Mathematics Professor Dr. Curtis Wesley.
Gowing invented a circuit trainer device which is able to test circuits and read/compare target output values. "I came up with the idea of this device because I knew enough about electronics because I've been playing with microcontrollers for years. So I knew enough about these things like, 'Hey, these things can read voltages so we can use this, you know, you do a circuit instead of the old fashioned way where you go and put your multimeter and test the circuit. Just connect it to the inputs and have it read the values and see if the circuits are right and have it put up lessons or assignments; engineers can just press the button and it tests to see if it's right."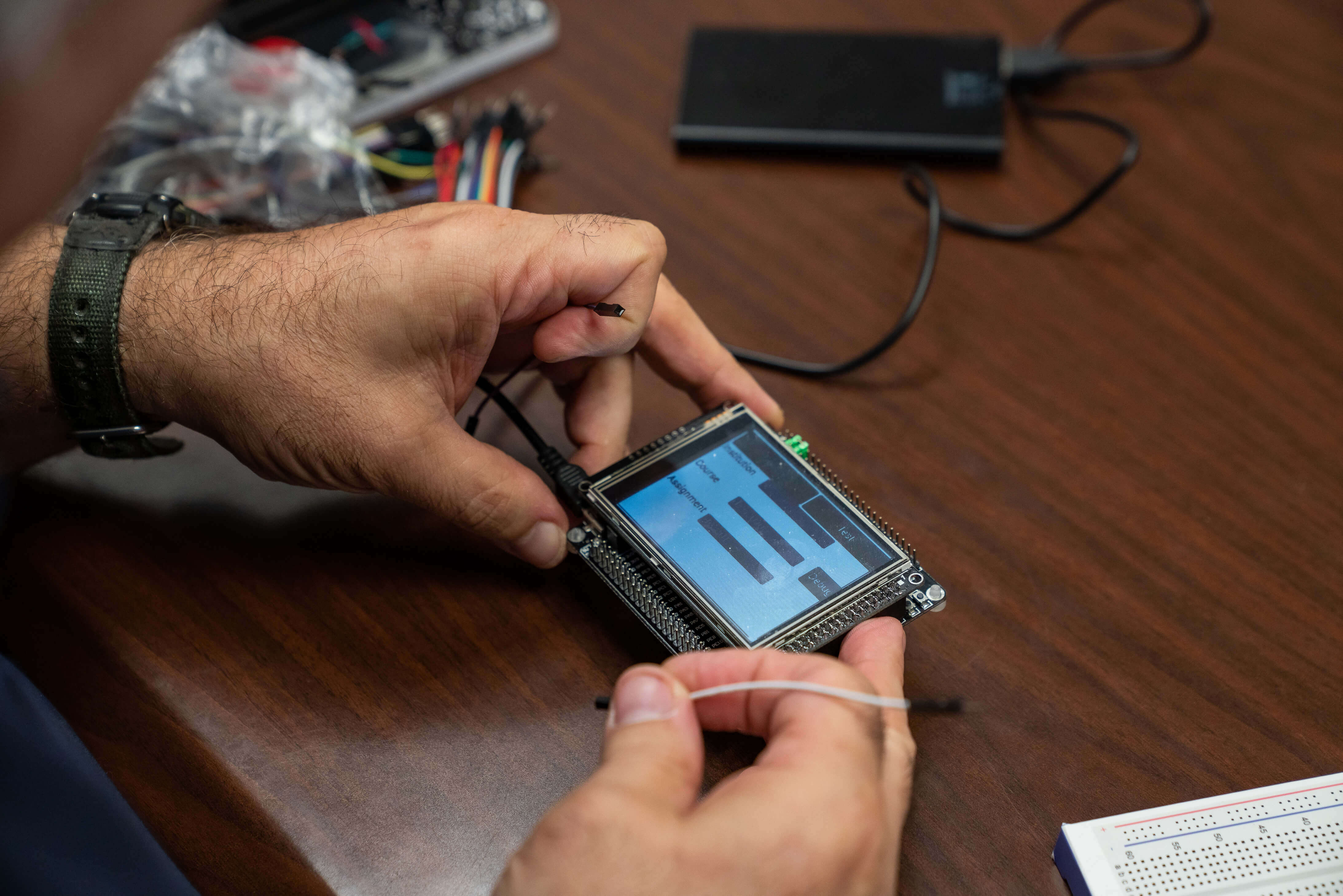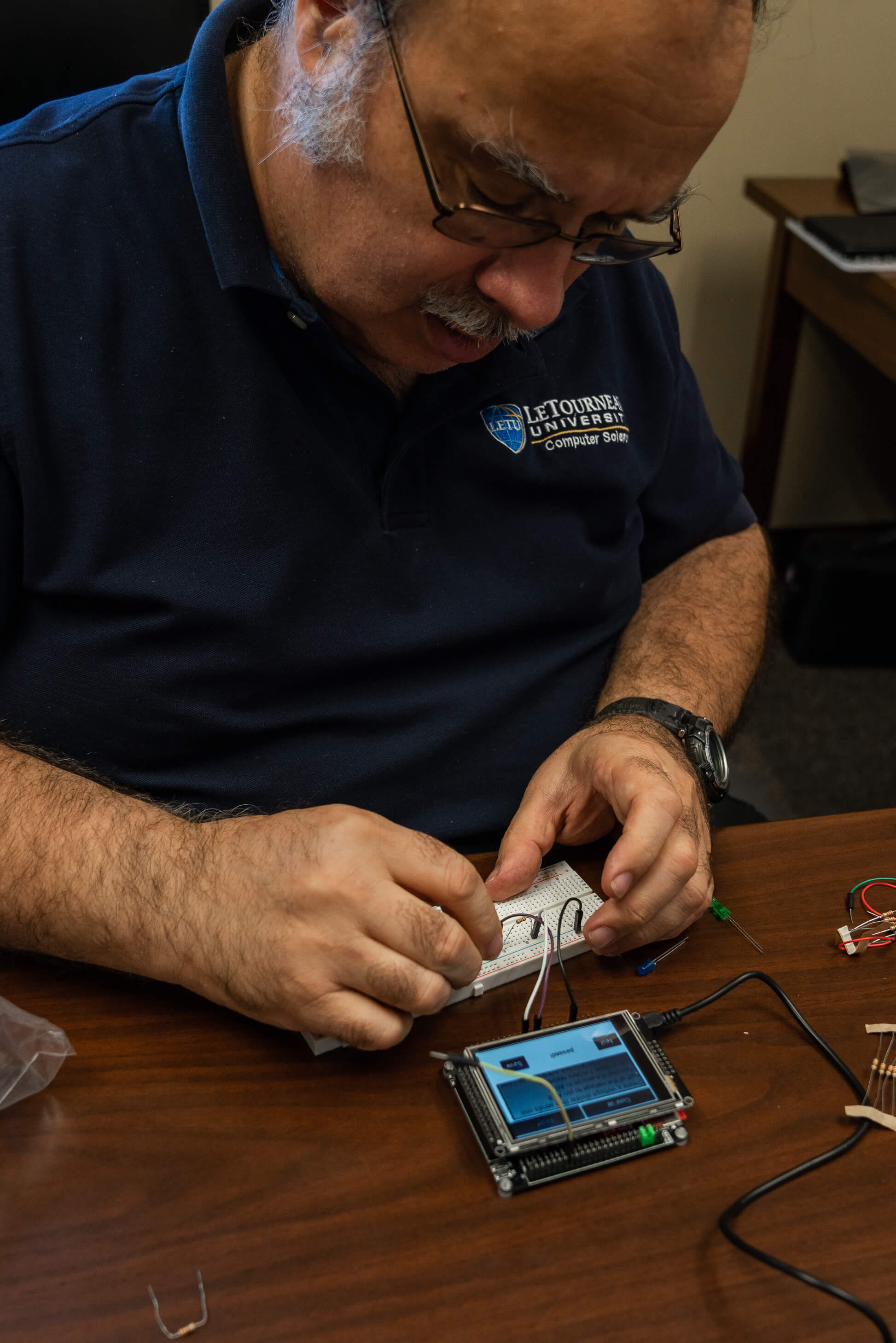 Gowing's device allows computer science students and engineering students to engage in hands-on work related to their courses, even during times when classes might be held remotely. In the spirit of the cross-discipline collaboration that is so prevalent around LETU, the beginnings of this invention stemmed from an engineering faculty member reaching out to Gowing.
"Dr. Hoo Kim contacted me one day and said 'I have an interesting problem, and I wonder if you can help me figure out a solution.' And he said 'I want to find a way to be able to take electronics courses, like your basic circuit courses, and find a way to teach them online where they can still do hands-on labs."
Gowing expressed his enthusiasm for inventing and creating, his passion for exploring new ideas, and how meaningful it is to him personally to "take simple things, put them together, make them more complex...make them more useful, make them more beautiful."
As Gowing takes the simple and makes it more complex, Wesley strives to take something stereotypically complex and simplify it.
Wesley invented a card game that is meant for introducing mathematical principles to all different kinds of people, especially children, as young as seven years old. This game is intended to be simple and intuitive. Knowing he had to do away with 'scary sounding' mathematics words, Wesley utilized basic shapes and colors on cards and created a game. The goal of the game is simply to combine the different combination of shapes/colors from different cards, and positioning the cards in different ways, to achieve the value of one.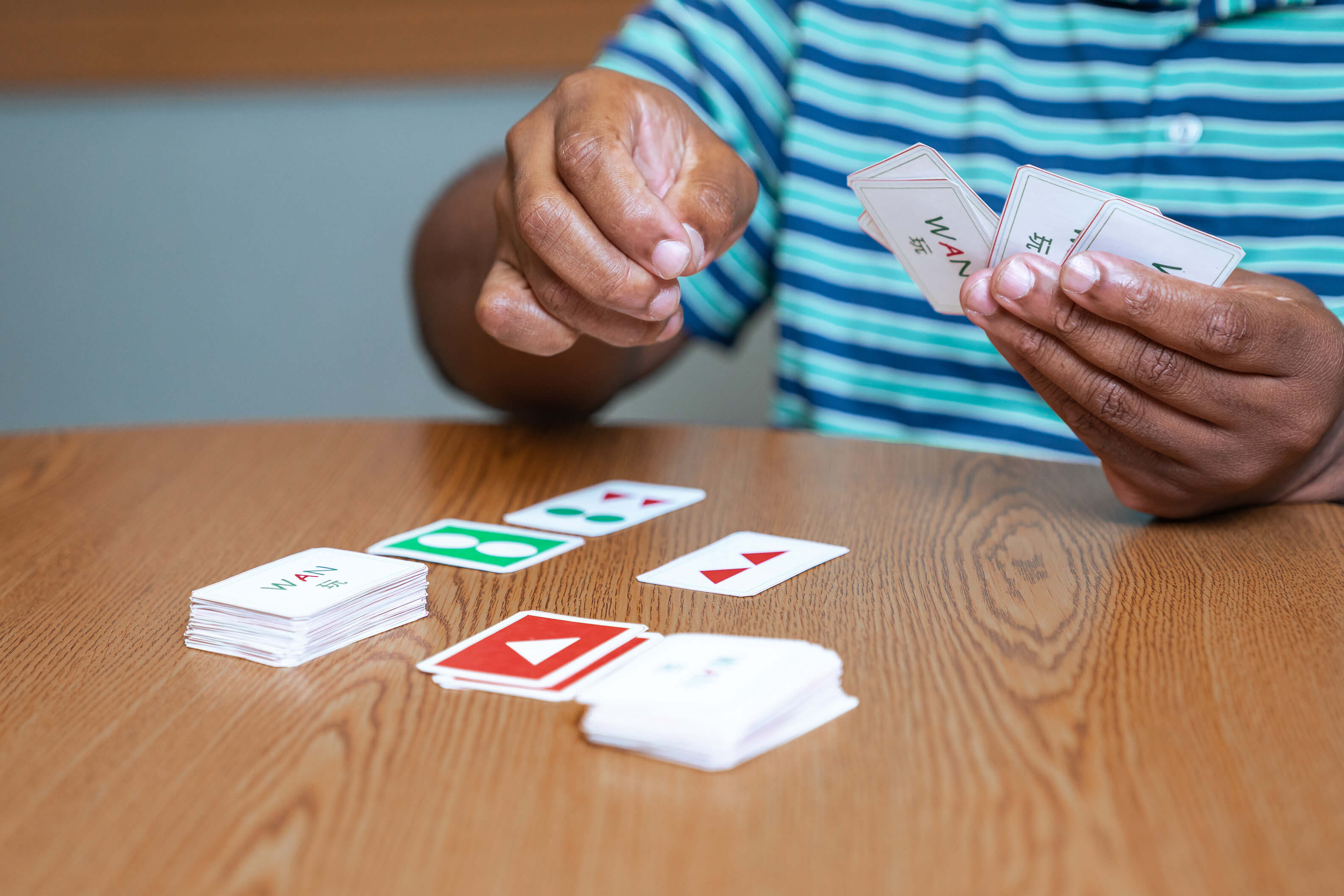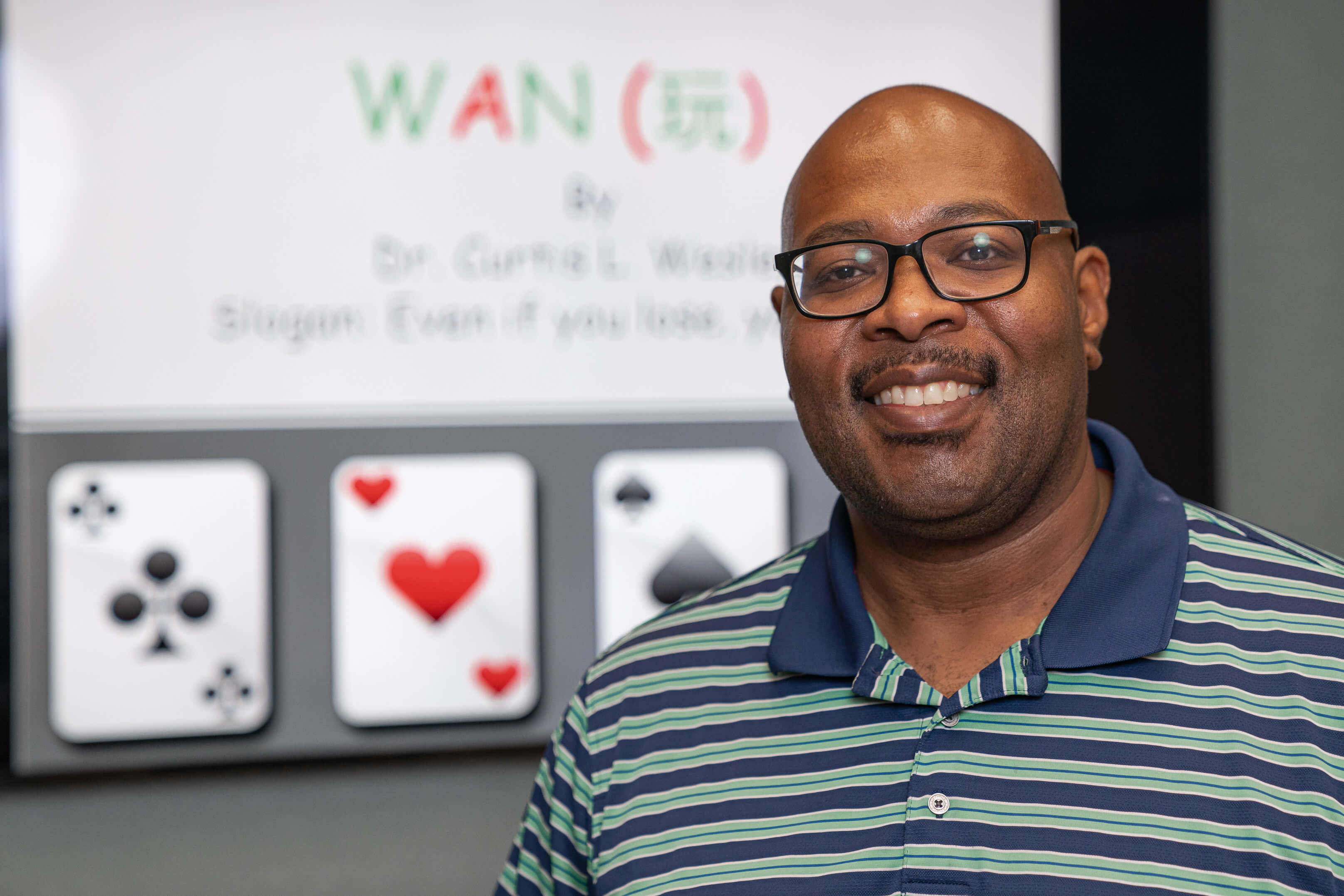 In addition to the basic goals of playing the game, Wesley highlights a deeper potential outcome of the game.
"Many people approach math and say, oh it's about equations, or about numbers, or about graphs, etc. But math is actually a language. Not only is it a language for communication, but a language which gives us a way to write out a story of how one thing can relate to another. This is what I wanted to convey in the card game. When you play this game, you are expressing an idea. It's not about the symbols on the cards. It's about the idea that's conveyed."
In discussing these deeper meanings of language and communication as they relate to our role as co-creators with God, Wesley went on to say: "There are mathematical relationships throughout our lives. There is an inherit logic behind all that we do. We get that logic from God. God breathed in us the breath of life, and gave us the ability to create, think, and discover. We can think deeply about our world, and our place in the world."
With the guidance and expertise of Dr. DeBoer, Drs. Wesley and Gowing have provisional patents on file for their inventions, and plan to keep moving forward in the patent process. Their work individually, but even more-so, collectively, showcases the culture of innovation and cross-discipline collaboration that are distinctly 'LeTourneau'.
Necessity drives many practical outcomes, but DeBoer, Gowing, and Wesley lead us to conclude that the creativity, logic, and beauty behind every valuable idea is ultimately a result of how we were created. They exemplify how leaning into this part of our make-up could result in more Christian involvement and influence in the innovation voids and creative solutions in our world.
Certainly our world is ever in need of new ideas and perspectives, and ingenuity and logic, for many of its problems. A certain amount of brokenness in our world will only be redeemed at the return of Christ; however, some redemption may take place through the work of the Creator in us, through our own creative solutions. Some of these solutions may actually need to be 'claimed' in order to reach their fullest potential and have the widest impact. As DeBoer states, "it's not just about bringing in revenue. It's about teaching students about the application of intellectual property and claiming the value in what you do. And where better to do that than at a polytechnic university? At the Christian Polytechnic University."