All residential students are provided a meal plan as part of "room and board" costs. Food service is directed by Bon Appétit in the Corner Café dining hall and the Hive. The dining hall is open during the Fall Break and on Thanksgiving weekend, but is closed during the Christmas vacation, Spring Break, and between semesters.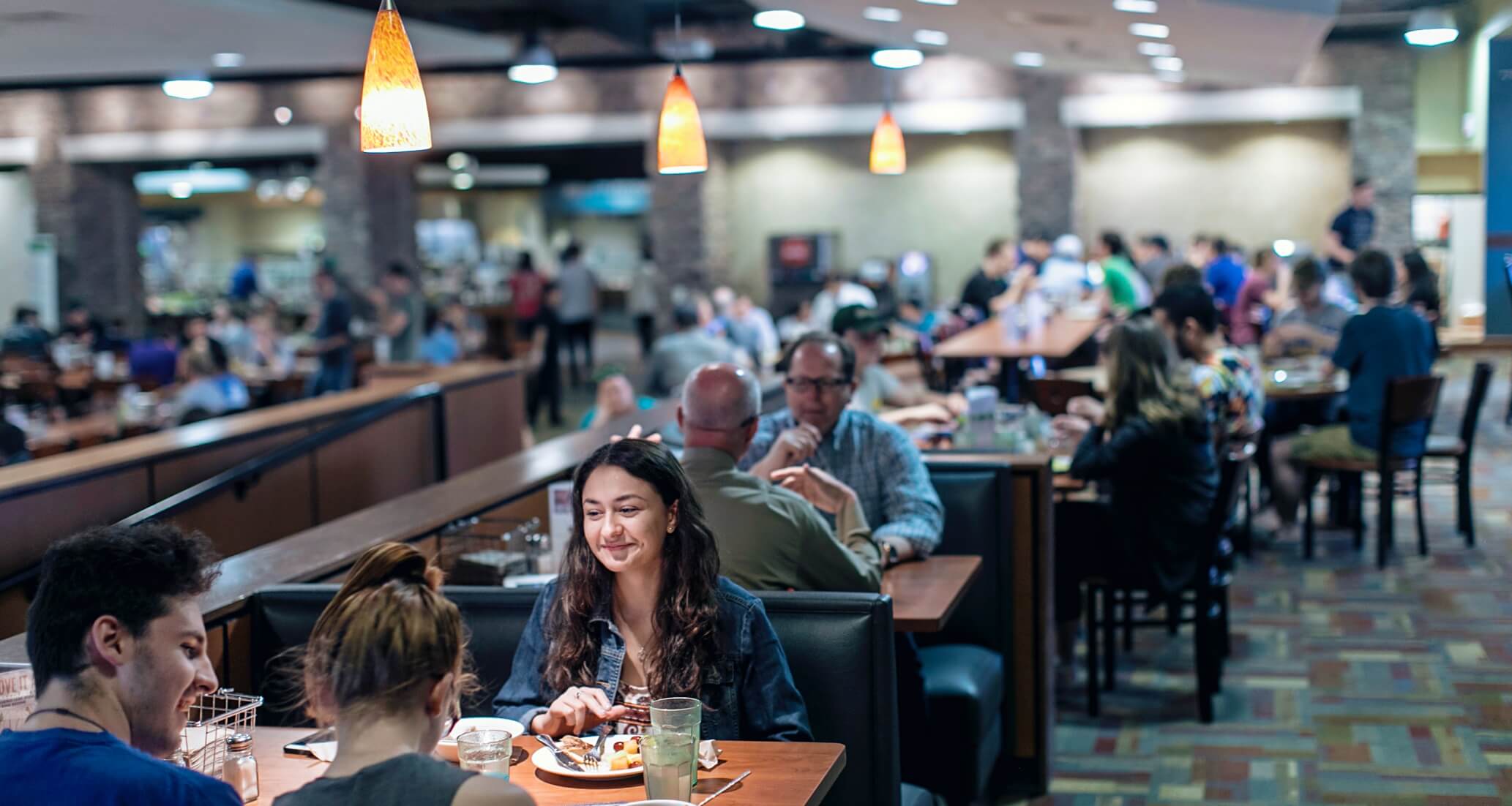 Corner Café
The Hive & Common Grounds
Meal Plan Options
The Corner Café dining hall offers an "All You Care to Eat" format, which allows students to pick and choose what they want to eat for each meal. Multiple stations are set up throughout the serving area, including pizza, healthy choice, casserole, grill, chef's station, deli, salad bar and dessert.
Students who have classes during the designated lunch hour can pick up a box lunch on the go. To do so, students must show their university schedules to one of the dining hall managers, who must approve the plan. Once approved, the student's name will be placed on a list, enabling him or her to pick up a box lunch on the way to class for the date with a conflict.
HOURS OF OPERATION
Breakfast

Monday-Friday: 7:30-9:30am
Sunday: 8:00-9:15am

Lunch

Monday, Wednesday and Friday: 11:30am-1:30pm
Tuesday and Thursday: 10:50am-1:30pm
Saturday (brunch): 11:30am-1:30pm
Sunday: 11:30am-1:30pm

Dinner

Monday-Friday: 4:45-7:00pm
Saturday: 4:45-6:00pm
The Hive, located in the Allen Family Student Center, offers an à la carte dining format, which will allow students to select what, how much, and when they choose to eat. Service options include: Grab-n-Go offerings of salads, sandwiches, and the like; a full service taqueria; brick-oven pizza; a grill; hard-scooped ice cream. Students may also choose from a full array of fine coffee, espresso, tea and more complimented by fresh pastries, scones, cookies, bars and bottled drinks.
HOURS OF OPERATION
Breakfast

Monday-Friday: 6:30-11:30am

Lunch

Monday, Wednesday and Friday: 11:30am-3:00pm
Tuesday and Thursday: 10:50am-3:00pm

Midday

Monday-Friday: 3:00-6:30pm

Evening

Sunday: 5:30-9:00pm
Monday-Saturday: 6:30-9:00pm
There are four primary meal plan options to serve the needs of our students. "Meals" can be used at the "all you care to eat" Corner Cafe and for specific exchange meals at the Hive (a quick service, a la carte dining option). "Flex Money" can be used in the Hive or the Cafe if needed there. The first three plans provide roughly equivalent levels of plans with varying flexibility. The Block plan provides the opportunity to use more than one meal per meal period. Each of these plans are the same cost.
Cafe19 - 19 meals per week + $35 Flex for the semester
Flex15 - 15 meals per week + $150 Flex for the semester
Flex10 - 10 meals per week + $400 Flex for the semester
Block100 - 100 meals for semester + $350 Flex for the semester
For students with special food needs (food allergies, etc.) the Bon Appétit staff is happy to help them find the right food choices for their dietary needs.
For more information on food services, please see the Student Handbook or visit letu.cafebonappetit.com/ for menus or other details.