This year, we have dedicated our giving day—Soar Day—to raising money for two distinct funds that both help us maintain a superb student experience and help reduce the financial burden on families that fall into a high need category.  First, the LeTourneau Fund is that critical portion of the university's revenue that allows the institution to manage its annual expenses while reducing the pressure to increase student tuition costs. The LeTourneau Fund gives the University the ability to apply funds toward a range of expenses such as underwriting the various student scholarship programs or tackling a facilities emergency. Second, the Stay the Course Fund has been created to assist students and their families who face significant financial setbacks whether due to the pandemic, or a health or job crisis. Your gift through Soar Day to the Needs Based Scholarship will enable LeTourneau students to continue their education even with the financial challenges they might be facing.
Whether it's your first time giving or it's your 100th gift, every contribution in our 76th year, from $7.60 to $76,000, helps make a LeTourneau education possible for our students.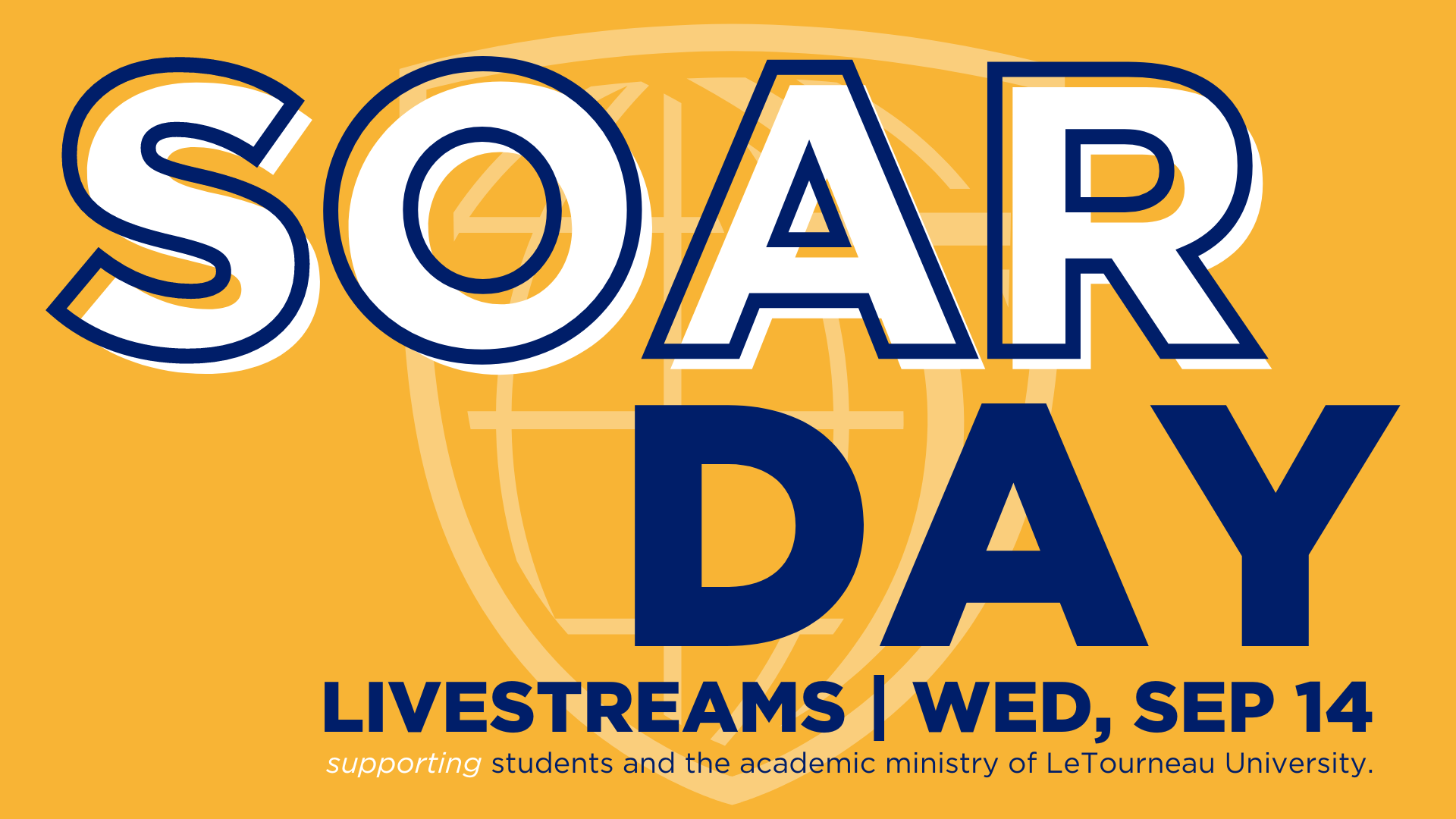 Soar Day Video Schedule
| | |
| --- | --- |
| 7:00 am | Greetings from Dr. Steven D. Mason, President |
| 8:00 am | A Devotional Thought with Dr. Stan Coppinger, Dean, College of Education, Arts & Sciences |
| 8:25 am | "Organizational Behavior" with Dr. Karen Jacobs, Professor of Management |
| 8:25 am | "Flight Science I" with Scott Channon, Instructor, Applied Aviation Science |
| 9:30 am | "Computer Science I" with Dr. Ken Rouse, Professor of Computer Science |
| 10:35 am | Chapel: Spiritual Emphasis Week with Special Guest, Mr. Lo Alaman, Poet, Writer, Preacher |
| 11:40 am | Soar Day Update from Allen Student Center |
| 12:15 pm | Lunchtime visit to the Corner Cafe |
| 1:00 pm | Pain Management Lab with Nursing Faculty |
| 2:00 pm | Student Voices: The Impact of LeTourneau University |
| 3:00 pm | "Statics" with Maj. Gen. (Ret) Craig Olson, Lecturer, Mechanical Engineering |
| 4:00 pm | Visits to Intro to Engineering Principles, Senior Design Team LEVI, and the Maker Lab |
| 5:00 pm | Soar Day Celebration from Allen Student Center |
NOTE: Schedule is subject to change.