Soar Day is our day to reflect, connect, and give back.
We reflect on the founding of the LeTourneau Technical Institute back in 1946.  Soar Day is set each year on a Wednesday that is close to September the 17th, the first day of classes in the fall of '46.  We also reflect on God's faithfulness through the years allowing LeTourneau to attract godly and capable faculty and staff, bringing leadership that the institution needed for the season, calling students who received more than just a degree but also a preparation for their life's work and the building of God's kingdom, and inspiring partners who supported the university in times of hardship and in times of growth. And as we reflect, we are thankful.  We hope this is a blessed time of reflection for you.
We connect on Soar Day by joining live streams of classes, chapel service, labs, devotionals and more. This year, for the first time, Soar Day is offering Meet and Greet virtual groups in the evening hours so alumni can join others who lived in the same residence hall, graduated in the years around their own, played team sports, or graduated from a certain school.   Anyone who has ever used Microsoft Teams will find this a breeze and those who have not should find it simple and straight forward to do.   We hope that you will participate in some or all of the events as they happen live or after the event through the recording. See the schedule to the right for the entire list of opportunities to participate.  Just click on the link for the live streams of your choosing. 
We give back out of thankfulness for what God has done in the lives of so many through this institution.  We give back for what God is continuing to do in students lives this year.  There are three ways to consider supporting LeTourneau this year.  First, the LeTourneau Annual Fund is that critical portion of the university's revenue that allows the institution to manage its annual expenses while reducing the pressure to increase student tuition costs. The LeTourneau Annual Fund gives the University the ability to apply funds toward a range of expenses such as underwriting the various student scholarship programs or tackling a facilities emergency. Second, the Stay the Course Fund assists students and their families who face significant financial setbacks whether due a health or job crisis. A gift to this scholarship fund will enable LeTourneau students to continue their education even with the financial challenges they might be facing. Third, this year we are raising support for Spring Break Mission Trips.  Last year saw students giving up their spring breaks to go on 10 mission trips.  Like the great commission those "trips" ranged from staying in Longview (1), to traveling elsewhere within the United States (7), to leaving going outside of the United States.  Not only are the students sacrificing their time, but they are required to raise their own travel funds.   That's where you can help.  A gift to the Spring Break Mission Trips now can help one or more students go on mission in the spring.
Whether it's your first time giving or it's your 100th gift, every contribution in our 77th year, from $7.70 to $77,000, helps make a LeTourneau education possible for our students.  As you reflect and connect, we hope that you will prayerfully consider giving back in support of LeTourneau and her students.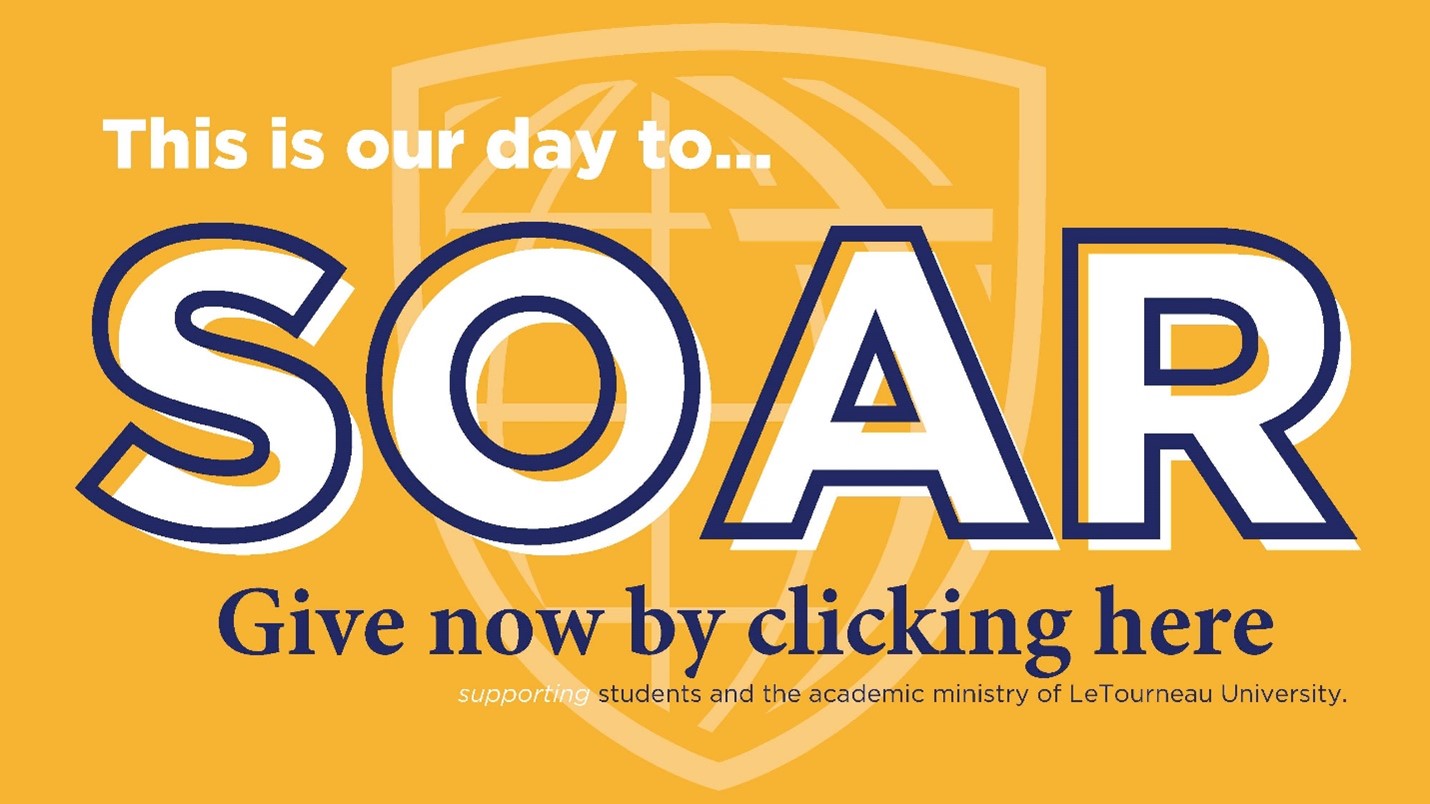 SOAR DAY VIDEO SCHEDULE WITH LINKS
Select the orange link of your choice below:
7:30 am
Greetings from Drs. Steven D. Mason, President  Terry Zeitlow, Vice President for Development and Alumni Relations from FABTECH 
7:45 am
A Devotional Thought with Dr. Sandy Mayo, Associate Provost for Student Success & Dean of Nontraditional Education
8:05 am
"Power Plant Electrical System" with Todd Feenstra, Aviation
9:30 am
"Human Growth and Development" with John Coleman, Psychology
10:35 am
Chapel: Special Guest, Dr. Jack Roudkovski
11:40 am
Soar Day Update from Allen Student Center
11:45 am
"Great Literature: Ancient & Medieval" with Kate Stearn, English
12:30 pm
Lunchtime visit to the Corner Cafe
12:50 pm
Academic Chapel with Engineering Dean Dr. Mike McGinnis 
1:00 pm
Presentation of "Made for More: A Computer Science Journey"
1:30 pm
"Intro to Engineering I" in RG's Workshop (Prerecorded)
1:50 pm
"Investments" with Bob Roller, Business
1:50 pm
"The History of Christian Thought" with Luke Tallon,Theology
2:00 pm
Student Voices: The Impact of LeTourneau University
3:00 pm
Prayer Walk - Abbott Center, Glaske, Solheim, Belcher, Education, Heath Hardwick, Longview Hall, Student Life in AFSC
4:00 pm
Bill Fowler - Manufacturing Processes (Machining Lab) - Engineering
5:00 pm
Final Update from Allen Student Center
Meet and Great Sessions (a 2023 experiment)
5:15 pm
Based on Class Year: Golden Jackets '73 and before, Class of 74-84, Class of 85-95, Class of 96-06, Class of 07 to present
6:00 pm
Based on Floor/Residence: Barracks, Tyler Hall, The Trinities, Davis Hall, Gilbert Hall, Thomas Hall, South Hall, Married Student Housing, Societies
6:30 pm
Based on Athletics: Men's Athletics, Women's Athletics
7:00 pm
Based on School: School of Arts and Sciences, School of Aviation & Aeronautical Sciences, School of Business, School of Education, School of Engineering & Engineering Technology, School of Nursing, School of Theology & Vocation
NOTE: Schedule is subject to change.