Engineering Disaster Relief
LeTourneau University engineering students designed and built a rapidly deployable emergency disaster shelter that won 1st place in the 7th Annual Disaster Shelter Design Competition, sponsored by Samaritan's Purse International, at John Brown University in Siloam Springs, Arkansas.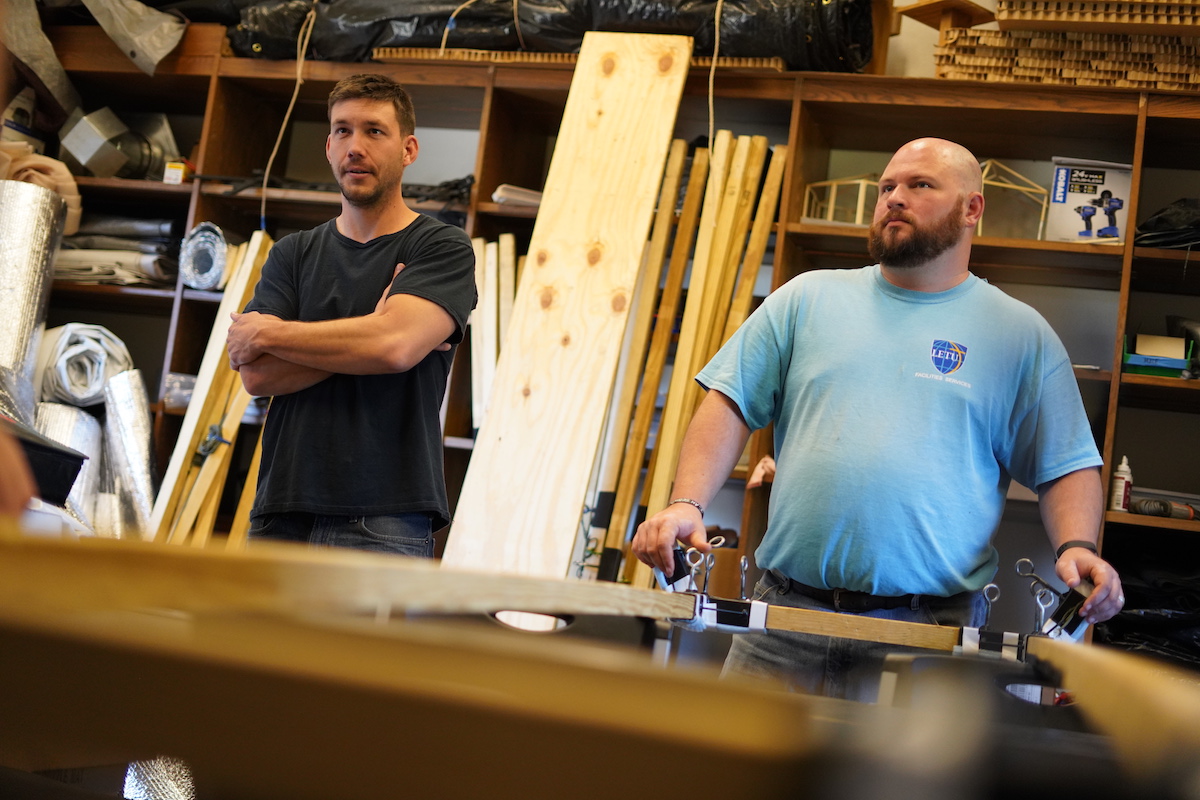 The competition judges, who evaluated the entries for possible implementation in relief efforts worldwide, have expertise in emergency management, engineering, logistics and manufacturing.
"Our first-place LETU SafeHome Blue Team not only won the overall competition, but also got 2nd place in a separate emergency shelter competition that gives team members two hours to construct a shelter made of a pile of construction materials," said faculty adviser Dr. David Dittenber. "The impromptu shelter had to be able to protect against sun, wind and rain.
"LETU won 1st place in the wind portion of the competition, withstanding a 130-mph wind, which was the maximum wind the test equipment could provide," Dittenber said. "Most of the shelters each year are destroyed and/or blown completely away at between 70 and 110 mph."
LETU SafeHome Blue Team members were: Luke Stephens (team lead), Wes Howard, Ella Giordano, Dustin Henson, Nathan Ahrend, and Marty Rittenberry.
LETU's second team LETU SafeHome Red Team was competitive in every category, winning an award for the most economical shelter design.
LETU SafeHome Red Team members were: Rachel Martin (team lead), Elyse Wright, Mark McGill, Austin Coblentz, Keni Legesse, and Caleb Spencer.
The competition scenario was based on the 7.8 magnitude earthquake in 2015 that affected more than a million people in Nepal.
Required to address the local climate and mountainous terrain in Nepal, the shelters had to retain heat, repel water, transport easily, house a family of four and be cost effective and culturally appropriate.
"This competition gives Samaritan's Purse access to some of the region's most innovative engineers, construction management and architects, as students provide practical solutions to real-world problems," competition coordinator Mark Terrill said. Terrill is an a associate professor of construction management at JBU. "Not only does the competition combine classroom learning and real-world application, but it's also really fun to watch."
Each team's disaster shelter prototypes endured durability testing - including earthquake sustainability, heat retention, overnight habitability, wind turbulence and, new this year, water resistance. In addition, teams competed in an emergency shelter construction test, where they were evaluated on their ability to quickly design and construct emergency shelters from given materials.
Teams were scored based on their shelter's performance in individual events and on their presentations detailing their shelter's schematics, design and materials.
Rounding out the top three were 2nd place Calvin College (Grand Rapids, Michigan) and 3rd place John Brown University (Siloam Springs, Arkansas).
Other universities participating included Dordt College (Sioux Center, Iowa), Pittsburg State University (Pittsburg, Kansas), Gyeongsang National University (Jinju, South Korea), Murray State University (Murray, Kentucky) and University of Arkansas at Little Rock (Little Rock, Arkansas).
LeTourneau University is the premier Christian polytechnic university in the nation where educators engage students to nurture Christian virtue, develop competency and ingenuity in their professional fields, integrate faith and work, and serve the local and global community. LETU offers undergraduate and graduate degree programs across a range of disciplines and delivery models at LETU's residential campus in Longview, Texas, hybrid options at centers in the Dallas and Houston areas and fully online programs. For additional information, visit www.letu.edu.