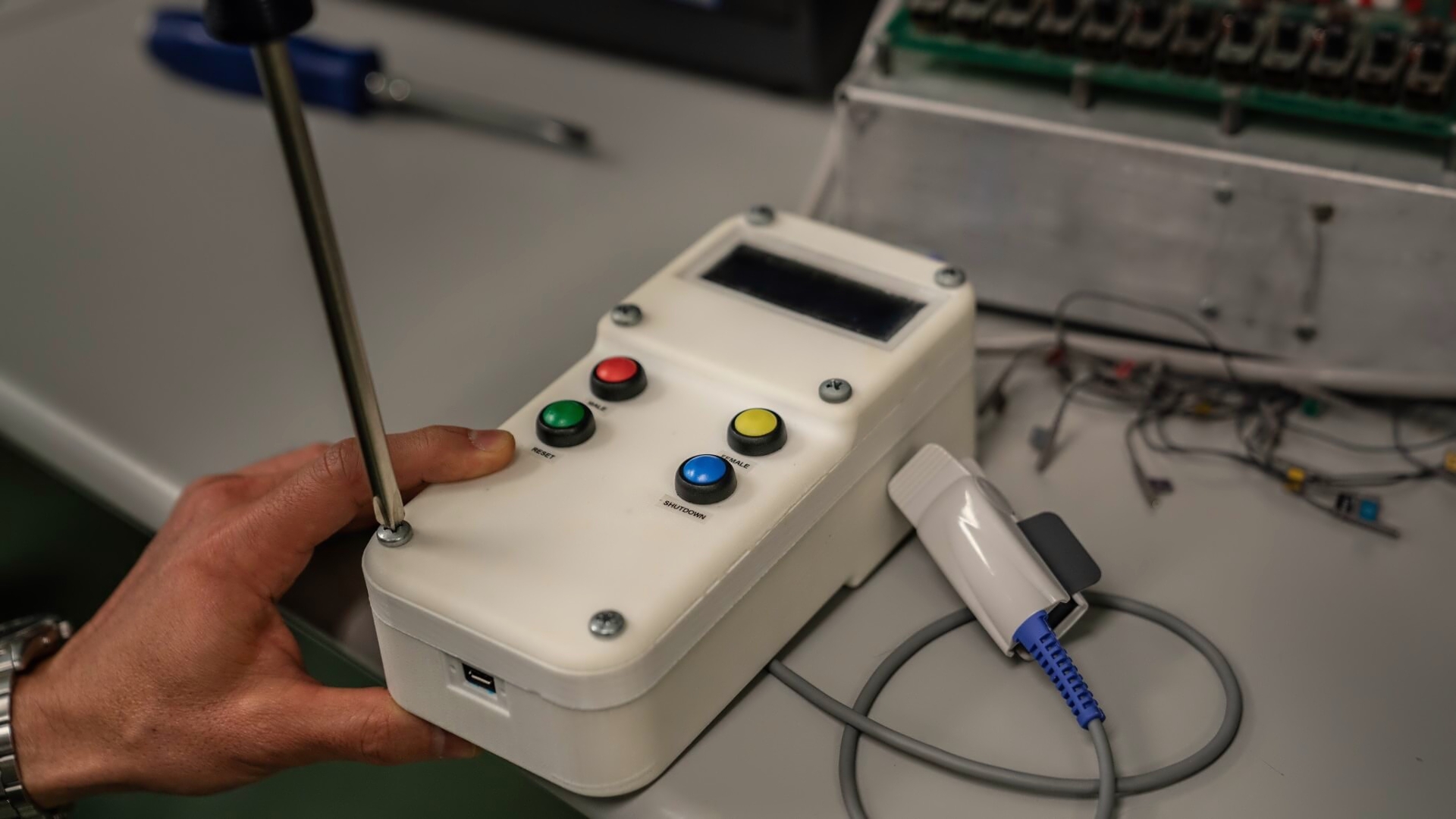 LeTourneau University engineering students have won first place in the Engineering World Health international competition for a non-invasive, hand-held, rugged, low-cost device designed to help diagnose iron deficiency in patients in developing countries.  
The device clips onto a fingertip like a portable finger pulse oximeter that measures oxygen, but it, instead, can detect iron deficiency by measuring hemoglobin.  In their research for the project, the LETU students learned that hemoglobin is a protein in red blood cells that carries oxygen and that people with low hemoglobin suffer from anemia.
"Low iron levels in the blood can be an indicator of several illnesses," said LETU senior biomedical engineering major Jacob Landreth of Yucaipa, California, who was the only junior student on the team last year.  "The device we designed was to enable a Christian humanitarian group, the Free Burma Rangers, to read iron levels in the blood of patients without requiring a finger stick that could later become infected."  FBR provides medical care and other relief to people living in conflict zones.
Landreth said pregnant women are at particular risk for anemia due to lack of balanced nutrition. He said that low iron levels make the red blood cells unable to carry oxygen and could raise the risk of premature births.
"Through the project, we learned to do research about hemoglobin levels and their impact on health," Landreth said. "We applied our electrical skills and the wiring of the prototype gave us hands-on practical experience.  I also got more practice and get better at using my MATLAB software skills.
"It also helped me see the need of people outside of the U.S. where it is not as easy to get your hemoglobin tested to find out if you have anemia," he said. "I gained a stronger sense of gratitude for the blessings we have in this country and gained a perspective of life in developing countries that I don't necessarily see every day."
The cost of producing one unit would be under $175, Landreth said, adding that the device has no waste, because it does not require strips needed for reading the iron levels, similar to the strips used by diabetics who check their blood sugar with a finger stick.
The LETU "Noninvasive Hemoglobin Screening Device" took first place in the 2019 competition, with Clemson University taking 2nd place and the University of Minnesota Twin Cities taking 3rd for their entries, which included a breast pump to reduce mother-to-child HIV infections and a low-cost infusion pump, respectively.
LETU engineering professor and faculty advisor Dr. Paul Leiffer said he was particularly proud of the students for their first place win, considering that this was the first year that LETU had entered the competition and that winners in the past five years included top-rated universities, including Purdue University, which had won first place in the international competition the previous two years.
"Other previous top-three finishers in the past five years included teams from Vanderbilt University, University of New South Wales, University of Toronto, University of Texas at Austin, Virginia Tech and Cornell University," Leiffer said. "That first place win puts us in really good company."
Leiffer said the EWH senior design team required biomedical, electrical, computer and mechanical engineering students to make up the 8-member team.   Team members who graduated last year included the EWH team leader Mikalah Iverson, who now works at Thermo Fisher Scientific; Brooke Hayley, who is in graduate school at Johns Hopkins University; Jacob Frankenfield, who works at the Department of Veterans Affairs; Ben Ellis, who works at Pico Technology;  Kyle Bryant, who is an engineer at Eastman; Isaac Orao who is in graduate school at University of Central Florida; and Cole Ironside, who begins work with Salt River Project in Tempe, Arizona in January 2020.
Engineering World Health is a U.S.-based non-profit organization that engages the skills and passions of students and professionals from around the globe to improve healthcare delivery in low-income countries.