By Glenda Vosburgh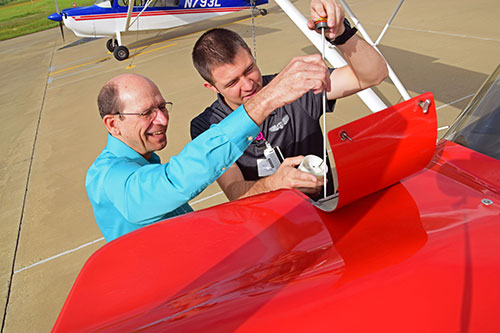 Lauren Bitikofer was six years old when he took his first airplane ride.
"My dad took me to an airport near where we lived in Kansas, and they were giving airplane rides for a penny a pound," says Bitikofer. "I was hooked. I love being up there."
Airplanes have been part of his life ever since.
As a kid, he built model airplanes – something he's recently come back to – started taking flying lessons at age 15, soloed on his 16th birthday, bought into the local flying club and got his private pilot's certificate at age 17 and his commercial certificate at age 18.
"Mr. B," as his students affectionately call him, is LETU's Flight Science department chair. He has plied his trade at LeTourneau for 40 years, teaching, guiding, and molding successful pilots and maintenance technicians.
He came to LeTourneau College as a student in 1971, earning an Airframe and Powerplant mechanics certificate in 1975. He also took a year and a half off from Fall 1972 to Spring 1974 to attend the Word of Life Bible Institute, where he met his wife Kathy. After completing his A&P, Bitikofer returned to Kansas and worked in industry a few years before returning to teach at LeTourneau in 1977.  
Today, LETU's aviation program is the only four-year comprehensive university aviation program in Texas, offering 12 certificates and encompassing a fleet of 15 aircraft, including Citabrias, Cessna Skyhawks and Diamond Twin Stars.
Bitikofer has trained scores of pilots. Many have gone on to fly corporate and commercial passengers, some have chosen the missionary pilot route, some have gone on to run major airlines or to serve in the military, including Aaron Lorson, Executive Vice President of Dynamic Aviation, and former Air Force Two pilot Todd Degroot.
"Every once in a while I get on a plane and one of my students is the pilot," Bitikofer says.
Of course, you don't spend 40 years training young, eager pilots without having some good stories to tell.
Bitikofer remembers a time when a student pilot had bought an old Aeronca Chief and needed Bitikofer to check him out in the aircraft. The student bounced the landing, then pushed forward on the yoke. Bitikofer had to get control.
"I grabbed the yoke to pull back on it, and it came off in my hand," he says, "So, I grabbed the post and yanked back on it as hard as I could to save the landing."
Bitikofer says LETU is unique for training newbie pilots in a Citabria "tailwheel" aircraft, with emphasis on stick and rudder skills. 
"Some airplane cockpits have a lot of technology that you have to teach, and it is a major distraction from learning to fly the plane," he said. "All planes fly basically the same, and it's important to learn the fundamentals first. What you learn first sticks.
"Because of that we are able to teach our students at a very deep level," he says. "We teach them how to do jobs and why they're done that way, and our students are leaders in the industry. Those who only know how always end up working for those who know why.  We've always been able to place our students even in a down time in the industry."
Teaching gives Bitikofer a lot of joy and so does visiting with former students when they come back to the university.
"When they tell me about their families and their careers, and how God has and is working in their lives, well, they've got life figured out, and they're all living it well," he says.  There is no greater joy than to hear your children are walking in the truth, he said, quoting from 3 John 1:4.