LETU Racers Message to Supporters
WHO ARE THE LETU RACERS?
The LETU Racers are the LeTourneau University Women's Air Race Team. Our team exists to showcase who we are at LeTourneau University and our exceptional flight training program! LeTourneau University has entered the Air Race Classic in 2015, 2016, 2019, and 2022. During the 2019 race, we won our first ever leg prize, placing 4th on the second leg of the race. We entered three teams in the 2021 ARC Derby, and two of our teams received leg prizes. The 2020 race was cancelled, and the 2021 ARC Derby was held in place of the usual Air Race Classic.
We plan to fly a Cessna 172S Skyhawk in the 2022 race. The Skyhawk is very reliable, loaded with electronics to help our navigation and weather monitoring, and a great overall airplane to race.
For more information and updates, visit our Facebook page: https://www.facebook.com/pg/LETUAirRace/
Flight Crew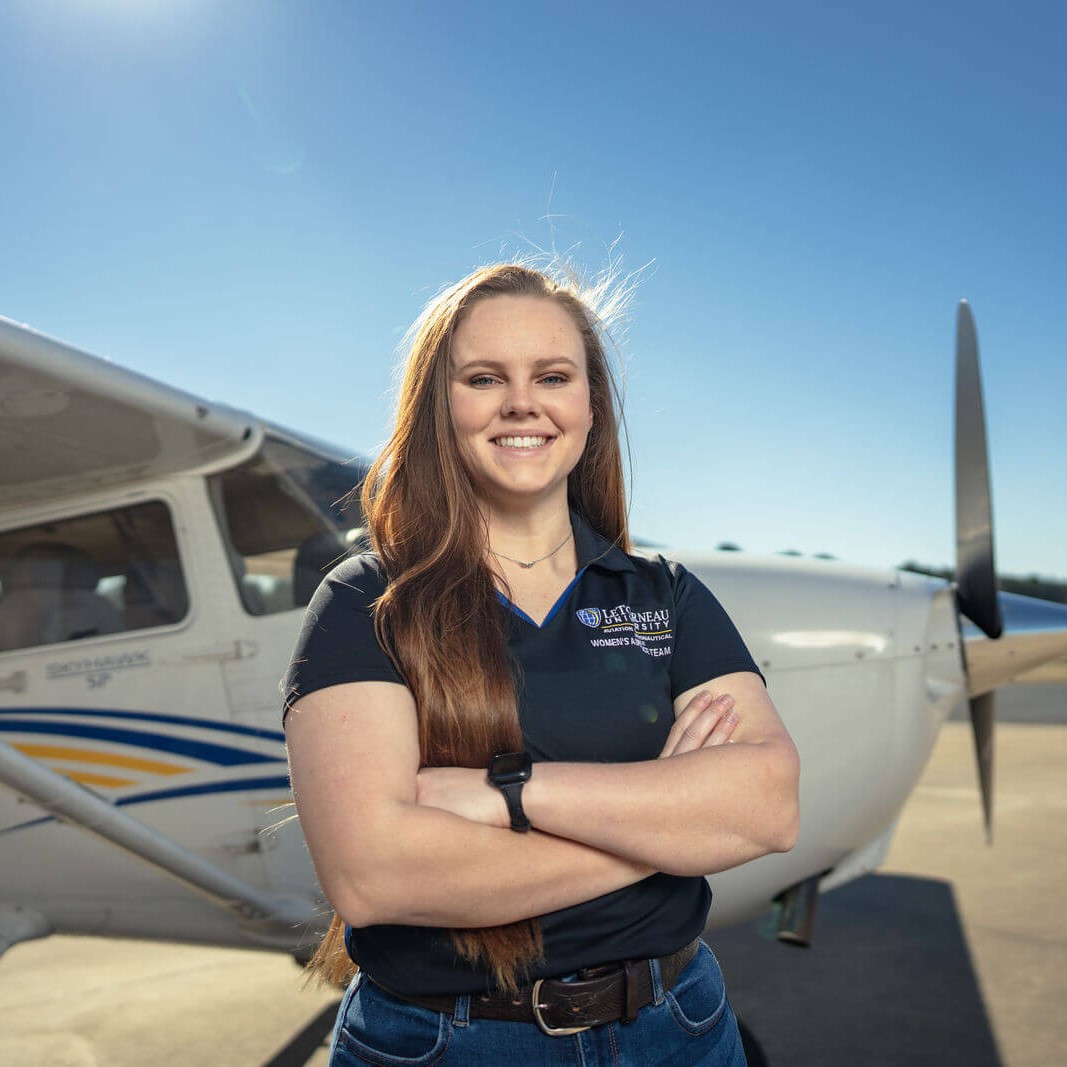 Sadie Morgan (Team Pilot) - Sadie Morgan is from Cost, Texas, a small farming and ranching community. She loves softball, playing for St. Paul High School in Shiner, Texas before joining the LETU YellowJackets varsity softball team as a Freshman in fall 2019. She earned her commercial pilot certificate in August of 2021. Sadie dreams of becoming an airline pilot and seeks God's leading in all she does! She is thrilled to race in the Air Race Classic. She is currently working on earning her flight instructor certificate.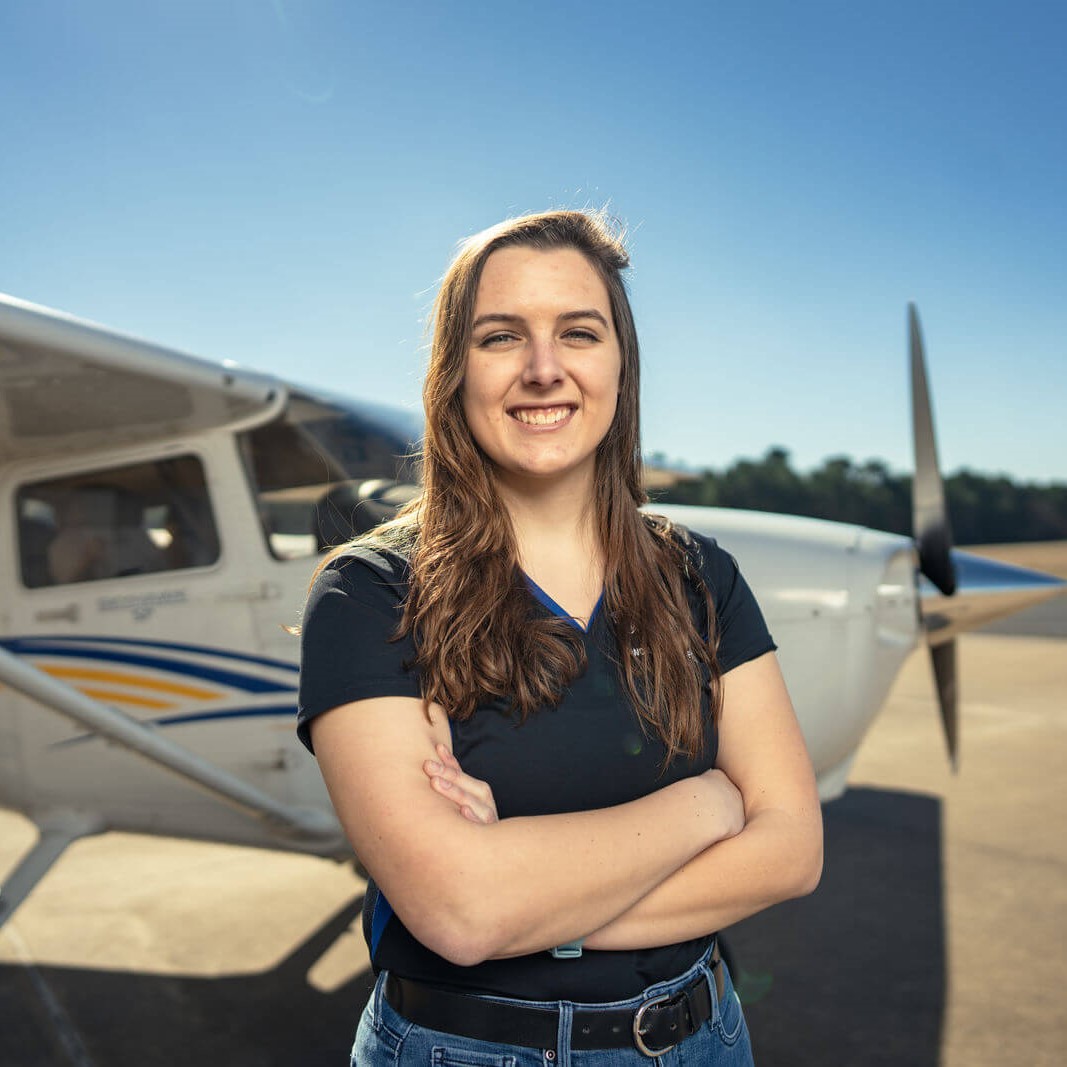 Marena Decker (Team Co-Pilot) - Marena is studying Professional Flight and Aircraft Maintenance. She is a commercial pilot with instrument rating and a member of LETU's Safety Committee, and she is working on earning her flight instructor certificate. She is from Oregon and hopes to fly in corporate aviation one day. Marena loves the education she is getting towards her Airframe and Powerplant mechanic certificate as she gets to see "behind the scenes" of aircraft construction and operation.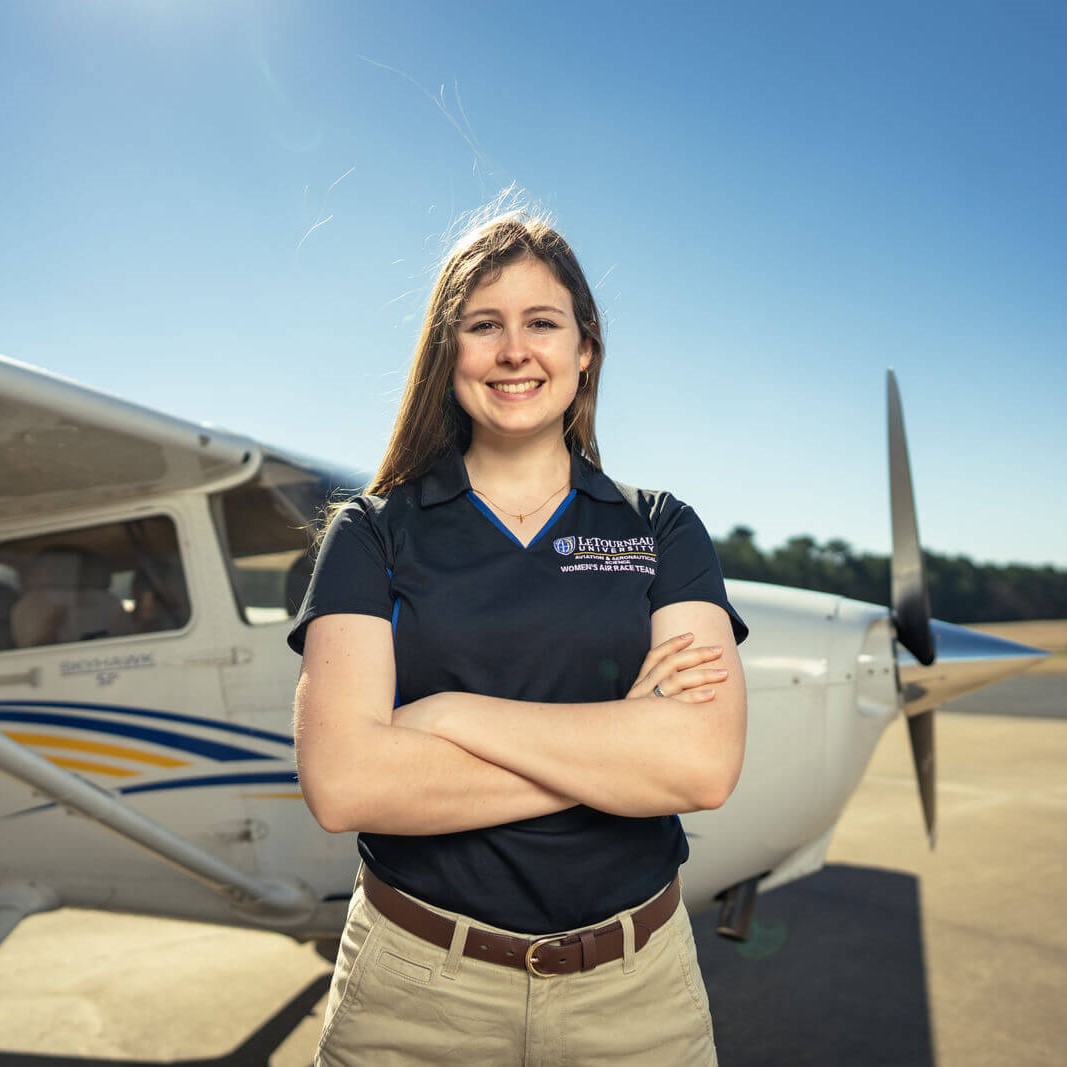 Mackenzie (Kenzie) Fessler (Teammate) – Kenzie grew up in San Antonio, Texas and started flying young; she flew right seat with her pilot dad and pilot grandpa. During her senior year of high school, Kenzie felt called to becoming a pilot, and her dad immediately signed her up for flying lessons. Kenzie is a sophomore and is currently working on her instrument rating and commercial pilot certificate.
Administrative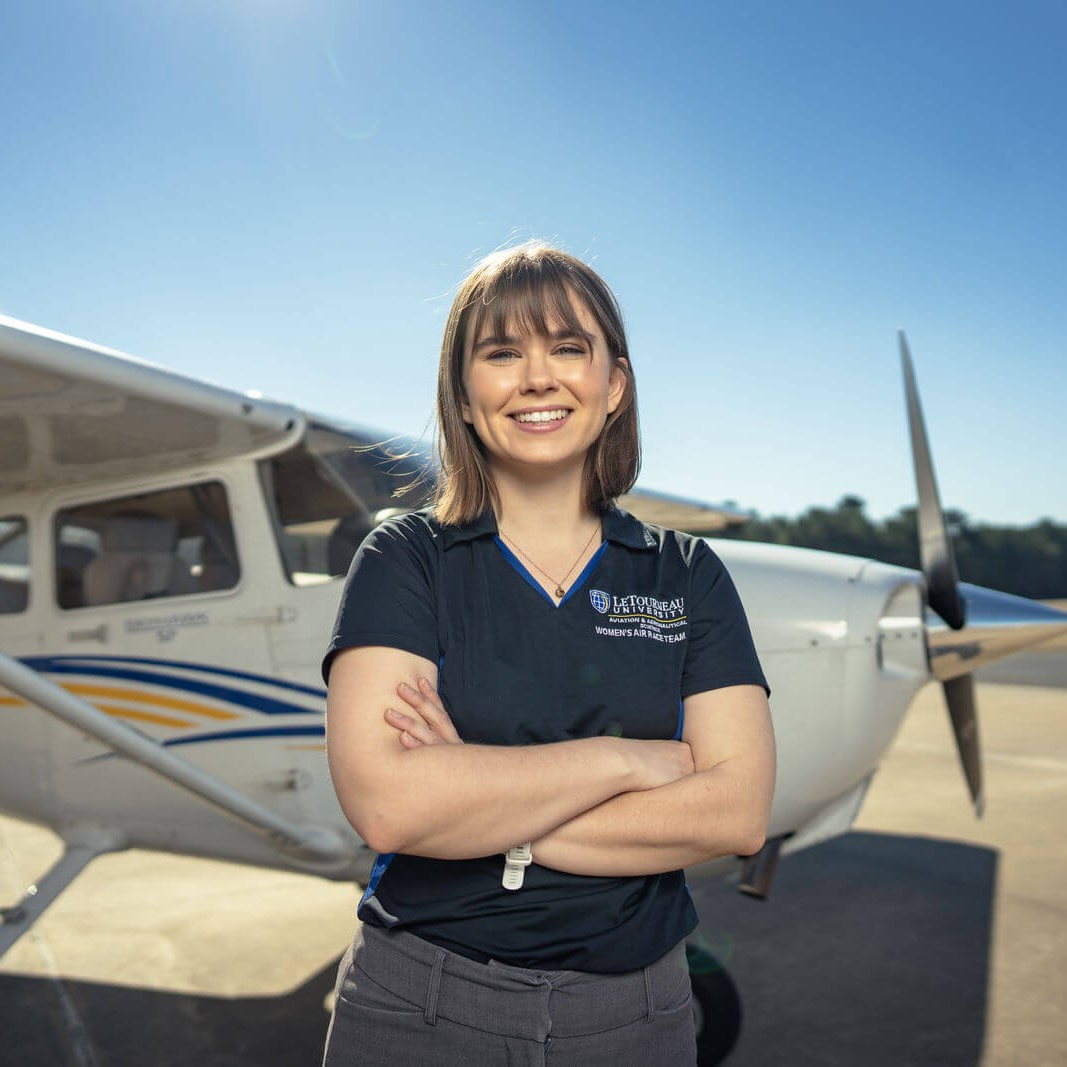 Claire Key (Coach) – Claire Key is a 2019 graduate of LeTourneau, originally from Hobe Sound, Florida. She has worked as a student dispatcher, a supplemental instructor for instrument ground school, and served as a Safety Intern for the LETU Aviation Department. Claire flew in the 2016 Air Race Classic, and she is excited to help this year's team succeed. She currently works for LeTourneau as an Assistant Chief Instructor.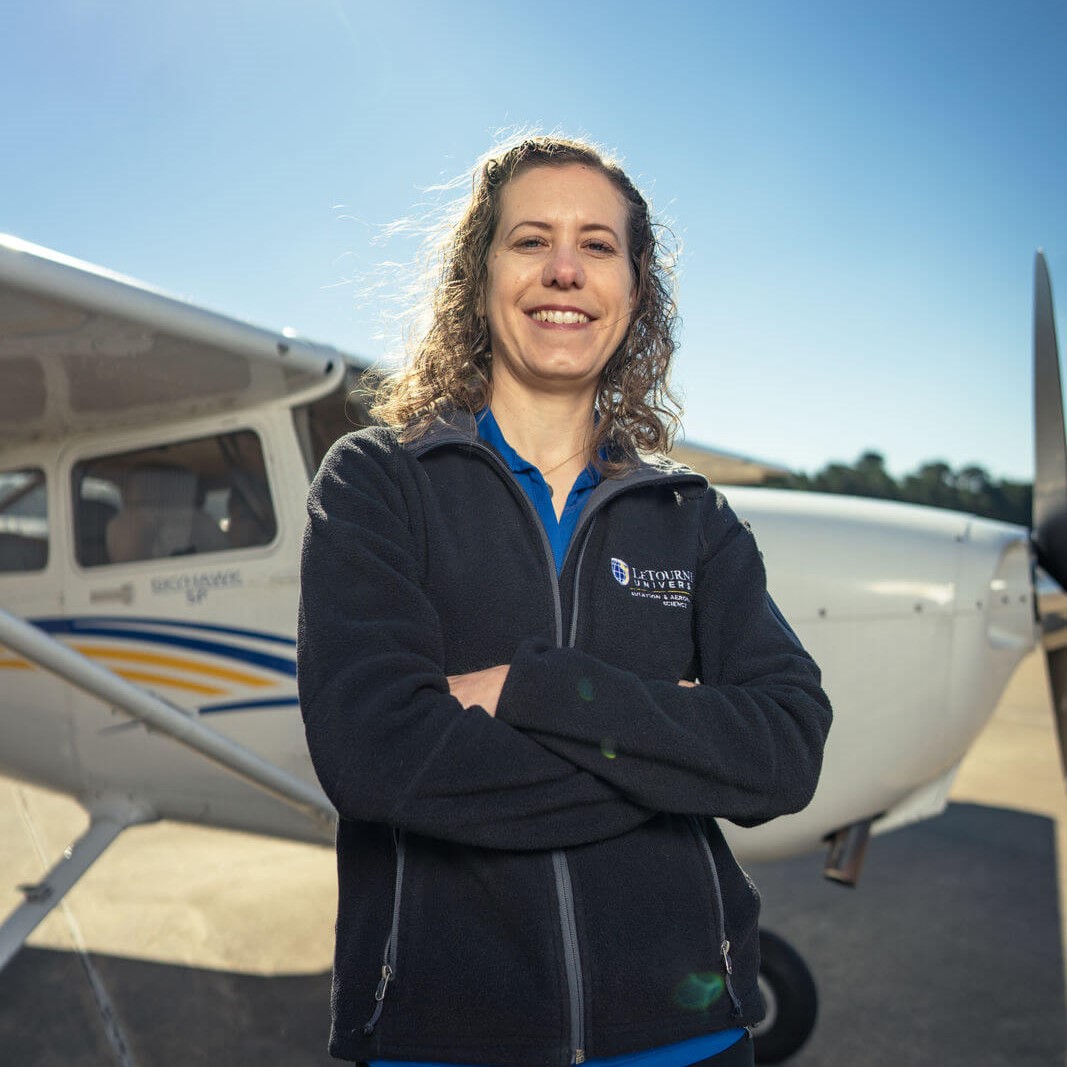 Laura Laster (Faculty Advisor) – Laura Laster is a 2004 graduate of LeTourneau University who has worked as a flight instructor, dispatcher, survey pilot, and operations manager at Dynamic Aviation and at LeTourneau University as former Director of Flight Operations. A native of Oshkosh, Wisconsin, Laura is married and has two children. She is currently Assistant Professor and Chief Dispatch Instructor in the College of Aviation and Aeronautical Science and completed a Master's degree in Commercial Aviation in December 2019. She is excited to mentor the LeTourneau University Women's Air Race Team in future races after flying as Team Co-Pilot in the 2019 Air Race Classic. She has her Airline Transport Pilot - multiengine certificate along with several other FAA certificates.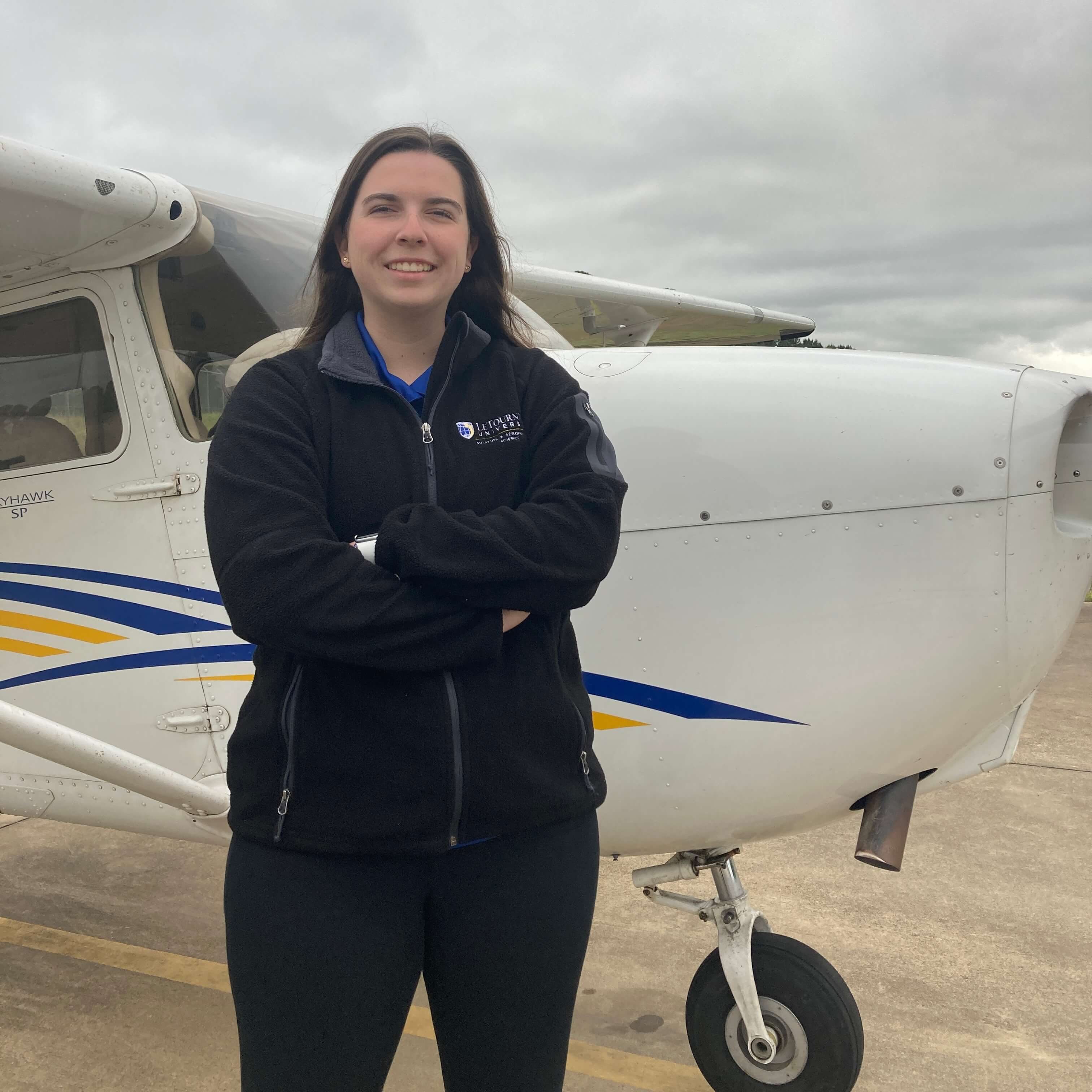 Morgan Rosenberger (Ground Crew) – Morgan Rosenberger is a junior aviation management with a concentration in professional flight major. She is from Keller, TX and is a private pilot and is currently working on her instrument rating. She currently serves as the Vice President of the Women's Aviation Society at LeTourneau University. Morgan is excited to provide the team with invaluable ground support from our home base in Longview.
Support the Team
Individual Giving
Team Sponsorships
What is the Air Race Classic?
The Air Race Classic is an annual all women's air race approximately 2,400 miles in length. The competition objective is to fly the "perfect cross country." Each aircraft is given a "handicap" groundspeed. The contestants who beat their personal handicap by the largest margin win the race. The race dates back to the 1920s when air racing opened to female competitors, some of whom included Amelia Earhart, Louise Thaden, and Ruth Nichols.

How can I follow along with the team?
Please follow us on Facebook for racing updates and more information about our progress toward this year's Air Race Classic! https://www.facebook.com/pg/LETUAirRace/
Individual Giving Levels
$40 - Chow Time
Pay for one racer's meals for one day during the Air Race Classic. 
$75 - It's a Rental!
Sponsor one day of a rental car for the time before/after the race during pre- and post-race activities. 
$100 - Good Night's Sleep
Pay for a night in a hotel along the race route.
$150 - Nifty Numbers
Cover the cost of our racing numbers on the airplane.
$165 - Practice Makes Perfect
Sponsor an hour of our flight time practicing before the race.
$200 - Fill it Up!
Pay for the fuel to power our aircraft on one of the legs of the Air Race Classic.
$300 - Fees, Fees, Fees
Help cover the LeTourneau University team's entry fee into the Air Race Classic Collegiate Division.
Corporate & Individual Sponsorships
Our team will partner with you or your organization and thank you with public recognition and other experiences! Please contact us directly (womensaviationsociety@letu.edu) for more information and to donate at these levels. Thank you for your generous support! 
Gold Level ($5,000)
When you give at our highest level, we will put your name or company logo on our team airplane flying in this year's race. We will also place your name or company logo on our team jackets, and you will receive everything listed in all other levels.
Silver Level ($2,500)
When you give at our silver level you will receive everything at the bronze and blue levels plus your logo on a polo that the team will wear during the race dedicated only to you. You will also receive four race team t-shirts.
Bronze Level ($1,000)
Giving at our bronze level allows you to receive everything at the blue level plus a flight for one or two people with one of the race team pilots in a LETU Cessna 172 Skyhawk! We will also put your name or company logo on our race team shirts, and you will also receive two of these t-shirts.
Blue Level ($500)
When you give at the blue level, you will receive a race team t-shirt and a personalized post on Facebook in the weeks leading up to to the race as we thank you for your generous donation to our team. 
Erica Swenson and Laura Laster at the 2019 Awards Banquet