Message from Dr. Dale Lunsford, President
Message from Dr. Steven Mason, Provost and Vice President for Academic Affairs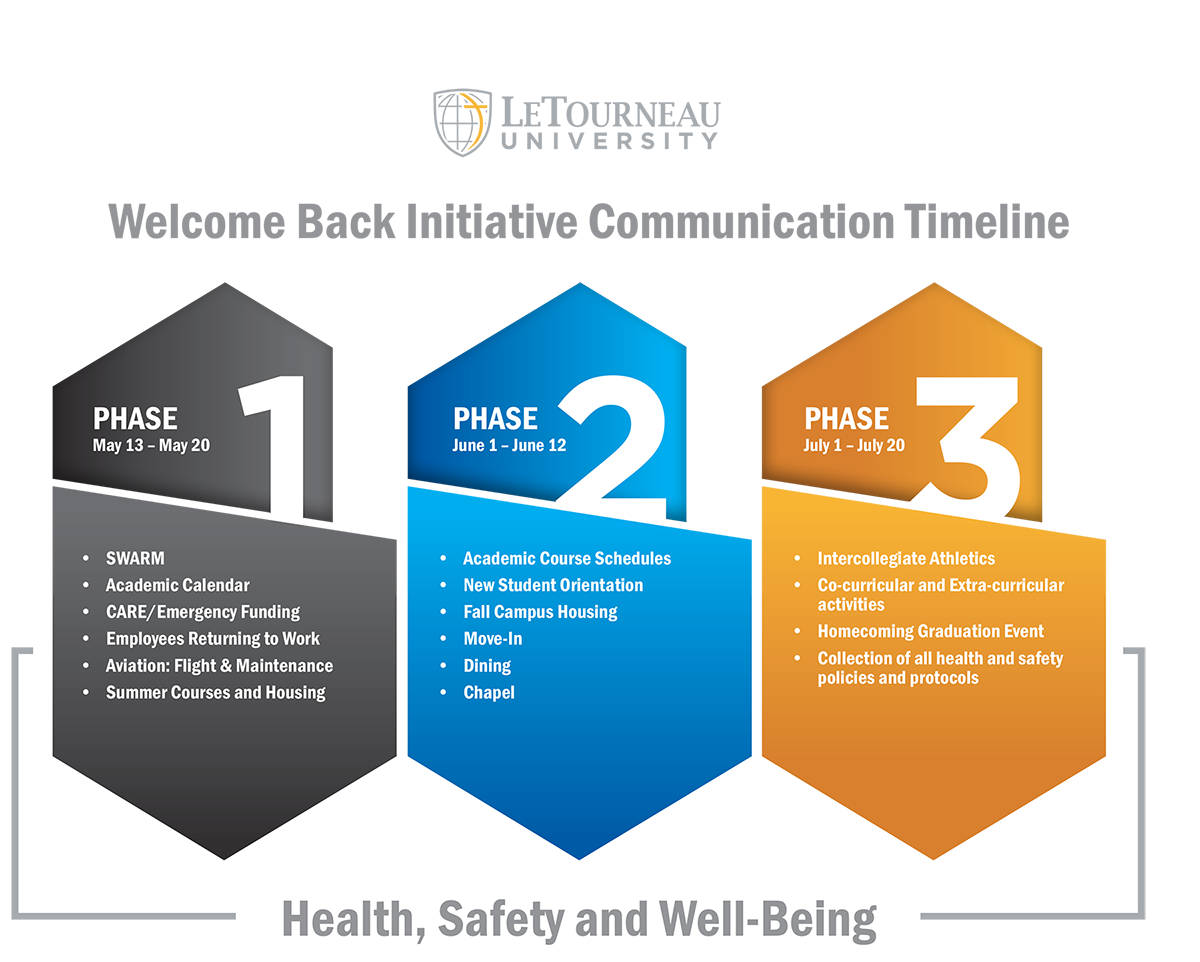 ---
June 24, 2020
Dear LeTourneau University faculty and staff,
We know the last few months have presented unique challenges professionally and personally. Please know, we appreciate your patience, grace, ingenuity and flexibility as our community actively prepares for the return to in-person learning and campus living.
On June 5, 2020, we communicated specific details about our phased reopening of campus for the summer months. Included in that communication were details about faculty and staff returning to campus. The goal is to receive faculty and staff back to campus on Monday, June 29, 2020 in numbers that are consistent with Governor Abbott's reopening plans for Texas. As of now, the percentage allowable remains at 50 percent. Based on our assessment of the current employees working from campus, which includes essential personnel, approved departments, the opening of Solheim and specific summer events, we believe that our current and increased activity in July already puts us at the 50 percent capacity threshold.
As a result, we are requesting that faculty and staff continue to work from home throughout the month of July. We recognize that additional faculty and staff will need to report to the campus in larger numbers in the coming weeks as the new school year approaches. Each academic and administrative unit continues to evaluate the specific needs of their operation and may result in select campus reporting adjustments. We ask that each employee work with their direct supervisor, academic dean and cabinet officer to consider requests for working from campus in the month of July.
In the coming weeks, we will provide additional details about returning to campus and COVID-19 health and operational guidelines.
Sincerely,
The Welcome Back Initiative Task Force
---
June 12, 2020
Dear LeTourneau University Community-
It is hard to believe it is already mid-June and it has been more than three months since we have been together in person. During this time, we have all learned new ways of communicating and being together while staying apart. Things on campus have slowly begun to return to a new normal with operations beginning to open back up and preparations being made to open completely in the coming months. As we continue to plan and prepare for the return to campus this fall, we want to provide an update to the entire LeTourneau community regarding new student orientation, campus dining and Chapel.
New Student Orientation
Our programming for New Student Orientation will begin on Thursday August 13th. To create space for a smooth and safe check-in process, we are asking students to arrive on the 10th, 11th or 12th at their designated arrival time.
Monday August 10:

Students with an F-1 Visa participating in International Student Orientation

Tuesday August 11:

9:00 AM 

Students who are a part of the school of Nursing, Business, Theology and Vocation, Psychology and Counseling

12:00 PM 

Students who are a part of the School of Engineering and Engineering Technology

Wednesday August 12:

9:00 AM: Students who are a part of the School of Education, Arts and Sciences (includes students who have not declared a major)

12:00 PM: 

Students who are a part of the College of Aviation & Aeronautical Science
We will be practicing social distancing during orientation to promote a safe and successful transition for all students. Orientation will happen physically at the Longview campus, and many of the orientation experiences will happen face to face in small groups. Much of our content will be provided to students online either on our learning management system (Canvas) or live stream. We will evaluate the safety and feasibility of large group gatherings in August and may implement a limited number if appropriate. More information for NSO is available at letu.edu/nso.
Campus Housing
We expect Campus Housing to resume operation at normal occupancy levels. We have space reserved in case of illness to be able to isolate those who are suspected to have COVID-19, as well as space reserved for quarantine of those who test positive for COVID-19. The timeline for returning to campus is being lengthened slightly to reduce the number of people trying to move in at the same time. The arrival window for returning students will be Thursday August 13th - Saturday August 15th. We are also asking returning students to arrive in designated shifts to further create space for a safe arrival. Residential students moving into campus housing may choose their own designated arrival shift by filling out an arrival form, which will be made available via email by June 19. The number of students that can choose each shift will be limited, and availability will be determined on a first come, first serve basis. Commuter students do not need to select an arrival shift; however, we ask that commuter students do not enter the residence halls during this move in time in order to preserve the space we are creating for a safe arrival.
Dining Services
Meal plans will begin August 13th and will continue through November 19th, which is the last day of finals for the Fall 2020 semester.
The available meal plans are:
Cafe19 - 19 meals per week + $35 Flex for the semester
Flex15 - 15 meals per week + $150 Flex for the semester
Flex10 - 10 meals per week + $400 Flex for the semester
Block100 - 100 meals for semester + $350 Flex for the semester
All new residential students were given the opportunity to select a meal plan when they signed up for housing. If students did not select a meal plan, they will be assigned to the Flex15 meal plan. They may make changes to their meal plan at any time over the summer or during the first two weeks of classes by emailing Ryan Hawkins at ryanhawkins@letu.edu or talking to their Resident Director.
Apartment residents who do not yet have a meal plan selected will default to having no meal plan. Any apartment resident who wishes to add a meal plan may do so by contacting Ryan Hawkins at ryanhawkins@letu.edu.
Due to safety considerations, The Hive will be open for Grab & Go and Coffee service only. The Corner Café will house all other food preparation and service and has added Mobile Order capabilities so that students can order ahead and take their meals to go. The Café will serve breakfast, lunch, and dinner Monday through Friday, and brunch and dinner on Saturday and Sunday.
Additional information regarding the changes to dining services is available in a power point located on the Welcome Back Initiative page.
Chapel
Chapel for Fall 2020 will be in full swing! There will be some modifications in how we meet together, which we will announce later, we are planning a robust program for the ongoing spiritual formation of our campus.
We are excited to announce that our fall theme is RE:Purpose. There is a sense of anticipation and newness as we regather this fall. What a great time to renew our commitment as a Christ-centered university! Almost all our speakers will be our own faculty, staff, and students.
There is much more work to be done as we move towards welcoming everyone back to campus in the fall. We look forward to continuing to provide a world class Christian Polytechnic University education and provide student experiences by taking the necessary precautions to provide a safe environment.
Soon, we will all be back together learning and worshipping as a campus community.
---
June 5, 2020
Dear LeTourneau University Campus Community, 
In light of Governor Abbott's recent announcement about Phase III of Open Texas standards (https://open.texas.gov/), we would like to offer some guidance about how the campus will continue to transition in accordance.
Here are some particular updates:
On Monday, June 8th, the Solheim athletic facility will be open for use at 50% capacity to students, faculty, staff, and their families.  Keep in mind that Terri Deike and her team will have specific health and safety guidelines for use that cohere with our university expectations and the Open Texas directives for gym and athletic activity.
All outdoor intramural and athletic venues will also be open to use by students, faculty, staff, and their families. We ask that participants adhere to the Open Texas safety directives for outdoor sports and activities, and to exert a good-faith effort toward social distancing and sanitation as is reasonably possible.
We are fervently preparing for an eventual, full, return to campus for employees, which will likely be permitted later this summer. We are following the Governor's recommendations, but in compliance we also need to be ready to do so with health and safety measures adequately in place.  We are targeting Monday, June 29th to receive faculty and staff back at the percentage allowable by the Open Texas plan at that date. Until then, we will continue to work under the premise that if employees can work from home they should, and if the Essential Employee list needs to be expanded between now and Monday, June 29th, it can be on a case-by-case basis according to Cabinet-supervisor approval. This will give us time to best prepare the campus for the modifications necessary to meet health and safety standards.
A hearty shout-out goes to all the faculty and staff that are putting so much energy in the reopening effort this summer.  There are too many to name, but you all are going above and beyond to execute the Welcome Back Initiative with thought and care.  We are making great strides, and it has been so encouraging even to receive a cohort of students back to campus this week. We are proud of the ongoing dialogue and teamwork in this huge task!
Sincerely,
The Welcome Back Initiative Task Force
---
May 19, 2020
Dear LeTourneau University Community,
Thank you again for the incredible effort all exerted to make our spring 2020 semester a success, despite the challenges the pandemic placed on us as faculty, staff, and students. Way to go Yellowjackets! More collective strength and wisdom will be required in the coming weeks and months, but I am eager to address them together diligently and prayerfully as we stay focused on our Christ-centered mission.
In light of Dr. Lunsford's note yesterday, I want to update you on the latest progress of our Fall 2020 Welcome Back Initiative. As you know from previous corre spondence, this is our comprehensive strategy for carefully resuming campus activity in person. The aim of the initiative is,
"...to prepare for a grand return to the practices of university and campus life while keeping paramount (1) the health and safety of students, staff, faculty, and the Longview community; (2) the distinctives of a LeTourneau education; (3) the engagement of every student in community; and (4) the necessary innovations of teaching, learning, and living together in a world forever changed by the Covid-19 pandemic. In so doing, we seek to bear witness to the hope of the Gospel by loving God and neighbor and responsibly stewarding the gifts of the university for the sake of the world."
With this aim in view and in concert with state and local directives, transition to careful and selective in-person activity is already underway. And, some important decisions have been made in view of opening up in full in the fall. Please note that the summer and fall academic calendars will change for traditional students, and the summer academic calendar will change for nontraditional students. Here is some detail:
Traditional fall classes will begin August 17th and run 14 weeks. Finals will end on Thursday, November 19th. The midterm break is eliminated, and the semester ends a week before Thanksgiving.
The nontraditional fall calendar will not change. It will begin on August 24th like originally planned and the three fall nontraditional modules will span the original length of the semester.
For this summer, all full-length courses will end one week earlier than originally scheduled. Summer courses originally scheduled to end on August 23, but not full-length, will begin and end one week earlier than originally scheduled.
Returning students, it is important for you take a moment to look at each scheduled class to ensure that you have the correct beginning and ending dates. The course schedules will be updated by the end of this week and will be available at www.letu.edu/academics/course-schedules/index.html. Details for New Student Orientation and housing move-in will be coming soon. I also invite you to our FAQs related to these matters, which is available at www.letu.edu/wbi. This web page is dedicated to all information regarding LeTourneau's Welcome Back Initiative for reopening the campus.
We are confident that we can continue to provide a world-class Christian Polytechnic University education while taking the necessary precautions to keep our students, faculty, and staff safe. Let's continue to be steadfast in prayer as we move forward in our reopening plans.
In Christ's Service,
Steven D. Mason, Ph.D.
Provost & Vice President for Academic Affairs
---
May 18, 2020

Greetings LeTourneau University Community,
Even as I write to you this morning from home, my heart is drawn to campus and the excitement that, with God's grace, we will all be back together again in residence soon.  Just days ago, I announced that LeTourneau would return to in-person instruction and on-campus living in the fall (see announcement here).  Since then, much progress has been made:
The Texas Governor has begun to implement a phased re-opening of the Texas economy along with expanded monitoring and virus testing;
LeTourneau employees are returning to campus in a deliberate, gradual process that began with our facilities team who are preparing the campus for fall classes;
Provost Dr. Steve Mason has organized a "Welcome Back" team that will design new living, learning, and workplace processes for a safe and productive new academic year;
Students are registering for summer and fall classes in strong numbers.
I know you join me in looking forward to learning and living in community again!
LeTourneau's Welcome Back Initiative will design, implement and communicate many important safety enhancements in the months leading up to our Fall 2020 semester. The team is a collaborative and interdepartmental effort of both faculty and staff. Guiding documents are available to our campus community for those who are interested in learning more about our ongoing work.  A timeline with key decisions is available above. The Welcome Back Initiative webpage serves as the hub for all welcome back information and updates will be provided often. Of course, we will leverage numerous communication platforms to share this information with our community over the next several weeks.
Several key decisions have already been made regarding our fall academic calendar, summer housing and summer flight instruction. You will receive details about these from Dr. Mason, tomorrow, Tuesday, May 19, 2020.
Over the summer, you'll want to regularly check the Welcome Back Initiative webpage.  We want to answer all of your questions. 
The health of our students, faculty, staff and community remain my main concern.  We will comply with all federal, state and local public health standards.  We will be creative and flexible in how we live and learn together.  Our legacy of "LeTourneau Ingenuity" will serve us well.
I'm thankful for all diligently working to prepare for a grand return to campus this fall. Living and learning together in Christian community is the enduring promise of LeTourneau University and we are up to the challenge of continuing our legacy.  Please know that we care about you, we love you, we pray for you and we look forward to seeing all of your smiling faces very soon.
Dale A. Lunsford, Ph.D.
President