[ARCHIVED NEWS RELEASE]
02-24-2020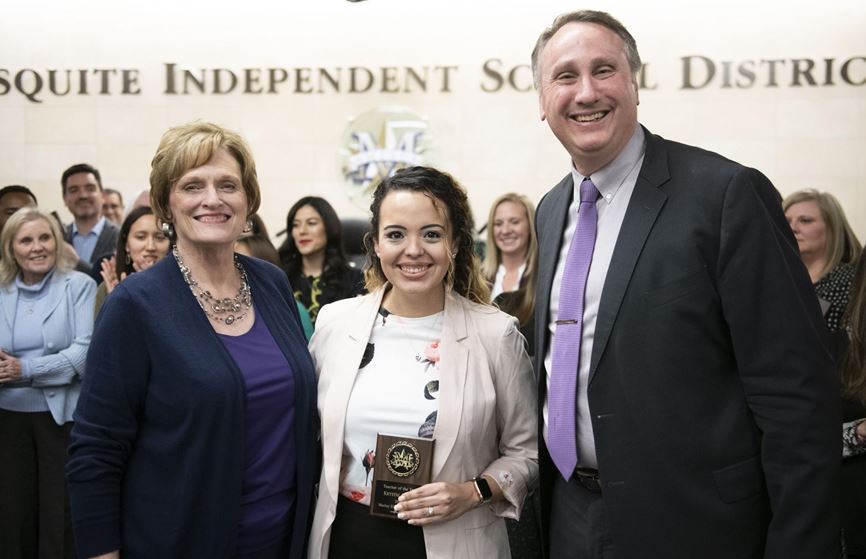 LeTourneau University 2017 graduate Krystal Dumas has been named the Mesquite Independent School District's 2020 Elementary Teacher of the Year.  
Dumas joined MISD in 2017 and teaches 4th grade at Mackey Elementary School. She says she felt a calling to teach and says her students are her "why" she teaches.
Dumas earned her teaching degree in LETU's online program.  LETU Online Education Programs Chair Dr. Darla Baggett said Dumas' professors were pleased for her and noted that she kept a perfect grade point average in her classes at LETU.
"Becoming a teacher really is a calling," Baggett said.  "LeTourneau University provides a rigorous, but very doable, education for those who feel called to teach our future generations."
Principal of Mackey Elementary in MISD Lynne Noe said, "I am incredibly proud to have the district's representative for Teacher of the Year at Mackey Elementary. Krystal is an incredible educator and our students are so lucky to have her. She continuously strives to improve her practice to impact student learning."
LeTourneau University is the Christian polytechnic university in the nation where educators engage students to nurture Christian virtue, develop competency and ingenuity in their professional fields, integrate faith and work, and serve the local and global community. LETU offers undergraduate and graduate degree programs across a wide range of disciplines online and at LETU's 196-acre residential campus in Longview, Texas, located 120 miles east of Dallas and 60 miles west of Shreveport, Louisiana. For additional information, visit www.letu.edu.
Pictured above with Krystal Dumas, center, are Mesquite Independent School District Board of Trustees President Elaine Whitlock, left, and MISD Superintendent David Vroonland, right.
---
Categories: Education