[ARCHIVED NEWS RELEASE]
10-11-2019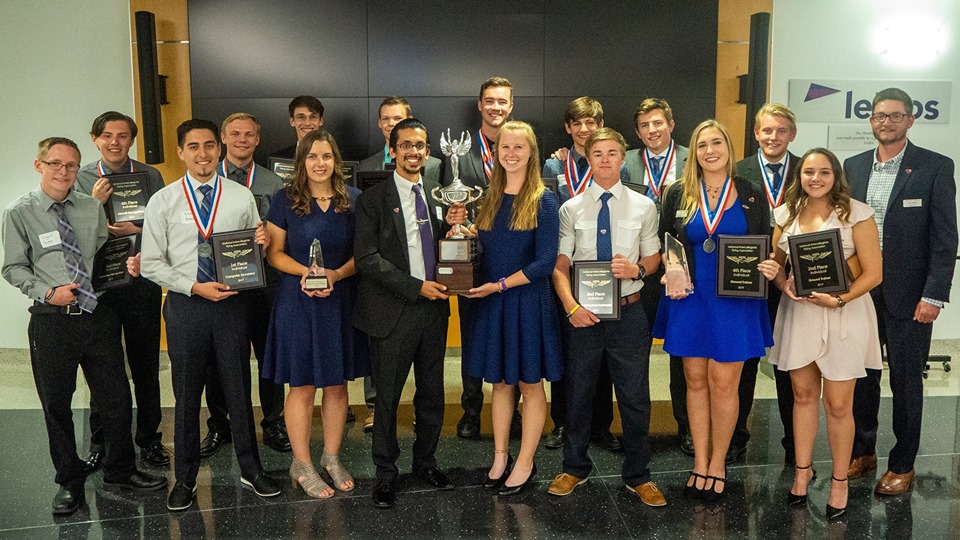 LETU Flight Team Wins 2nd at Regional NIFA Competition, Qualifies for Nationals in Spring
 LeTourneau University's "Sting" Precision Flight Team won Second Place Overall at the recent Region IV NIFA SAFECON flight competition at the University of Oklahoma, ranking first place in Ground Events and 4th place in Flight Events. LETU took first place in the Competition Safety Award.
The SAFECON Championship first place overall team was from Oklahoma State University.  Both teams qualify for national competition in May 2020.
In Computer Accuracy competition, Nicholas Brooks ranked 1st, David Erikson ranked 2nd, Marena Decker ranked 7th, Stephan Westrum ranked 12th and Tahir Khan ranked 13th.
In Ground Trainer event, Jeffrey Rosinbaum ranked 2nd, Erica Swenson ranked 4th.
In Aircraft Preflight Inspection, Travis Metzger ranked 2nd, David Erikson ranked 6th, Stephan Westrum ranked 8th.
In Aircraft Recognition, Silas Stanton ranked 2nd, Keenan Yannibelli ranked 3rd, Simon Awcock ranked 4th.
In Message Drop event, the LETU team of Silas Stanton (drop master)  and Jeffrey Rosinbaum  (pilot) ranked 2nd, the team of Logan Kuhn (drop master) and Donavon Taves (pilot) ranked 16th, and the team of Travis Metzger (drop master) and Erica Swenson (pilot) ranked 17th, and the team of Marena Decker (drop master) and Erica Swenson (pilot) ranked 20th.
In Simulated Comprehensive Aircraft Navigation (SCAN) event, Jeffrey Rosinbaum ranked 2nd, Donavon Taves ranked 4th, Riley Wishon ranked 9th, Travis Metzger ranked 20th.
LETU pilot Jeffrey Rosinbaum took 3rd place in Top Pilot honors, with Keenan Yannibelli ranked 9th.
In Short Field Landing event, pilot Keenan Yannibelli ranked 3rd, pilot Jeffrey Rosinbaum ranked 7th, pilot Erica Swenson ranked 13th, pilot David Erikson ranked 14th.
In Unlimited Navigation competition, the team of Jeffrey Rosinbaum (pilot) and Keenan Yannibelli (safety observer) ranked 3rd.
In Power Off Landing, pilot Keenan Yannibelli ranked 4th, Jeffrey Rosinbaum ranked 17th, Erica Swenson ranked 18th and Alyssa Wilson ranked 21st.
In Traditional Navigation events, the team of Erica Swenson (pilot) and David Erikson (safety observer) ranked 6th, the team of Aston Peek (pilot) and Simon Awcock (safety observer) ranked 7th.
The six other teams competing with LETU included University of Oklahoma, Delta State University, Southeastern Oklahoma State University, Oklahoma State University, Texas State Technical College, and Louisiana Tech University.
"I am proud of the students and what they were able to accomplish at the Region IV SAFECON event, especially since this team had so many things stacked up against them before this competition," said Phil Roberts, LETU's new NIFA team coach. 
"The time frame to prepare was moved up by a month, they lost their normal competition airplane and all of them had to learn the landings in a new plane, but this team did not once give up," Roberts said.  "They lived out our team verse from Colossians 3:23-24 that reads, 'Whatever you do, work at it with all your heart, as working for the Lord, not for human masters, since you know that you will receive an inheritance from the Lord as a reward. It is the Lord Christ you are serving.'
"That biblical mindset was the best thing, even above the fantastic second place finish overall," he said. "This is a young team and everyone contributed to the success at the competition this year. I am very excited to see where they will end up as they prepare for the National competition at Oshkosh in the Spring." 
LETU's NIFA team won 3rd place in the nation at last year's national competition.
LeTourneau University is the Christian polytechnic university in the nation where educators engage students to nurture Christian virtue, develop competency and ingenuity in their professional fields, integrate faith and work, and serve the local and global community. LETU offers undergraduate and graduate degree programs across a range of disciplines and delivery models at LETU's residential campus in Longview, Texas, hybrid options at centers in the Dallas and Houston areas and fully online programs. For additional information, visit www.letu.edu.
---
Categories: Aviation