[ARCHIVED NEWS RELEASE]
05-21-2019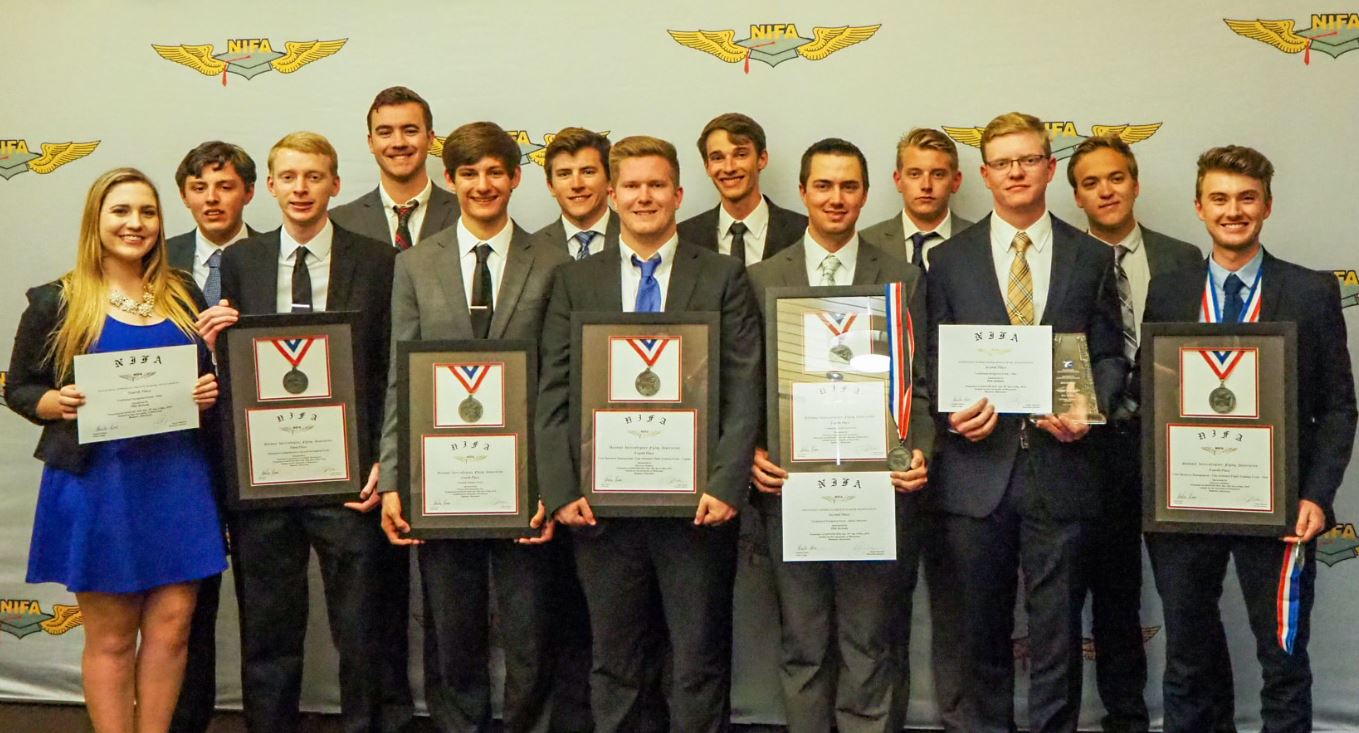 LeTourneau University's "Sting" Precision Flight Team finished 4th place overall in the nation – the highest overall ranking in LETU program history—at the National Intercollegiate Flying Associations SAFECON 2019 flight competition, hosted by the University of Wisconsin, in Janesville, Wisconsin, May 13-18.
Contributing to the 4th place 2019 overall score, LETU was ranked 4th place in Flight Events Championship and 4th place in Ground Events Championship.
LETU outranked the United States Air Force Academy (5), Western Michigan (6) and Embry Riddle Aeronautical University – Daytona (7). Taking the top three were large state schools: University of North Dakota (1), Southern Illinois University (2) and Embry Riddle Aeronautical University, Prescott (3).   
LETU has placed five times in the Top 10, beating last year's 5th place overall school record and their 7th place in 2017. LETU first began competing in NIFA competitions in 2004. LETU's Sting flight team took 1st place regionally last October to qualify to compete in nationals.
"Our success is a testament to this team's hard work and our program's focus on fundamental flying skills and back-to-basics approach to flying," said LETU Chief Flight Instructor and NIFA team coach Jered Lease. "God truly blessed the work of our hands, and for that, we're all thankful."
Taking 1st place in in the Instrument Simulated Flight competition was LETU pilot Thomas Alley who also took 3rd in the in the Simulated Comprehensive Aircraft Navigation (SCAN) competition. Following Alley in SCAN were Joshua Kelly at 6th, Benjamin White at 12th, Donavon Taves at 71st, and Erica Swenson at 105th. Alley took 4th in the Ground Trainer competition with Erica Swenson following in 23rd place. Alley took 4th in the national Top Pilot competition with Benjamin White following in 14th.
In the Traditional Navigation competition, Benjamin White (Pilot) and James Hulsey (Safety Observer) took 2nd place, Thomas Alley (Pilot) and Noah Bronner (Safety Observer) took 4th place, and Jonathan Rurup (Pilot) and David Erickson (Safety Observer) took 6th place.
In Aircraft Preflight Inspection Noah Bronner took 7th place while Jonathan Rurup placed 19th.
In Computer Accuracy James Hulsey took 4th place, Jonathan Rurup placed 14th, and David Erickson placed 49th.
In Crew Resource Management/Line Oriented Flight Training Jonathan Rurup (Pilot) and Thomas Alley (Navigator) took 4th place.
In Short Field Landing Joshua Kelly took 7th place, and Thomas Alley followed taking 12th place.
Regional Top Pilot awards went to Benjamin White.
Receiving the Outstanding Team Member Award for LETU was Silas Stanton.
LETU placed 10th for Judges Trophy competition.
Other results for LETU were as follows:
Message Drop
Silas Stanton (Drop Master) and Jeffery Rosinbaum (Pilot) placed 20th
Simon Awcock (Drop Master) and Benjamin White (Pilot) placed 57th
Donavon Taves (Drop Master) and James Hulsey (Pilot) placed 64th
Keenan Yannibelli (Drop Master) and Joshua Kelly (Pilot) Placed 71st
David Erickson (Drop Master) and Erica Swenson (Pilot) placed 88th
Aircraft Recognition
Silas Stanton placed 16th
Simon Awcock placed 30th              
Keenan Yannibelli placed 42nd
Jeffrey Rosinbaum placed 78th
Power Off Landing
Thomas Alley placed 23rd
Joshua Kelly placed 31st
Erica Swenson placed 94th
James Hulsey placed 104th
Top Scoring Contestant of the top 355 ranked
Thomas Alley, 4th
Benjamin White, 19th
Jonathan Rurup, 20th
Joshua Kelly, 21st
James Hulsey, 59th
Noah Bronner, 69th
Silas Stanton, 106th
Jeffery Rosinbaum, 145th tie
David Erickson, 145th tie
Simon Awcock, 145th tie
Keenen Yannibelli, 145th tie
LeTourneau University is the Christian polytechnic university in the nation where educators engage students to nurture Christian virtue, develop competency and ingenuity in their professional fields, integrate faith and work, and serve the local and global community. LETU offers undergraduate and graduate degree programs across a range of disciplines and delivery models at LETU's residential campus in Longview, Texas, hybrid options at centers in the Dallas and Houston areas and fully online programs. For additional information, visit www.letu.edu.
---
Categories: Aviation