[ARCHIVED NEWS RELEASE]
03-08-2019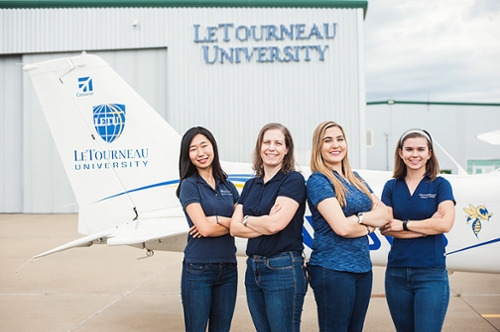 LeTourneau University aviation students will compete this summer in the 43rd annual, all-female Air Race Classic, covering about 2,400 miles across the country from June 18-21.
The Air Race Classic, founded in 1929 by Amelia Earhart and 19 other pilots as the First Women's Air Derby originally ran from Santa Monica, California to Cleveland, Ohio. Now the epicenter of women's air racing, the Air Race Classic draws pilots from ages 17 to 90.
Three LETU female pilots will make up the racing team:
Racer Erica Swenson is a junior flight student at LeTourneau University. Originally from Rockford, Illinois, Swenson attended high school in McKinney Texas. She has worked on the LeTourneau campus at the University Development Office and at the Student Center. She is a flight department dispatcher at LETU. Swenson is a member of the LETU STING Precision Flight Team and is the team's financial officer. She currently holds her Commercial Single engine and Multiengine Certificate with an instrument rating. She is working on her Flight Instructor Certificate and plans to work for LETU as a Flight Instructor soon.
Racer Meyeon "Cecilia" Kim is an international student from Fiji. She was born in Korea, and her family emigrated to Fiji when she was 8. Kim is a recent 2018 aviation graduate of LeTourneau University who is currently training to become a flight instructor at LETU. She loves to volunteer for Girls in Aviation Day and Women in Aviation International, and she plans to continue to be involved if she can while studying and working in the United States. Kim was an assistant manager for the LETU Office of Global Initiatives until she graduated. She researched logistics for participation in the 2019 Air Race Classic and is now working as an intern for LETU's College of Aviation.
Racer and faculty adviser Laura Laster is a 2004 graduate of LeTourneau University who has worked as a flight instructor, dispatcher, survey pilot, and operations manager at Dynamic Aviation and is currently LETU's director of flight operations. She is working on her master's degree in commercial aviation which she plans to finish in December 2019. She teaches in the University's Aircraft Dispatcher certification course. She is excited to mentor the LeTourneau University Women's Air Race Team in the 2019 Air Race Classic. A native of Oshkosh, Wisconsin, Laster is married and has two children, ages 9 and 5.   
Coaching the racers is Claire Cassel, an LETU senior missions aviation major and flight instructor from Hobe Sound, Florida, who observed the 2016 air race and is excited to help this year's team succeed. She has worked as a student dispatcher, a supplemental instructor for instrument ground school, and serves as a Safety Intern for the LETU Aviation Department. Cassel is working toward her Airframe and Powerplant aircraft mechanic license. She plans to continue to work for LeTourneau as a flight instructor after she graduates and gets married in May.
The  Air Race Classic historically attracts more than 100 women pilots each year.  Each team will depart beginning in Jackson, Tennessee, on June 18, with stops along the way that include LaGrange, Georgia; Hattiesburg, Mississippi; Bryant, Arkansas; Lee's Summit, Missouri; Fairmont, Minnesota; Wausau Wisconsin; Saulte Ste. Marie (Michigan or Ontario); North Bay, Ontario; and ending in Welland, Ontario (Canada), on June 21.  
The competition objective is to fly the "perfect cross country."  Each aircraft is given a "handicap" groundspeed.  The contestants who beat their personal handicap by the largest margin win.  Through the years more universities have started participating, and there is now a collegiate division within the race. LETU had one team that placed 9th in the collegiate division during the first year the LETU ladies participated in the race in 2015.
The LETU team is currently raising over $9,000 to compete in this race, including entry fees, fuel and travel expenses.  Sponsorships are available by contacting Laura Laster at (903) 233-4265 or online at http://bit.ly/LETURacers.  The team is also selling T-shirts to help raise funds for expenses. See the shirts at http://bit.ly/ARCshirt
"We want our ingenuity and competency as a collegiate flight program to be demonstrated," Laster said.
LETU Dean of the School of Aviation and Aeronautical Science Fred Ritchey says that only about 6 percent of pilots are women, and the school hopes to increase that percentage.
"Young women like these are pilots with vision and purpose," Ritchey said. "They inspire more young women to believe for themselves that the sky's the limit."
For more info on the Air Race Classic, visit: AirRaceClassic.org. The airplanes will be outfitted with GPS tracking devices which will enable friends and supporters to follow the team's progress. LETU team information and updates are available on their Facebook fan page, which will be updated with tracking information once the race begins on June 18.  
LeTourneau University is the Christian polytechnic university in the nation where educators engage students to nurture Christian virtue, develop competency and ingenuity in their professional fields, integrate faith and work, and serve the local and global community. LETU offers undergraduate and graduate degree programs across a range of disciplines and delivery models at LETU's residential campus in Longview, Texas, hybrid options at centers in the Dallas and Houston areas and fully online programs. For additional information, visit www.letu.edu.
Air Race Classic, Inc. is an all-volunteer, nonprofit 501(c)3 organization with a mission of encouraging and educating current and future women pilots, increasing public awareness of general aviation, demonstrating women's roles in aviation, and preserving and promoting the tradition of pioneering women in aviation.
---
Categories: Aviation, Development