Certain people are drawn to LeTourneau University. They skew curious, intentional, grounded, and practical. They know how to get from point A to point B, but are sure likely to pick an inventive way to get there. They know how to fix things. They're familiar with effort, working hard and praying harder. They connect with a calling and aren't in it for more than the satisfaction of a job well done—one done for a much higher purpose than what meets the eye. But this isn't news to you. If you're reading this, odds are you're one of those certain people.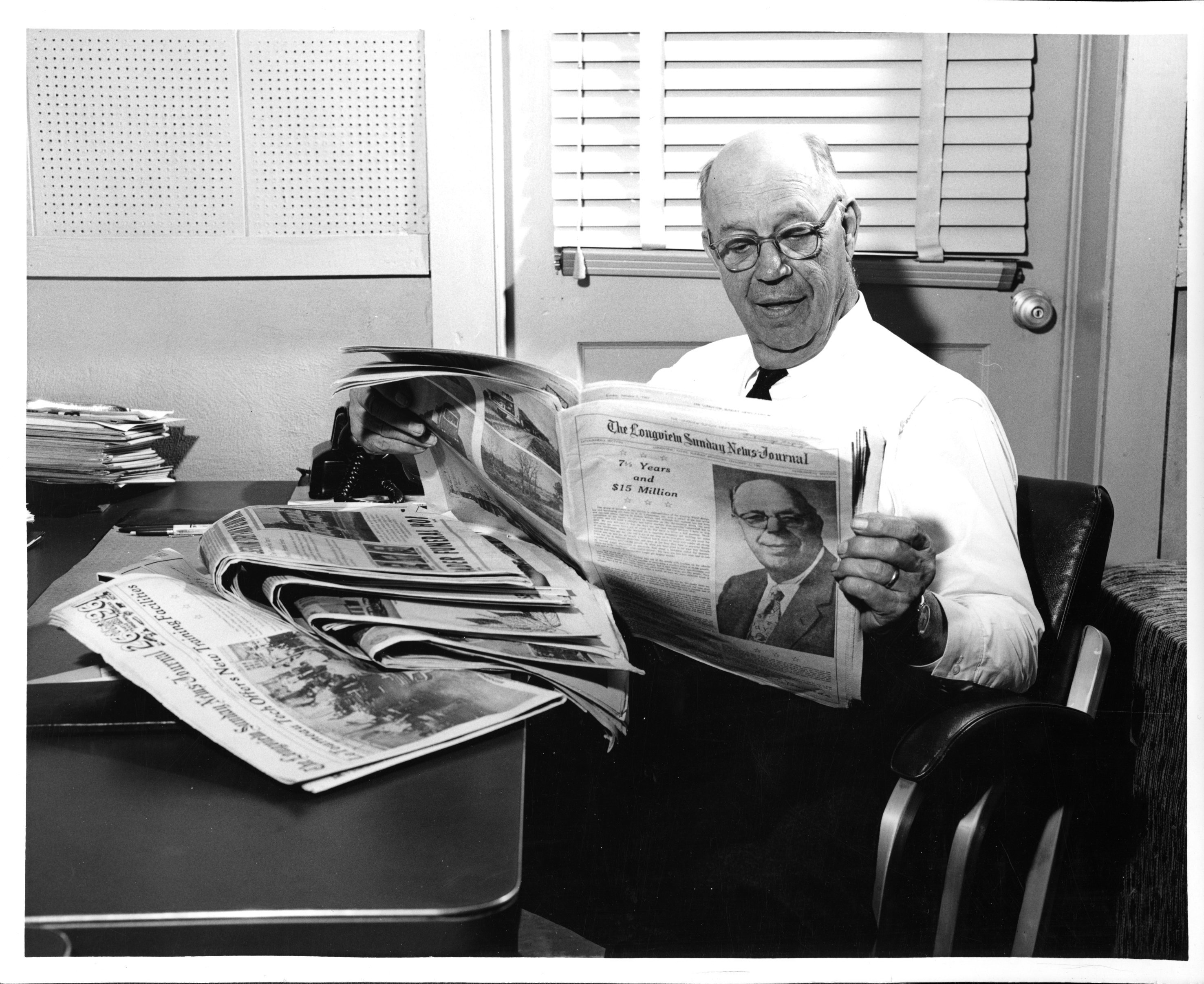 Eyeball the lot of us, and you may not be able to see it by looking. The unique personalities, perspectives, areas of interest, and experiences are all over the map. But start to listen, and it's clear. The 'who' may vary, but the 'why' is consistent. There's an unspoken commonality, and it's the magnetizing force that brings us together. The draw is in the drinking water, inherent from the get-go—a quality that flowed from R.G. and surfaces constantly to this day. A common thread linking the people who return, and the people who stay.
As a Longview native, I sure didn't mean to. Funny how that happens. Grew up here, and figured I'd get away. Went off to college, moved back home, and took a job working in LeTourneau's marketing office. Thirteen years later, this university feels as much my home as Longview does.
There's a subtlety to this place. It isn't flashy. It won't coddle you, but it will care for you deeply. Christian conviction is the core of our common purpose, but that connection runs layers deep. It's the bond of belief in practical solutions. That a spark of an idea might just ignite and turn into something that makes a difference. That the path from ideation to tangible invention is a traversable one, and that 'back to the drawing board' is a sacred destination. You can sense this unspoken manifesto in labs, at lunch tables, even in overheard conversations: "I believe in solutions. I believe in getting the job done. I believe there is something bigger at play here than what meets the eye. I believe that this is meaningless without God guiding and being at the center of it."
There's a concentrated intentionality to those drawn to Christian polytechnic education. People don't end up here by accident. R.G. and Evelyn sure didn't. And neither did you or me. Whenever I meet students, alumni, or new employees, I have a perpetual habit of asking them how they found LeTourneau University. In my years on staff, I've asked hundreds of people, and there is a curious commonality to most answers. For some, the logistical guide was Google. But for most, a seemingly coincidental introduction to the school feels like divine direction: "I stumbled upon Movers of Men and Mountains at my grandpa's house," or "My mom's colleague had heard of it," or "My cousin's best friend went there and the way they spoke of it struck a chord." Much to my grateful chagrin as a marketer, the Lord works in much more mysterious ways than advertising.
A Time, Place, and a Purpose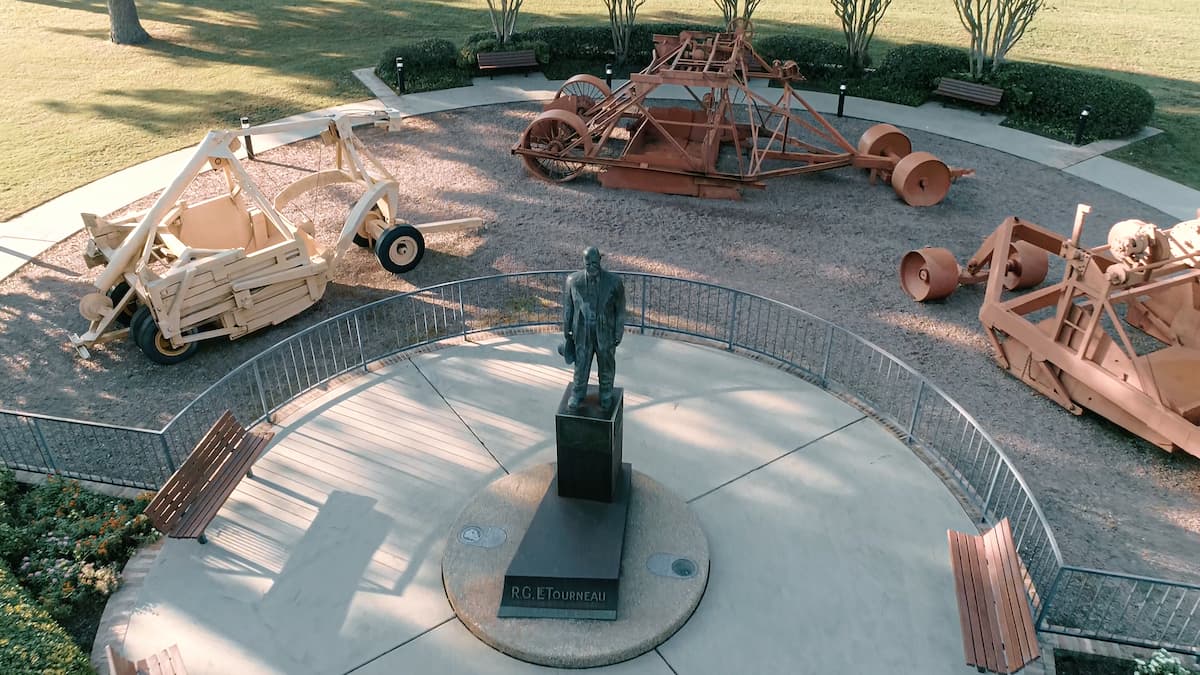 LeTourneau University itself didn't end up here by accident—neither in existence, nor in a particular spot called Longview, Texas. Our home, and tens of thousands of students' temporary home-away-from-home, celebrated 150 years since its founding this past year.
It all started in 1870 when farmer Ossamus Hitch Methvin, Sr., convinced the railroad to come through his neck of the good ol' pine curtain. Rail expansion was continuing westward after the Civil War, and with it followed the same thing that's always lured folks west: promise. Methvin sold 100 acres to the Southern Pacific Railroad for one gold dollar to persuade them to build their line in the direction of the land he owned. A town site was assembled in advance of track construction, and that town was dubbed Longview. The heart of this initial outlay was near Center and Tyler streets, and the original 100 acres granted by Methvin is today the city's downtown One Hundred Acres of Heritage. And yes, the town moniker was inspired by Mr. Methvin's view atop his homestead, Rock Hill.
Three quarters of a century later, along came an evangelizing industrial inventor with blueprints that would forever change not only south Longview, but countless lives—with jobs, education, and a faith that resonated because it worked.
There's nothing like a good origin story, and you know our part in this one: how Robert Gilmour and Evelyn LeTourneau came to town when they visited East Texas on the hunt for the site of their new manufacturing plant. Harmon General Hospital had recently been abandoned after serving its purpose, and 25,000+ GIs, as a World War II U.S. Army Hospital. It captured the eye of 'Mom' LeTourneau. Why not a school, in addition to the plant?
With the help of Longview News publisher Carl L. Estes and other local civic leaders, the deal was made. Our founders purchased the 156 acres and 232 buildings of Harmon General from the United States government for, guess what? One dollar. LeTourneau University has now been around for half of Longview's existence, celebrating 75 years in 2021.
The LeTourneau Way
From there on out, The LeTourneau's did what they always did: they dug in and built. They dug into the lives of the men in the alter-day program, making an education work for weary veterans after an era of the unexpected. As we know, Mom's hospitality was legendary, and Pop's make-it-work mentality was seemingly limitless. They built the legacy that is now LeTourneau University and was LeTourneau, Inc., inherently knowing the two—knowledge and practical application—went hand in hand.
The Longview Daily News headline read "LeTourneau Plant Dedicated at Diamond Jubilee: Industrialist Stresses Need to Merge Education, Practical Work." It was Tuesday, April 13, 1948, the day two years after ground broke on the LeTourneau plant, and 18 months after the first bulldozer rolled off its line.
"To get production know-how requires a combination of two things which are like peaches and cream," Mr. LeTourneau asserted. "Each is good, but they are far better together. We need the combination of the academic and the practical education in order to do the job. Nobody could relish living for years on peaches, nor does the idea of several years on a cream diet appeal to many. But I'll bet I could live a long time in a rowboat on both of them together."
He and Evelyn also dug into Longview. Literally, in some cases: Lake Cherokee was developed in the late 1940s by private interests, and the right man was on hand to get the forest clearing and excavation job done (all while testing the latest heavy machinery to roll out of his factory).
Some Things Change, But Some…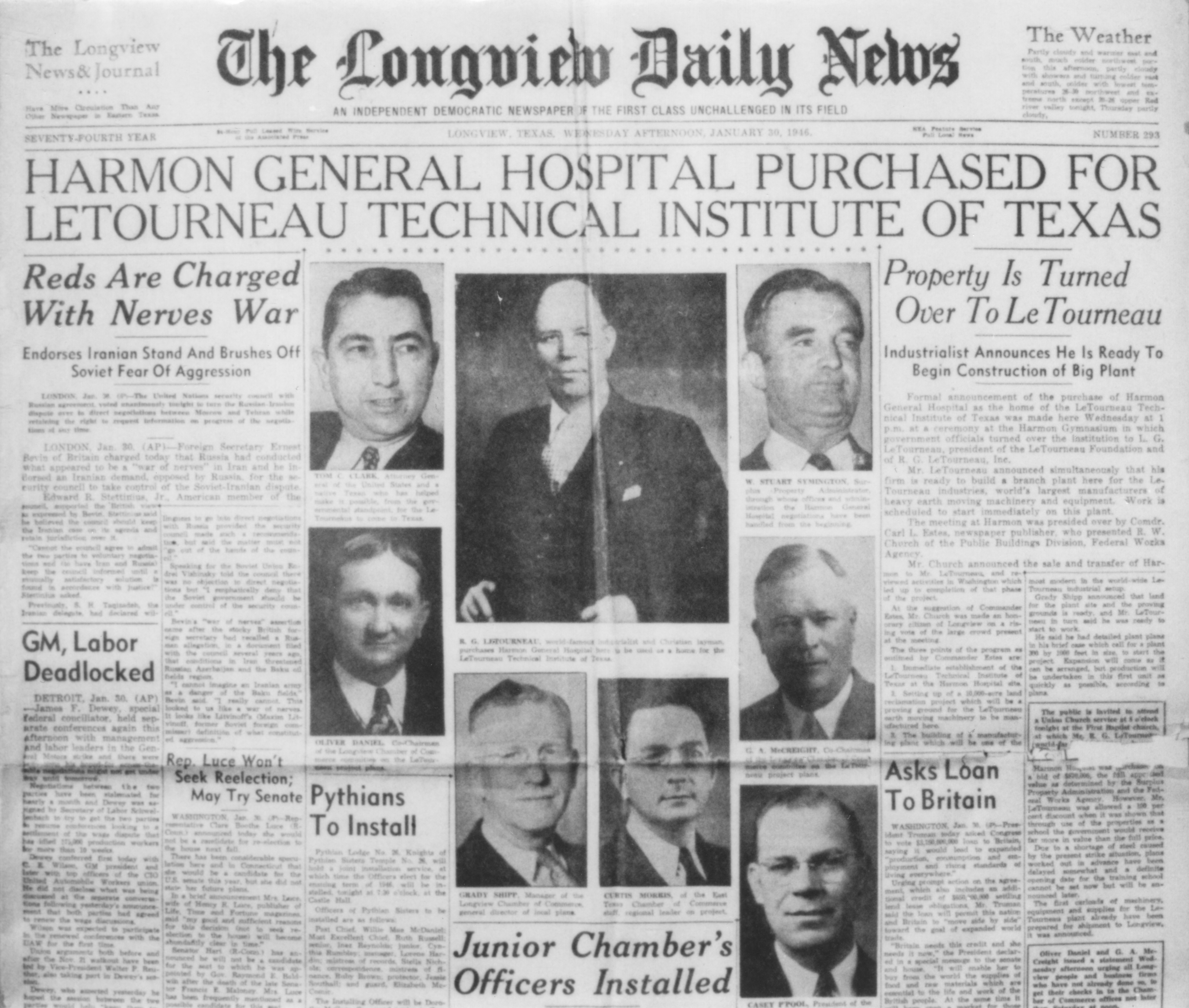 It was a time of expansion—for the post-war nation, for East Texas with its oil & gas boom, and for LeTourneau. Things literally started to take flight around here with the dedication of the Gregg County Airport in the summer of 1947. Longview's population had tripled in the 1930s and was on track to hit another big growth spurt in the 1950s. LeTourneau Technical Institute grew right along with it, welcoming female students in 1961 and beginning a decades-long journey toward an increasingly comprehensive university, drawing students from around the nation and embarking on the next chapter of working adult education, from VHS correspondence course tapes to fully online classes. Campus has transformed over time, but there's something about LeTourneau that will always be recognizable.
The way our 75 years have unfolded seems to have surprised no one. The fact that there used to be go-cart races on campus and students built their own out of whatever scrap was laying around? Nope. That students helped run and maintain the city's ambulance service? Not that either. That as a wider variety of majors were offered, the heart of them all continued to be that faith-driven practicality? Not in the slightest. The decades of storied pranks, mattresses skidding down the berm, first solo flights, ingenious senior design projects, epic dorm lore… the list of nearly 30,000 individuals' memories, proud moments, and unforgettable connections is beyond capturable.
This university history of ours is short—a mere lifetime. The magnitude of transformation in this flash of time is remarkable, both for our alma mater and our backyard. And Longview, Texas, is a gift of a location, perhaps now more than ever.
Location, Location, Location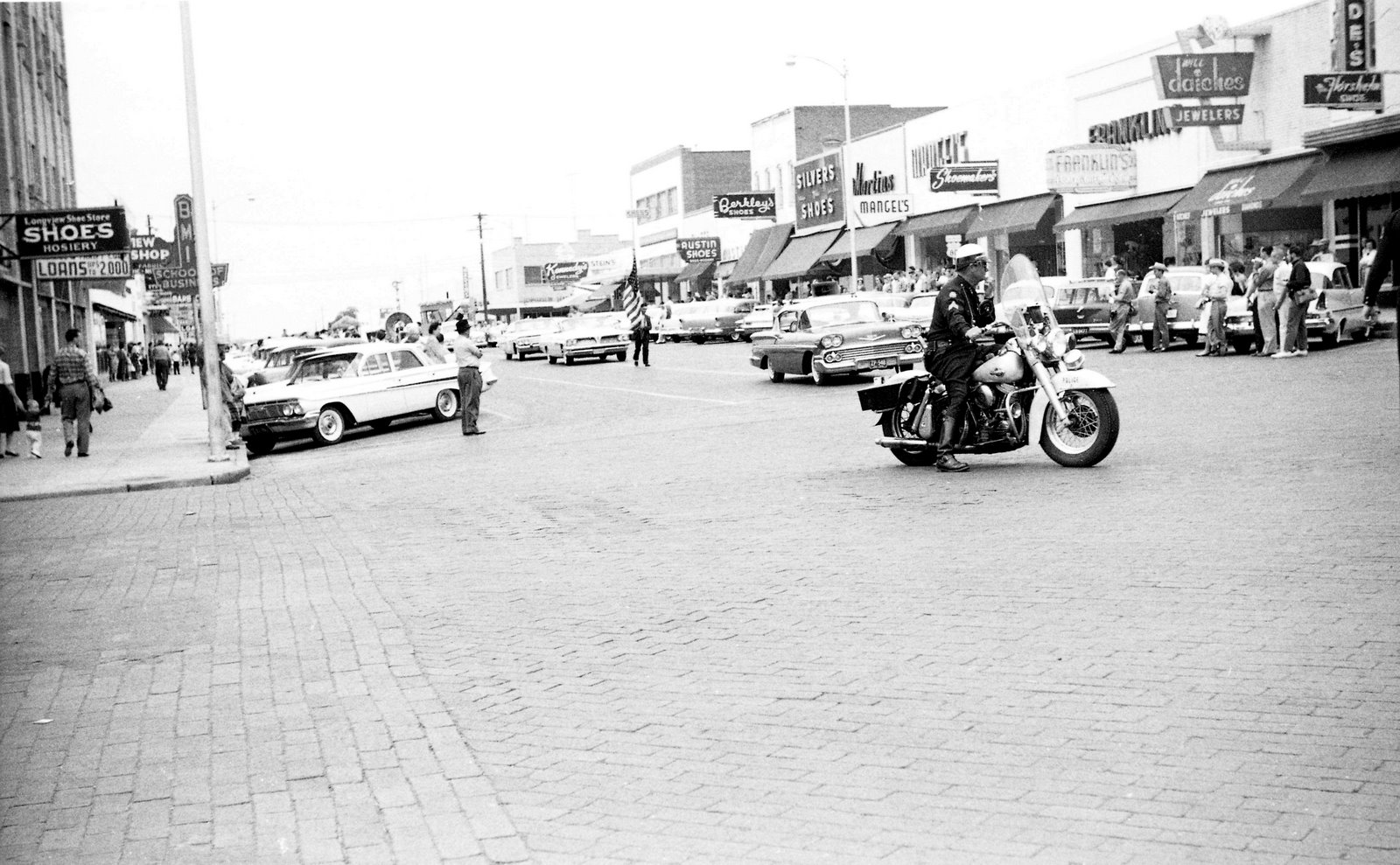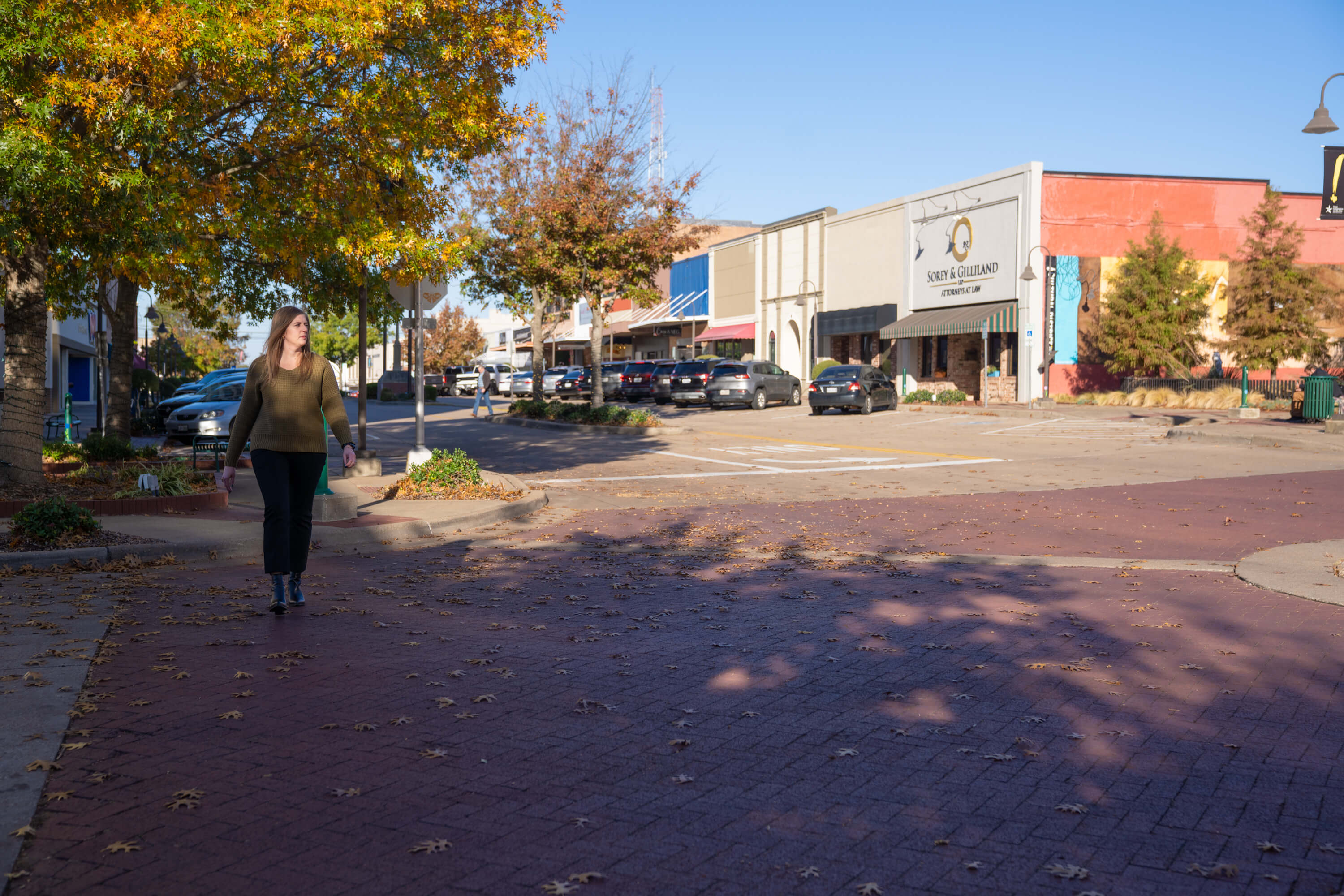 Texas entered 2021 as the world's ninth largest economy, according to data from the International Monetary Fund, and a recent Forbes report ranks Texas first in the nation for its growth prospects. Consult the myriad articles citing reasons people are relocating families and businesses to the Lone Star State, and common themes appear repeatedly: job opportunities, affordable housing, reasonable cost of living, diversity, family-friendliness, recreation aplenty, manageable traffic, and proximity to some of the largest cities in America with the highest standard of living. The same opportunity and practical promise our municipal and university founders saw are alive & well, and make East Texas, more than ever, a desirable launchpad for our grads.
The Longview plant was R.G.'s last to establish. His previous manufacturing facilities were in Peoria, Illinois; Toccoa, Georgia; Rydalmere, New South Wales, Australia; and Vicksburg, Mississippi. But it was here in Longview that R.G. & Evelyn chose to root. Sure, they traveled extensively, but 'The Dean of Earthmoving' made East Texas, and LeTourneau University, home. It's a great choice, in my biased opinion.
Growing up here, so many of the historical figures in this city's past were names I knew from signs around town: Methvin, Estes, and Pegues (the first postmaster). I 'met' LeTourneau as a kid, jumping in the new Solheim pool for a birthday party here and there or being bussed over, past the domes, for the university's annual invention contest for local school children. (Let the record show, I once won $5.00 for some rudimentary hand warmers, following in my older sister's shadow after her toothbrush timer victory). Our family went to church on Mobberly Avenue, and countless members had their own origin stories that involved LeTourneau drawing them to Longview. Even in these initial experiences, it was clear. There was something different about that LeTourneau crowd. Little did I know, I'd become a part of it.
A portrait of R.G. hangs in my office. I'm honestly not sure of its provenance, but I get a kick out of his toothy grin and iconic glasses supervising my daily work. It reminds me of what I love about this place, its history, and of the thousands of divinely orchestrated details to shape the institution we know and love—in a town so aligned with equal promise.