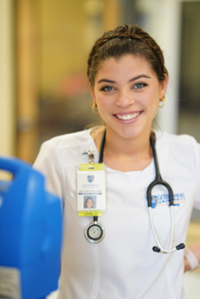 With a 100% NCLEX pass rate and a 100% job placement rate, LETU's School of Nursing has been ranked number one in the state of Texas by registerednursing.org, which states:
"Longview's LeTourneau University leads the pack with a stellar BSN program that prepares nurses to meet the needs of the community and fill in the increasing nursing shortage. "
At the nation's Christian polytechnic university, nursing students are trained with high-quality, hands-on learning in a Christ-centered environment. Faculty members are industry-experienced and dedicated to graduating exceptional nurses who care for patients both physically and spiritually. As senior nursing major Jane Wortham (left) puts it: "We're taught not only how to be a good nurse; we're taught how to be a nurse who allows our faith to drive us and be the hands and feet of God."
LETU's School of Nursing offers an on-campus BSN.