Steven Newlin
Business Management, 2022
Longview, Texas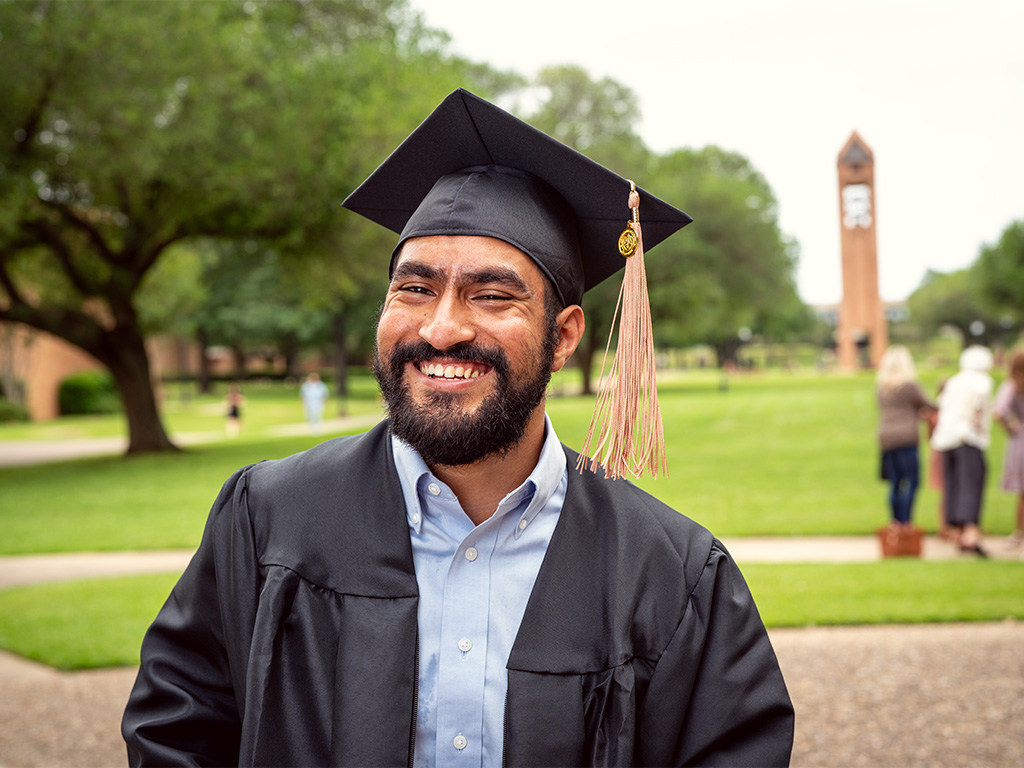 If you have been on campus for any significant amount of time in the last four years, odds are you know Steven Newlin. He's the kind of person who immediately brightens up a room and always has an encouraging word. He doesn't forget a name, and if you meet him once, he'll probably be waving hello the next time he sees you. 
Steven has also dealt with a tremendous amount of adversity. He was born with cerebral palsy, a condition that severely limits his mobility and muscles, requiring the use of a walker to move freely. He's been dependent on his parents for most of his life, so going to college was his first real experience in self-sufficiency.
Steven graduated this May with a Bachelor's in Business Administration, Management major and Christian Ministry minor, from the School of Business. His dream is to open a gym for kids with disabilities to receive athletic training and coaching. His hobbies include crossfit exercise, video games, traveling, and hanging out with friends.
We sat down with Steven to hear his story prior to graduation.
How did you end up at LeTourneau? What made you stay?
I was always going to go to LeTourneau because all my siblings went here, so I was super excited to go to college. I wanted to finish out the legacy of "Newlin's at LeTourneau."
I started as a biology major because I've always wanted to help people for a career, but I was not prepared for what the program had to offer. So, my dad suggested I try the business classes since I had always been interested in that too. After taking some classes and getting to know the business students and professors, I decided to change my major to marketing. I planned to go full-in, take 18 hours a semester, and get out as quick as possible. But, God had different plans.
I kept hearing this voice in the back of my head saying, "You're still not helping people," so I switched back to biology for two weeks, and I was literally sick the entire time. I felt nauseous constantly. That was God telling me, "No, this is not what I want you to do."
So, I switched back to business again, this time as a management major. One of the first classes I took was Business Entrepreneurship. We had a project where we came up with a business idea, and I had the idea of making a completely accessible gym for people with disabilities to get help and training. My idea was chosen as one of the top five for the class. So, I worked with a team that entire semester to flesh the details out, and then the following semester, we presented to actual investors to see if the project was viable.
During this whole experience, I felt God saying, "This is what I want you to do. I want you to take this idea and run with it." So, throughout my junior and senior years, this has been my major focus. How am I going to do this when I get out of school? And, there's still a lot of questions even now that I'm graduating, but I know for a fact, God is in control.
How did this business project impact you?
I feel like this is how God wants me to impact people, by teaching kids how to use their bodies. Throughout my life, I've had countless surgeries or therapists trying to help me, but what worked for me as a child was people motivating me and trying different things. It was more like a football coach saying, 'try to get one more rep,' and that mentality of keep working, keep working, until you actually get what you want.
A lot of kids with disabilities don't have that opportunity, not because there aren't people helping them, but because it's hard to pay for or they live in an area that's not conducive to it. Having that support system is crucial, not only to boost their confidence, but to help them get even better and stronger physically.


How has your time at LeTourneau impacted you?
LeTourneau has helped me embrace who I am as a person. Because of my disability, I've been able to help with two different senior design projects based around people with physical conditions. When I was born, the doctor said I couldn't do x, y, and z, but now, I'm helping out with certain missionary endeavors or research.
It's been really cool to see that what I thought was a disadvantage [has turned into an advantage], and I will be able to help so many people just by being the person God made me to be. Every professor who I've had a personal relationship with here is always trying to motivate me to be whoever God has called me to be.
Has LeTourneau been a good fit for you and why?
LeTourneau has been a good fit for me because of the people. Most of the people I've met here will be lifelong friends. The people are what make LeTourneau special.
When I first came to campus, I didn't have a good relationship with God, and I thought everyone here was, for lack of a better term, a super-annoying Christian, which is off-putting. But, as I've been here and grown and matured not only as a person but as a Christian, I've found a balance between being a light for Christ and still being me.
God has given me these gifts of hard work and determination, but I was so scared that I would become this cookie-cutter, overly-happy person. I didn't want to become that because that's not me. That's not my personality.
But, God has given me this personality, this attitude, this platform. As I've grown in him, He's made me an even harder worker and more of a compassionate person. Now, I feel like I'm doing all the things I wanted to do but for the right reason.
As I've grown in my faith at LeTourneau, I've learned that even though I might not be a pastor or a church planter or a missionary, I can still be a coach or a business owner or whatever God wants me to be. And, the way I act, the words I say, the way I live my life, that's still ministry. How I treat people is my ministry.
What are some impactful memories from your time at LeTourneau?
Freshman or sophomore year, my friends played Humans vs. Zombies [a campus-wide game], and I couldn't join in, but I would tag along with them on missions. Being a part of that was really fun, partly because one night, after the missions were over, my best friend gave me a hug, then picked me up and ran across the Student Center carrying me! I was like, "OK, I guess this is happening!"
The best overall memory has been the chance to work on senior design projects with engineering majors. I don't do any of the building or coding, but I get to try them out before anyone else. I got to try the wheelchair and therapy projects before they were presented, and they asked me what they should change and how it felt.
What motivates you to get out of bed in the morning?
What helps me do what I do are the people around me. I'm not the best when it comes to being motivated to do homework or school, but my friends here have pushed me to be the best person I can be. They have been the best examples of Christ to me on this campus. I try to be the best person I can be because I know my friends are doing the same.
What really motivates me now as a graduating senior are my friends and the possibilities of the future. I don't know what's going to happen, but whatever God wants to do, I'll be ready and willing to do it.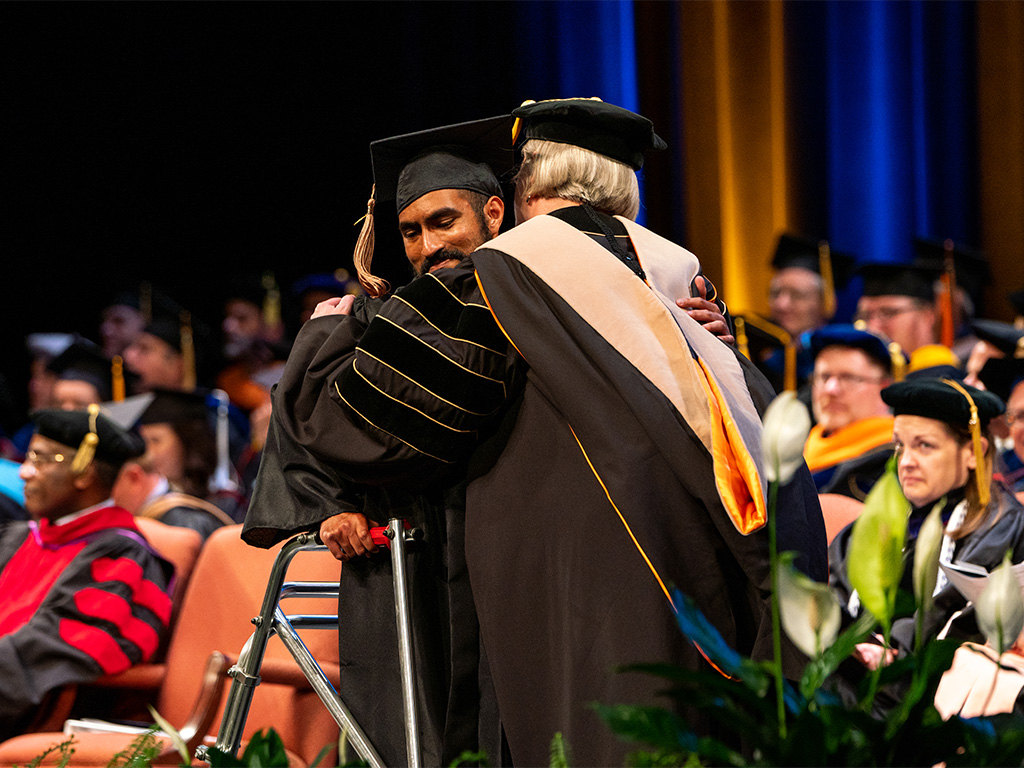 "As the instructor for the entrepreneurial leadership course, I watched Steven and his team work together over several months and was always impressed with how he worked his personal experience into this business idea. It was compelling from the beginning – mainly due to the energy and commitment we saw in Steven. I also watched him develop and mature as a student. There were clearly times when he was frustrated and discouraged, but I have seen his perseverance, hopefulness, and drive. 
We are delighted to see him continue to develop this business idea as he moves forward beyond graduation. He is a fine role model for all of our students. It is just amazing to see what God will do with an individual who is following after Him, using his personal situation and abilities in such a meaningful way. Steven is demonstrating our School of Business brand promise to be a Christ-centered world changer with an entrepreneurial mindset."
- Dr. Kathleen Mays, DBA, Dean, School of Business