Center for Public Justice Hatfield Prize Research Update


New Research by Adriana Cisneros Emerson (LeTourneau University '23) and faculty advisor Isabella Cavalcanti Junqueira, Ph.D. was published today by the Center for Public Justice (CPJ), a Christian civic education and public policy research organization based in Alexandria, VA. Cisneros Emerson and Cavalcanti Junqueira are recipients of The Hatfield Prize, which honors the late Senator Mark O. Hatfield, a U.S. Senator from Oregon known for integrating his Christian faith and his public policy commitments. The Hatfield Prize is made possible through the generous support of the M.J. Murdock Charitable Trust and the Annie E. Casey Foundation. The findings and conclusions presented in The Hatfield Prize reports are those of the authors alone and do not necessarily reflect the opinions of these foundations.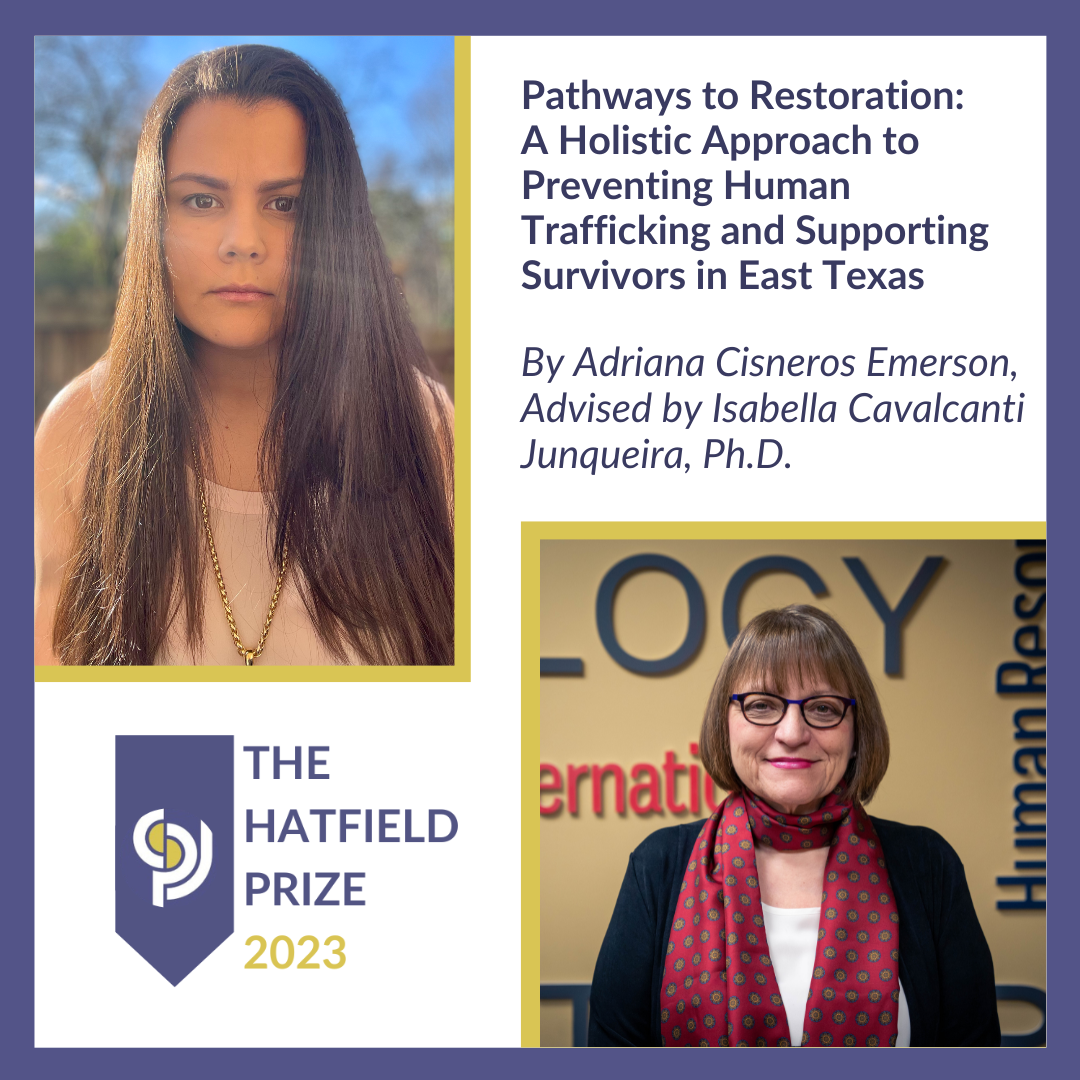 The pair's research examines the importance of multidisciplinary collaboration between various institutions, including law enforcement, healthcare providers, nonprofit organizations, and faith-based institutions, to address the issue of human trafficking effectively, provide adequate survivor aftercare, and promote justice and restoration in East Texas.
Cisneros Emerson completed her research during her senior year and graduated from LeTourneau University with a degree in Integrated Media Management and a minor in Political Science in 2023.
"Every human being has intrinsic value, but traffickers seek to deprive their victims of that while consequently alienating survivors from their communities," said Cisneros Emerson. "We want to highlight, first of all, that human trafficking is preventable, but also that survivor restoration entirely depends on government and civic collaboration."
Cavalcanti Junqueira expressed her desire to see this research impact their community and beyond.
"This research is essential due to the urgent problem of human trafficking in our state. While benchmarked studies have illuminated its prevalence and economic impact in Texas, there's a substantial knowledge gap regarding the post-trafficking experiences and needs of victims in our region. We aspire that our research will bridge this gap by offering valuable insights into the lives of survivors after trafficking. This will enhance our overall understanding of the issue."
Emily Crouch, Program Director of Shared Justice at the Center for Public Justice, emphasized the contribution Cisneros Emerson and Junqueira's research makes toward protecting human trafficking survivors and promoting stronger communities:
"Adriana's report sheds light on both the injustice of sex trafficking and the injustice survivors face when they are unable to receive the care they need to successfully reintegrate into a supportive community. Her report also highlights an urgent need for more comprehensive data on labor and sex trafficking in East Texas and across the U.S."
This year the reports are available online at https://cpjustice.org/resources-for-you/students-and-scholars/awards/hatfield-2023/. Cisneros Emerson and Junqueira are both available for interviews regarding their research findings.
_______________________________________________________________________________________
The Hatfield Prize is awarded annually to three Christian student-faculty pairs at a four-year college or university to conduct research on policies that impact vulnerable children, families, and communities. The Hatfield Prize is made possible through the generous support of the M.J. Murdock Charitable Trust and the Annie E. Casey Foundation.
Shared Justice is the Center for Public Justice's program for college students and young adults exploring the intersection of faith, politics, and public justice. Shared Justice provides Christian young adults with access to mentorship, a learning community, and a platform for practicing citizenship.
The Center for Public Justice is an independent, nonpartisan organization devoted to policy research and civic education. Working outside the familiar categories of right and left, conservative and liberal, we seek to help citizens and public officeholders respond to God's call to do justice.