January 19, 2022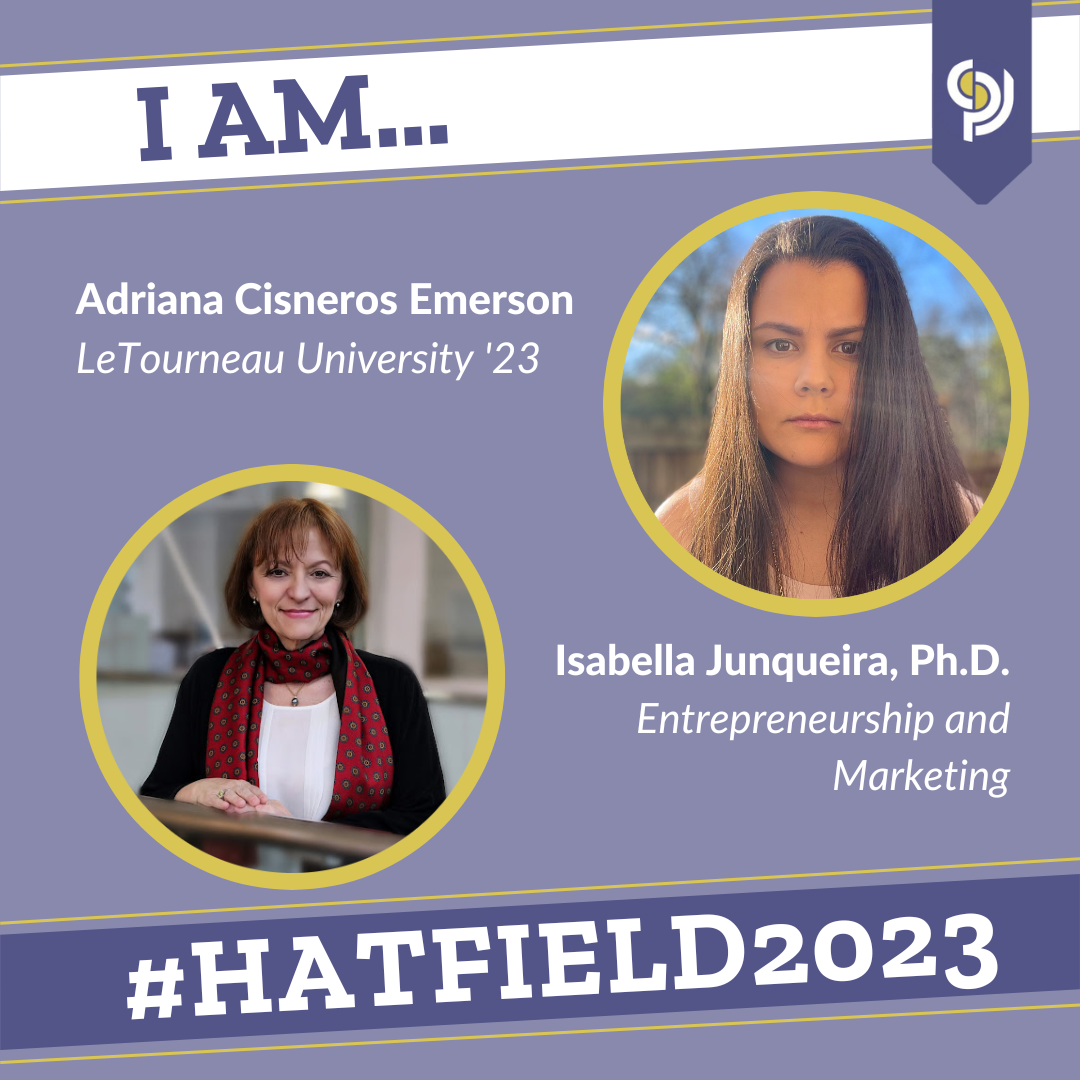 Graduating senior Adriana Cisneros Emerson ('23), and faculty advisor Dr. Isabella Cavalcanti Junqueira, Ph.D. were announced as winners of the prestigious Hatfield Prize today by the Center for Public Justice (CPJ), a Christian civic education and public policy research organization based in Alexandria, VA. The Hatfield Prize honors the late Senator Mark O. Hatfield, a U.S. Senator from Oregon known for integrating his Christian faith and his public policy commitments. 
The Hatfield Prize is awarded annually to three student-faculty pairs from Council of Christian Colleges and Universities (CCCU) institutions. Recipients conduct research on social policies that impact vulnerable children, families, and communities, and explore the impact of these policies in their local communities. Cisneros Emerson's research will focus on the organizational and governmental partnership programs established in East Texas to prevent human trafficking victims from being re-trafficked. She will examine the social issues surrounding human trafficking and what East Texas can do to further improve its anti-trafficking partnerships. 
This semester-long research project culminates in three policy reports. Through the Hatfield Prize reports, award recipients integrate faith with academic scholarship, pursuing today's pressing social challenges through a public justice framework that recognizes the unique roles and responsibilities of government and civil society. Students, with support from faculty advisors, articulate the normative principles that ought to guide society's response to issues like the social safety net, and then make practical applications and recommendations for ways in which government and civil society can promote human flourishing in their local communities.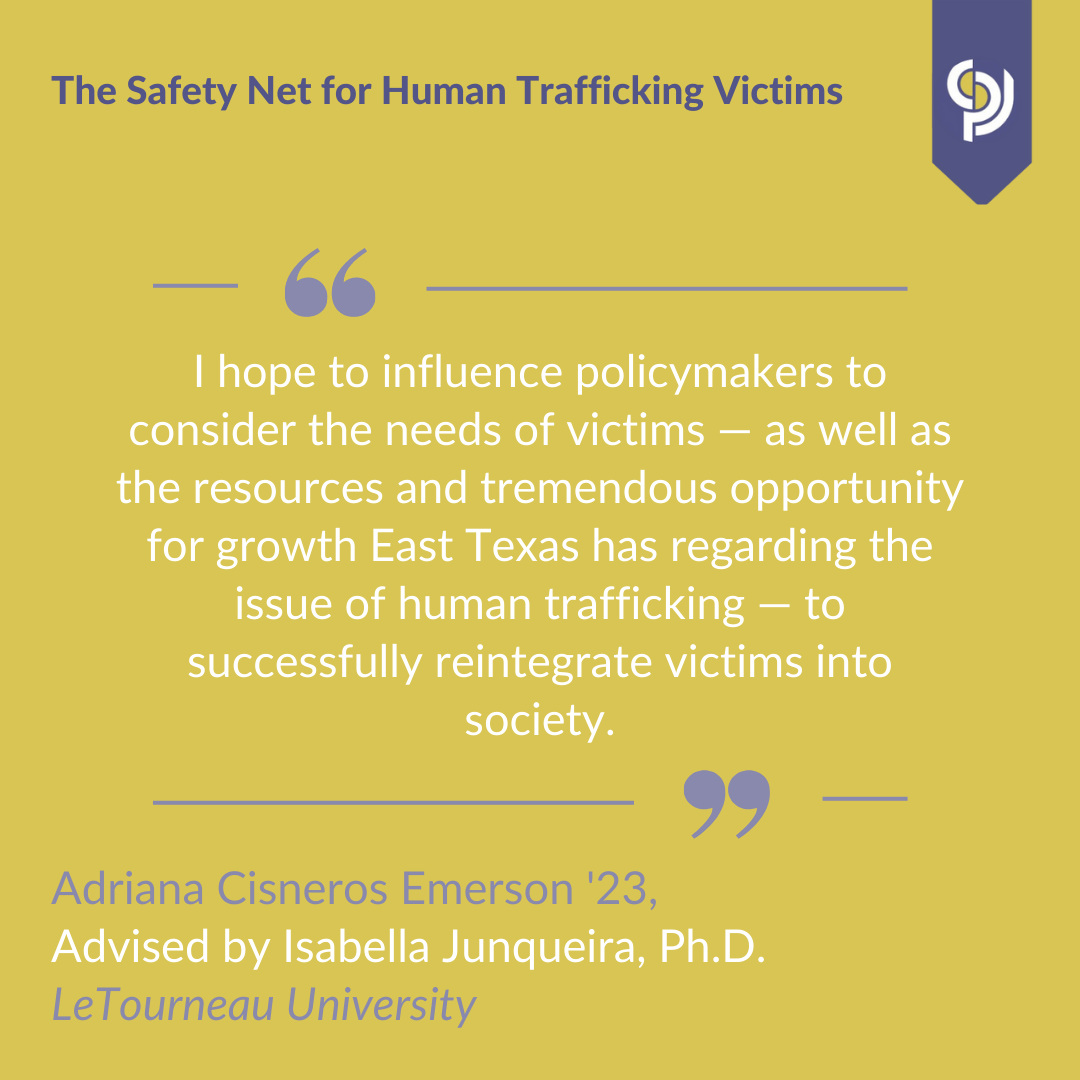 Emily Fromke, Program Director of Shared Justice at CPJ, had this to say: "Adriana's research is unique in that as she researches how different organizations in East Texas are connected and working to provide a safety net for victims of human trafficking, her research and interviews will serve a dual purpose to further strengthen the connections between those organizations while identifying new ways for them to partner with each other and with the government to ensure the safety and flourishing of victims."
Cisneros Emerson ('23), from Venezuela, is an Integrated Media Management senior. She received her Associate's Degree in Journalism from Kilgore College with presidential honors. She is a member of the Phi Theta Kappa honor society and of the National Society of Leadership and Success. Adriana is projected to graduate in May with highest honors and to receive the Top Student in Communication award.
Dr. Cavalcanti Junqueira is a Professor of Entrepreneurship and Marketing in the School of Business. With a background in project management and developmental consultancy, she has served universities, start-ups, and hybrid organizations in the U.S., Europe, and South America. Dr. M. Cavalcanti Junqueira is committed to fostering sound research, strategy, and entrepreneurial mindset practices in the classroom. She aims to provide learning opportunities for her students that inspire curiosity, analytical thinking, ethical actions, trust formation, collaborations, and innovation. 
To learn more about The Hatfield Prize or CPJ, visit https://cpjustice.org/resources-for-you/students-and-scholars/awards/.