LeTourneau University is accredited by the Southern Association of Colleges and Schools Commission on Colleges (www.sacscoc.org, 404-679-4500) to award associate, baccalaureate, and master's degrees. 
In addition, LETU's commitment to excellence in business education is demonstrated by the fact that its business programs are fully accredited by the Accreditation Council for Business Schools & Programs (www.acbsp.org, 913-339-9356).
What is ACBSP?
ACBSP is a global business education accrediting body with over 1200 member campuses in more than 60 countries and is committed to improving the quality of business schools around the world. From the time a business school becomes a candidate for accreditation, its faculty enters a process of continuous improvement, with a focus on excellence in teaching and student learning. In the accreditation process, the school demonstrates how specific standards are being measured and met, including student learning, curriculum, leadership, strategic planning, faculty qualifications, and stakeholder satisfaction.
ACBSP accreditation requires an ongoing effort to maintain excellence in business education, not only regarding curricula and faculty, but also in providing state-of-the-art equipment, software, learning resources, and services for students.
Programs
ACBSP accreditation covers the following LETU business programs:
BBA, Accounting
BBA, Finance
BBA, General Business
BBA, Human Resources
BBA, Management
BBA, Marketing
BBA with concentrations in

Accounting
Finance
General Business
Human Resource Management
Management

Bachelor of Business Management (BBM)
Master of Business Administration (MBA)
Master of Strategic Leadership (MSL)
Public Information
The Council for Higher Education Accreditation (CHEA) requires that all ACBSP accredited programs or candidates for accreditation make student achievement data available to the public. This does not mandate that the institution post all student achievement data but does "require institutions or programs routinely to provide reliable information to the public on their performance, including student achievement as determined by the institution or program." See below for information on the number of School of Business graduates, the percentages for student persistence, and placement rates.
School of Business Graduates
| | | | | |
| --- | --- | --- | --- | --- |
| On-Campus Programs | 2020 | 2021 | 2022 | 2024 Goal |
| BBA Accounting | 5 | 3 | 4 | 6 |
| BBA Finance | 0 | 1 | 0 | 3 |
| BBA Gen Business | 2 | 1 | 3 | 3 |
| BBA HRM | 0 | 1 | 0 | 1 |
| BBA Management | 5 | 1 | 6 | 5 |
| BBA Marketing | 0 | 4 | 1 | 5 |
| Total On-Campus Programs | 12 | 11 | 14 | 23 |
|   | | | | |
| Online UG Programs | 2020 | 2021 | 2022 | 2024 Goal |
| BBA | 5 | 4 | 2 | 5 |
| BBA-Accounting  | 0 | 2 | 1 | 1 |
| BBA-Finance  | 3 | 3 | 1 | 3 |
| BBA-HRM  | 2 | 0 | 3 | 3 |
| BBA-Management  | 2 | 1 | 1 | 2 |
| BBA-Nonprofit Mgmt  | 0 | 0 | 1 | 1 |
| BBM  | 10 | 4 | 7 | 8 |
| Total Online UG Programs  | 22 | 14 | 16 | 23 |
|   | | | | |
| Total UG  | 34 | 25 | 30 | 46 |
|   | | | | |
| Graduate Programs | 2020 | 2021 | 2022 | 2024 Goal |
| MBA  | 9 | 11 | 11 | 12 |
| MSL  | 2 | 0 | 1 | 2 |
| Total Graduate  | 11 | 11 | 12 | 14 |
|   | | | | |
| Total School of Business  | 45 | 36 | 42 | 60 |
School of Business Student Persistence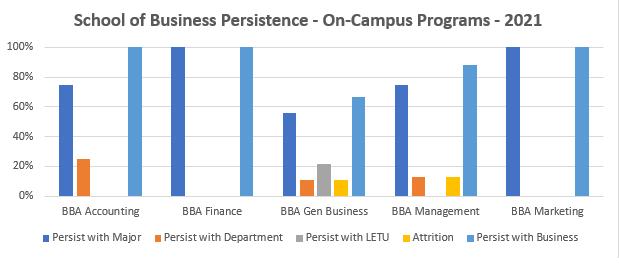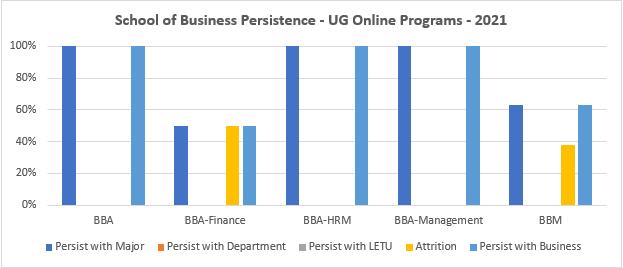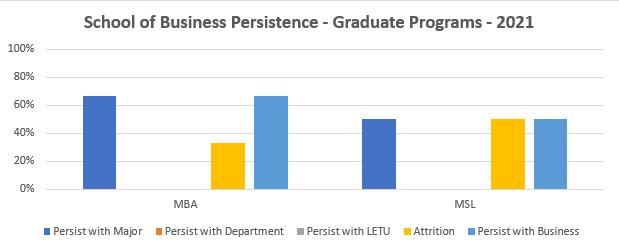 School of Business Placement Rates
| | | | | | |
| --- | --- | --- | --- | --- | --- |
| | 2019 | 2020 | 2021 | 3-Yr Avg | Goal |
| Traditional Programs | 100.0% | 89.0% | 77.0% | 88.7% | 94.0% |
| Online Programs | 100.0% | 96.0% | 94.0% | 96.7% | 94.0% |