By Janet Ragland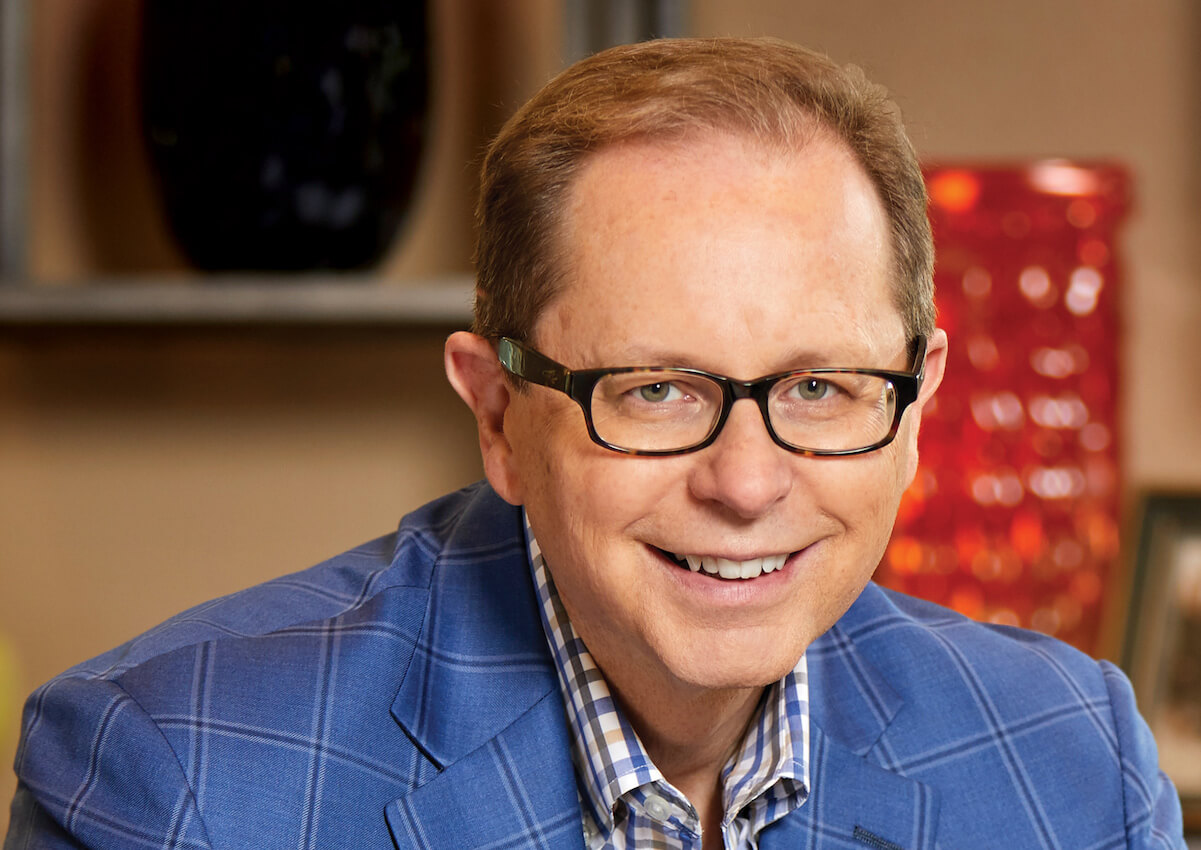 On July 1, 2007, Dr. Dale A. Lunsford assumed leadership as the sixth president of LeTourneau University following a national search.  It was the Oklahoma native's first university presidency. The future looked bright. Six months later, the national housing bubble burst. An unprecedented domino effect of home foreclosures in 2008 followed as home prices fell by nearly 15%, leading to a mortgage crisis of epic proportions, now referred to as "The Great Recession."  It has been described as the most dramatic employment contraction since the Great Depression of the 1930s.
LeTourneau University President Dr. Dale A. Lunsford responded to the call to lead LETU in 2007.
He did what great leaders do.  He listened. He learned.  He led.  
In his initial travels throughout the United States to meet alumni, trustees and friends of the university, he listened intently to stories about our university founder, and he reinforced the steadfastness of the university's Christ-centered commitment, assuring all that the school would continue to grow in a manner consistent with its heritage of Christian faith.
During his first two years as LETU president, Lunsford commuted 60 miles from his home in Whitehouse, Texas—just south of Tyler—to keep a promise to his family to allow their daughters to complete high school in the place they long considered home. Both of his daughters were active leaders of their high school drill team.   He and Marsha decorated an on-campus apartment at LETU for him to stay in during weekday evenings. 
Living on campus proved to be a valuable experience for this new president as he got to know LeTourneau students and live alongside them.  In the evenings, Lunsford cheered at student athletic events, attended student-led prayer services, and ate meals with students in the aging B.A. Skipper Cafeteria.
BUILDING FOR THE FUTURE    
One of Lunsford's first leadership changes was in seeking bids for a new contract for food service on campus.  Students were integrally involved in the selection process, and after 30 years of using the same provider, LETU's new president announced that Bon Appetit was the school's new food service provider. The building formerly known as the Assembly Building would be renovated into the university's new Corner Café.  The Assembly Building previously had been used for chapel services before the new S.E. Belcher Jr. Chapel and Performance Center was completed just as Lunsford arrived as president. The new Corner Café, was equipped with a state-of-the-art kitchen, attractive décor, and amenities including distinct serving stations offering fresh, made-from-scratch meal options.  Opening the Corner Café made an immediate, daily impact on the student experience on campus.
The Corner Cafe was only the first of more than $54.1 million in capital improvements that have added more than 177,000 square feet to university facilities in Lunsford's first 10 years as president, with facilities improvements made in nearly every area of campus.
A bold decision Lunsford made early on was moving the LETU College of Aviation and Aeronautical Science under one roof to the Paul and Betty Abbott Aviation Center at the East Texas Regional Airport and selling our prior hangar there.  The Abbott Aviation Center was purchased and remodeled with classrooms, meeting spaces, labs, faculty offices, and a 10,000-square-foot hangar to service the university's 15 aircraft.  
LETU's aviation program has since expanded in this past decade from the Abbott Center to the McKinney National Airport microsite where LETU today offers aviation and aviation management courses to dozens of students, including several dual-credit partnerships with a growing number of school districts there, including in McKinney, Frisco, and Prosper.   
"Moving our aviation programs out to the Abbott Aviation Center was the most significant change for us in the past 10 to 20 years," said LETU Dean of Aviation and Aeronautical Science Fred Ritchey. "The monumental impact of the AAC cannot be overstated for the effect it has had on the excellent education our students receive. It gives our Longview students, faculty and staff a single place to call home. Our facilities are as nice as any other program in the country, which helps when recruiting students.
"The Abbott Center has expanded our abilities to grow programs and host events, such as a regional National Intercollegiate Flying Association (NIFA) SAFECON competition and the International Association of Mission Aviation (IAMA) annual conference," said Ritchey, who has been LETU's aviation dean since 2000. "Moving an academic program off campus and into such a large and wonderful facility was a big gamble for a new president to take, but Dr. Lunsford has been clear in his support, and we are reaping the benefits." 
As empty aviation buildings on campus became available, they were renovated from 2009 to 2011 for Civil Engineering and Mechanical Engineering Labs.  One newly remodeled 7,200-square-foot mechanical engineering lab houses the university's wind tunnel and new Maker's Space for 3D printing projects. The Maker's Space provides interaction with the community as young future engineers from local school districts take field trips to learn about engineering careers.  Upgrades also were made to the Kielhorn Material Joining Lab—making it the largest, stand-alone college welding lab in the country.  These expanded, renovated lab spaces provide much-needed "hands-on" lab working space for students in the university's flagship engineering programs
Lunsford also authorized renovation and expansion for 20 new offices for engineering, engineering technology, math and science faculty in the Glaske Center for Engineering, Science and Technology.      
When LETU's residence halls reached 93% capacity in 2010, Lunsford realized more residence hall space was needed to enable the university to grow. Designed and built with environmental sustainability features, South Hall expanded residential housing options with 200 new beds when it opened in fall of 2011 as the largest residence hall on campus.  Since then, older LETU housing options have also been updated, including Evelyn LeTourneau Hall with new electrical, plumbing, fire alarms, sprinklers, internet, paint and décor completed in 2016.  
Lunsford had led the building of an athletic program at another university and was acutely aware of how important athletic facilities can be to a growing university. When the new Joyce Family Athletic Village opened in 2012 it featured field grading enhancements for soccer and baseball/softball, a new field house, new lighting, scoreboards, seating, ornamental fencing and monument gates. Also, the Solheim Center got new lighting, flooring, décor and workout equipment and meeting space upgrades.    
LETU is known as a strongly "STEM" school for its emphasis in Science, Technology, Engineering and Mathematics. A natural growth area for LETU—and one with historical significance for the university—was the addition of a new School of Nursing.  The LETU campus had previously been home to a U.S. Army hospital during World War II.
To accommodate the new nursing program, the "R.G. LeTourneau Memorial Student Center," or "MSC," was renovated into the School of Nursing Building.  Lab space with 14 hospital beds and stations with mannequin-simulators on the first floor are used to train future nurses from a uniquely intentional Christian perspective to be effective leaders in a high-demand, competitive field.  
LETU's nursing program has been accredited by the Commission on College Nursing Education (CCNE).  Since the first nursing graduates received their degrees in 2016, LETU nursing graduates have maintained a 100% pass rate on the National Council Licensure Examination (NCLEX) which gives a good indication of how well LETU nurses are being prepared to provide safe, quality care.
"The fact that we are integrating our faith in our curriculum sets us apart from many other nursing programs," said LETU Dean of Nursing Dr. Kimberly Quiett. "Understanding that all of us are created in the image of God, and that we are all loved by Him, illuminates the work of nursing for LeTourneau nursing students and faculty. 
"Small class sizes, multiple opportunities for hands-on learning—in health care facilities and in our skills and simulation lab—positively impact the student experience, competence, and confidence," Quiett said.  "Our graduates have been extremely successful in getting great jobs in health care facilities here in East Texas and in several other states.  Dr. Lunsford had a vision how nursing 'fit' with the LETU mission.  He has certainly supported the building process for the School of Nursing."
Among all of the physical transformations on campus during Lunsford's first 10 years as president, none can compare to building the Anna Lee and Sidney Allen Family Student Center for its dramatic impact on students. When it opened in March 2013, ahead of schedule, it immediately reflected the heartbeat of campus.
Built with students in mind and with students involved meeting with architects, the building stands in the high-traffic center of campus on the university mall.  Home to the university mail center, print shop, campus bookstore, game room, commuter lounge, media room and student achievement center, the AFSC is a place to build community. 
AFSC office spaces include Admissions, Alumni, Career Services, Student Activities, Student Life and the President's suite.  A large multipurpose Great Room is a venue for the university to conduct large meetings and banquets with flexibility to be sectioned into five smaller rooms for increased functionality.
A large, two-story glass wall emits natural light into a spacious commons area beside the expanded Hive coffee shop and grill where students, faculty and staff gather throughout the day at tables and in comfortable sofa seating.  Just outside is a terraced patio area for al fresco dining, outdoor concerts and other activities.
LETU's most recent facility acquisition is the Administrative South Annex, a former credit union building on Green Street adjacent to the southwest corner of campus. Today, the ASA is the new home of Information Technology's Network Services department.  
"That building is a critical decision for us," said LETU Chief Information Officer Matthew Henry.  "It was our first expansion of our Longview campus footprint. No matter how the university uses that facility in the future, the acquisition of that acre and building is significant. This is the baby step of a big dream. It gives us breathing room."  Henry says the Network Services department greatly appreciates the office space and staging area for expanding technology needs. 
NEW POSITIONING & NEW PROGRAMS
While new buildings and updated facilities are tangible monuments to the university progress in the first 10 years of Lunsford's leadership, some of the groundwork Lunsford laid is just as visionary. 
Before a single board was cut or brick was stacked, Lunsford led the university on a prayer-filled mission of finding God's vision for LETU, a vision that is "from Him, and through Him and to Him," in reference to Romans 11:36. 
Six months after taking office, Lunsford led this prayer initiative to acknowledge God's providence and sovereignty, to ask forgiveness and protection, and to ask God to reveal His vision for the future of the university.  He assured many that while seeking new opportunities in the future would move the university in new directions, some things will not change.
Honoring Christ is central to learning, living and leading, Lunsford said, and that will not change.  The mission of the university as an interdenominational university, united by a shared statement of faith will not change. And, while the university has enjoyed a widely renowned recognition in areas like engineering and aviation, it still considers itself a comprehensive institution, and that will not change.
Lunsford has led the university in developing a vision statement, updated logo and brand identity.  He formulated a strategic plan and launched the university's Center for Faith and Work to equip Christians to close the gap between Sunday faith and Monday workplace.
His leadership has strengthened the university's financial condition by cutting costs and by leading the university's first-ever comprehensive, university-wide capital campaign "For Such A Time As This" that raised over $30.5 million and tripled the endowments to the university.  All of this was accomplished during one of the most significant economic downturns in history.
In 2007 during Lunsford's first year as president, the S.E. Belcher Jr. Chapel and Performance Center opened with its first Performance Series, attracting to Longview some of the world's best, family-friendly entertainment that previously had never been seen locally.   
Another program to nurture the fine arts launched in 2017 with the hiring of the university's first-ever director of fine arts to provide offerings such as singing with the LeTourneau Singers and other creative arts.
Besides adding a whole new School of Nursing, other academic degree programs have expanded to include new undergraduate programs in healthcare management, civil engineering, criminal justice, cybersecurity, forensic chemistry, and remotely piloted aircraft.  Graduate degree programs have launched in engineering, psychology and education. 
Today, LETU offers more than 140 graduate and undergraduate academic programs, offered at the university's main campus in Longview and at regional centers in the Dallas and Houston areas.  A microsite launched in Plano offers business and technology, while a site launched at the McKinney National Airport offers aviation and aviation management courses for dual-credit high school students and working adults.
  A new athletic program in track and field that launched this year brings LETU to 17 NCAA varsity sports for men and women and provides a new stream of students seeking to participate at the collegiate level.
Lunsford has pursued initiatives that have opened doors to stronger relationships abroad through a faculty exchange program with Handong Global University in South Korea and JiLin Normal University in China.   These efforts expand LETU's initiatives into Asia.
SERVICE THROUGH LEADERSHIP
Lunsford's leadership in his first 10 years has included local, regional and national appointments to boards and commissions.   He has served on and led the Longview Chamber of Commerce board and was appointed by the Longview mayor to lead a task force committee to develop a long-range plan for the city's growth and beautification.  Lunsford was presented the Longview Chamber of Commerce Chairman's Award for his demonstrated dedication and vision for the Longview community.
Lunsford has written and spoken regionally and nationally on higher education issues. He has made numerous presentations on education to organizations including the Texas Higher Education Coordinating Board (THECB), the Council of Christian Colleges and Universities (CCCU) New Presidents' Institute and the CCCU Governance Institute for Board Chairs.   He served as an officer on the board of the Independent Colleges and Universities of Texas (ICUT), and has chaired the President's Council of the American Southwest Conference (ASC) and Division III NCAA President's Advisory Council. He also is currently a director of the National Association of Independent Colleges & Universities (NAICU).
Through God's grace and provision, LeTourneau University has been transformed in a variety of ways under Lunsford's leadership since 2007.  His decades of experience in higher education strongly poises the university to continue to fulfill God's mission for LETU through new opportunities in the years ahead.